Stung By Media's Focus on Liberal Agenda, Obama Pivots Back to Economy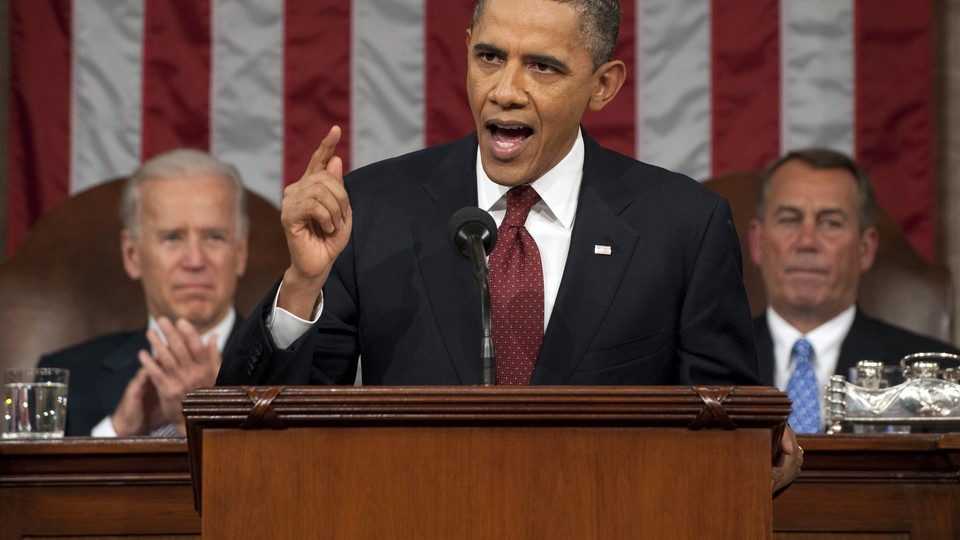 Job One for President Obama in his State of the Union address will be to convince Americans that his top priority is their jobs.
White House officials tell me they feel stung by coverage of the inaugural address. Reporters highlighted the president's left-leaning stances on immigration, gun control, climate change and gay and women's rights. Obama's aides argue that he devoted more inaugural address language to the economy, jobs and the deficit than all other issues combined.
Still, the perception remains that Obama lost focus on the economy -- the top issue in the minds of most voters.
So look for an address Tuesday tilted heavily toward policies pledging action on joblessness, growing the economy and expanding the middle class, White House officials said Friday. The other issues will be discussed, aides said, but there will be no mistaking that Obama's paramount concern is the economy. The Washington Post and The New York Times reported Sunday that Obama would propose ways to make college more affordable and urge Congress to spend federal money on research and roads. The Post said Obama will argue that such steps are needed "to prepare Americans for a  world where a warming climate, a nomadic labor force and new technology are shutting doors and opening new ones across the national economy."
Though Obama's team would dismiss its significance, Democratic allies took notice of Quinnipiac University's new poll that showed Obama's approval rating dropping since his election, from a 53 percent approval rating in December to 46 percent.
One senior Democratic consultant with ties to both the White House and Capitol Hill said he's not surprised by the slip in polls for two reasons. First, independent voters might want Obama talking more about their jobs and the economy. Second, liberal Democrats are unhappy with reports about Obama's aggressive drone warfare.
"He needs to get back to jobs, jobs and middle-class jobs," the Democrat said, speaking on condition of anonymity to avoid retribution from the White House.
Regardless of his approval ratings, there are limits to Obama's political capital, as Michael Hirsh explained in this week's National Journal magazine. I have been questioning the limits of a presidential mandate since Election Day. But the White House is confident that Obama has the upper hand against a GOP that is significantly less popular than the Democratic Party, according to polls.
The key, Obama's aides say, will be making jobs Job One.

UPDATED with Post and Times stories.