Scott Brown Out: Former Senator Won't Vie to Replace Kerry
The Republican, who lost in November, declined to run his third Senate race in four years, leaving the GOP nomination wide open and boosting Democratic chances.
The Republican, who lost in November, declined to run his third Senate race in four years, leaving the GOP nomination wide open and boosting Democratic chances.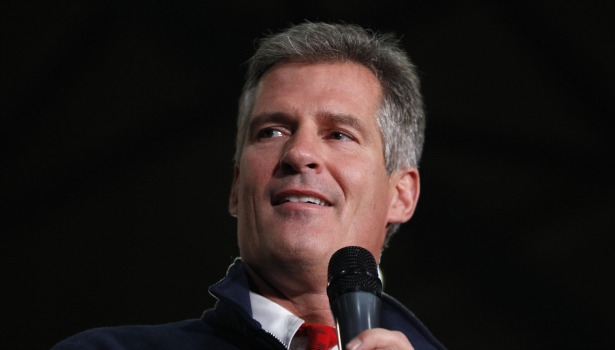 Reuters
Former Senator Scott Brown, R-Mass., won't run in the special election to replace Senator John Kerry. Brown's decision, conveyed in a statement emailed to reporters on Friday, represents a potentially crippling blow to national Republicans' hopes of flipping the seat.
"I have received a lot of encouragement from friends and supporters to become a candidate, and my competitive instincts were leading in the same direction," Brown said. "Even so, I was not at all certain that a third Senate campaign in less than four years, and the prospect of returning to a Congress even more partisan than the one I left, was really the best way for me to continue in public service at this time. And I know it's not the only way for me to advance the ideals and causes that matter most to me."
Brown, who lost his reelection bid in November to Senator Elizabeth Warren, was viewed as Republicans' best and perhaps only hope of winning the June special election.
Attention will now turn to former Gov. Bill Weld, who moved back to Boston last year to work at a lobbying firm after living in New York for several years. Weld hasn't given any firm indication he intends to run, but speculation about a potential political comeback has run rampant in the Boston press since his return.
Charlie Baker, the 2010 Republican nominee for governor, ruled out a Senate run on Thursday. Baker, who has left the door open to another gubernatorial bid in 2014, suggested that Weld seriously consider a Senate run if Brown decided to pass.
Brown could choose to run for governor in 2014, setting up a potential primary showdown with Baker. Brown's statement notably hinted that he wanted to continue in public service, and a Republican operative familiar with Brown's plans said the former senator is "looking at the governor's race." Democratic Gov. Deval Patrick has announced he won't seek a third term.
Former congressional candidate Richard Tisei, who came up short last year in his challenge of Democratic Rep. John Tierney, said earlier this week that he'd consider jumping into the special election race if Brown opted against it. Tisei was Baker's running mate in 2010. Former Lt. Gov. Kerry Healey is also considered a potential candidate.
Brown's decision is a boon for Democrats hoping to avoid another special election loss like the one that landed Brown in the Senate in 2010. Rep. Edward Markey is the favorite to win the Democratic nomination, but Rep. Stephen Lynch launched his own bid for the seat on Thursday. The primary for the special election will be held on April 30, followed by a June 25 general election.
Despite the GOP losing its best-known candidate, Republicans are hoping a competitive Democratic primary will produce a weakened nominee.
"As the Democratic primary between Reps. Ed Markey and Stephen Lynch turns uglier and nastier each day, the Massachusetts special election provides a real pick-up opportunity for Republicans, and we intend on defeating whichever career politician limps through," National Republican Senatorial Committee executive director Rob Collins said in a statement.
Brown's decision not to run also dims the chances Republicans retake the Senate in next year's elections. The GOP, which needs to win a net of six seats for a majority, last week received good news when Sen. Tom Harkin, D-Iowa, unexpectedly announced his own retirement, turning a seat once assured to stay in the Democratic column into a competitive battle.
Now, Republicans will likely have to nearly run the table against an series of incumbent Democrats in red states who, while vulnerable, will still be difficult to unseat. Of the list -- which includes Tim Johnson, D-S.D.; Mark Pryor, D-Ark.; Mary Landrieu, D-La.; Kay Hagan, D-N.C.; Max Baucus, D-Mont.; and Mark Begich, D-Alaska -- only Johnson appears to be a threat to retire. Perhaps not coincidentally, Johnson is also one of the few Democrats senators on that list who has already drawn a difficult challenger (former South Dakota Governor Mike Rounds).
They also have a prime pickup opportunity in red West Virginia, where incumbent Sen. Jay Rockefeller there, although victory isn't a given because Republicans have struggled to win statewide races there.
With Massachusetts likely off the table, Republicans will have to win six of the eight ostensibly competitive seats to retake a majority. Even if Brown had successfully run in the special election this year, he would have needed to win the general election again next year, a feat he was unable to accomplish in 2012, when he was defeated in his bid for a full term.