Richard Nixon: We Shall Not See His Like Again
Understanding the late president and his context through a new exhibition of his personal effects at the Nixon Presidential Library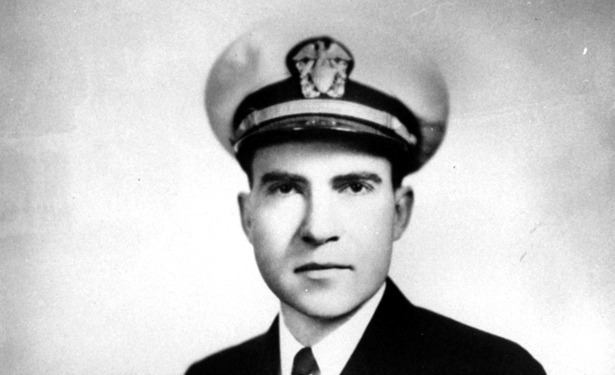 He volunteered for duty in a combat zone and badgered his superiors for assignment to the front. He dove for cover during enemy air raids, and glossed over the danger in his letters home. He ached for the love of his life. He inveigled like Milo Minderbinder. And he made a killing at cards.
"You asked how much of the $675 was from poker," Dick Nixon wrote his wife, Pat, in July 1944. "All of it! In fact I've won over a thousand to date. More about that later."
A cache of previously unseen correspondence from the young Navy officer, on duty in the South Pacific in 1943 and 1944, is a highlight of a new exhibit marking the 100th anniversary of his birth. It opens Friday at the Nixon Presidential Library in Yorba Linda, California.
"The Seabees did it and we got the materials in various ways -- all more or less legal!" Nixon wrote Pat, after a round of successful scheming that left he and his team of air-traffic coordinators with screened tents, showers, a 12-seat latrine, and a mess hall. "It all took a lot of bargaining but now that it's done I feel pretty happy."
Nixon shared the fruits of his finagling with the transport pilots whose missions he helped orchestrate. They carried supplies to the front, and fetched the wounded back, and would stash an extra case or two of beer or Coca-Cola on their planes for the well-liked proprietor of "Nick's Snack Shop," who served them hamburger sandwiches, with cold juice or coffee, between flights. An extra case of beer, Nixon knew, went a long way with the Seabees.
When then-President Bill Clinton gave the eulogy at Nixon's funeral in 1994 he called for more civil consideration of America's most polarizing president. "May the day of judging President Nixon on anything less than his entire life and career come to a close," Clinton said. The library's new exhibit, an evocative collaboration by two old antagonists -- the federal National Archives and the private Nixon Foundation -- marks the 100th anniversary of Nixon's birth in the spirit of Clinton's challenge.
Long on context and biography, and short on the kind of partisan brawling at which Nixon excelled, the galleries hold an impressive array of artifacts, images, and newly released documents that fill some of the gaping holes in the museum's permanent exhibit, across the hall.
There's the bench Nixon warmed for the Whittier College football team, his pipe and eyeglasses, and the desk chair he used in the Oval Office. (The desk on display, sadly, is a reproduction. The curators could not wheedle the real thing from its current user, Vice President Biden.)
"To understand the Nixon presidency you have to understand the nation he inherited."
Nixon's dress blue Navy uniform, which he wore to an interview with Orange County's Republican grandees in 1945 because he owned no civilian business suits, is on display. They saw something in the young lieutenant commander, and backed him in a savagely successful campaign to unseat Democratic Rep. Jerry Voorhis, a New Deal favorite, in 1946. One of the podiums used by Nixon in his bruising debates with Voorhis is on display as well.
And there is another desk, a reminder of Nixon's modest background as the son of a small-town grocer in what is now a sprawl of freeways and shopping centers, but was then backwoods citrus farmland. After graduating from Duke Law School during the Depression, and failing to land a job at the top New York law firms, Nixon came home to practice law in Whittier. He and his father built the desk for his office, with a false front made from orange crates and a top fabricated from an old door. In its own way, it's as humanizing as his letters home to Pat.
"Dearest .... It seems that these days you are very near to me and my thoughts are always with you. I too live and relive our days together and to see you again for the first time will be the best day of my life," Nixon wrote in 1944. He had left a safe government job to enlist in the Navy and then, to the dismay of his and her families, relentlessly lobbied to be sent overseas.
"I really haven't done more than I should -- but have had the good luck to be assigned to jobs where there was work to be done. At least my overseas experience has satisfied my yen to do something -- and I feel so much better than if I had stayed," he wrote Pat in April 1944.
The new exhibit will disappoint the unforgiving -- Nixon haters, and critics who believe that his sins far outweigh what good he accomplished before becoming the only U.S. president to resign the office, in the Watergate scandal of 1974. The scandal is not afforded much space in the new hall. After decades of skirmishing between the archives and the foundation, Watergate has its own new high-tech section in the permanent galleries, where one can listen to Nixon's secret tape recordings and examine the lock-picking tools and address book of a Watergate burglar, with the telltale notation "W.H." that linked him to the White House.
The new display is "supplementary," says Bob Bostock, one of its curators, and "not in opposition" to the permanent exhibit, which is long on text rather short on intriguing, authentic artifacts, and showing its age.
Interestingly, at the other end of the political spectrum, Nixon's most fervent conservative admirers may be disappointed as well. The president on display is not the architect of the Republican "southern strategy" and the hero of the "silent majority," it's the statesman who went to China, signed a strategic arms treaty with the Soviet Union, gave 18-year-olds the vote, ended the draft, supervised the peaceful integration of American schools, launched a war on cancer, and approved historic steps to repair and protect the ravaged environment.
Nixon's most controversial policies -- his extension and expansion of the Vietnam War and polarizing calls for "law and order" -- are explained in the context of the Cold War and the Sixties, with displays that portray that turbulent and chaotic era of riot, assassination and social disorder.
"To understand the Nixon presidency you have to understand the nation he inherited," says Bostock. The history lesson is vital. "More than half the people in the country today were born after Nixon left office," he notes.
The full package of museum holdings -- which also include Nixon's presidential limousine, Marine One helicopter, and stark little childhood home -- now present a more complete portrait of the man. With luck, they'll all be better integrated when the new display reaches the end of its scheduled one-year run.
In his own eulogy of Nixon, former Secretary of State Henry Kissinger looked to Hamlet to describe his former boss, who traveled a Shakespearian arc in life: "He was a man. Take him for all in all." We're getting there.