President Obama Has Had a Change of Heart About the Sequester
Remember when he said he'd veto any bill that undid the automatic cuts without a long-term deficit-reduction plan? Well, maybe not any bill.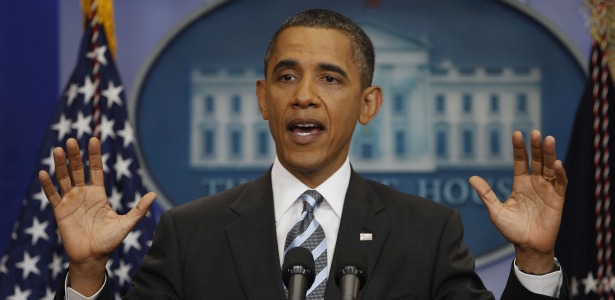 Reuters
Updated, 12:04 p.m.
President Obama is set to give a public statement just after 1 this afternoon, where he will propose a short-term plan to put off the sequester, the hundreds of billions in automatic spending cuts that are set to kick in gradually starting on March 1. The plan will include some short-term spending cuts as well as new tax revenue to make up for sequester. The Associated Press reports:
Obama will ask for a targeted way to reduce the deficit in the short term, perhaps several months. White House officials said that Congress needs more time to work out a 10-year plan worth more than $1 trillion in deficit reduction. Obama is not placing a time span or a dollar amount on the short-term plan. Officials said he will leave that to Congress.
It's not hard to see the logic behind this from either a policy or a political perspective. First, the policy: The economic recovery seems to be continuing steadily, if more slowly than anyone would like. But the GDP report released on January 30 showed the U.S. economy actually shrank in the fourth quarter -- because defense spending plummeted. If military spending cuts led to a decline in GDP, it's understandable that the government would want to forestall $492 billion in additional cuts. Worldwide, austerity has been shown to be a drag on growth more broadly. And politically, the sequester was always supposed to be toxic -- in fact, the unpalatable cuts, demanding arbitrary across-the-board slashes to both Republican and Democratic priorities, were supposed to be so toxic they'd force Congress to cut a deal. But of course they didn't.
So that's the reasoning here. But wait, wasn't Obama also the guy who said this back in November 2011, when the Supercommittee failed?
Now, the question right now is whether we can reduce the deficit in a way that helps the economy grow, that operates with a scalpel, not with a hatchet, and if not, whether Congress is willing to stick to the painful deal that we made in August for the automatic cuts. Already, some in Congress are trying to undo these automatic spending cuts.

My message to them is simple: No. I will veto any effort to get rid of those automatic spending cuts to domestic and defense spending. There will be no easy off ramps on this one.

We need to keep the pressure up to compromise -- not turn off the pressure. The only way these spending cuts will not take place is if Congress gets back to work and agrees on a balanced plan to reduce the deficit by at least $1.2 trillion. That's exactly what they need to do. That's the job they promised to do. And they've still got a year to figure it out.
Of course, Congress hasn't agreed to such a plan, and here we are. There's a key difference, which is that Obama is insisting that the canceled sequester be offset with spending cuts and new revenues, but there's still no grand bargain.
What has changed? The AP notes that the administration still wants a large deal: "White House officials say the delay will give Congress and the administration time to negotiate a long-term deal through the regular legislative budget process." But here's another possible factor: Republicans in the House now say they're
willing to bite the bullet and let defense cuts happen
-- a surprising stand for a party that has long held the Pentagon budget to be sacrosanct. Perhaps they're bluffing; perhaps they mean it.
This short-term plan doesn't mean Obama has folded completely. It's hard to imagine Republicans agreeing to further revenue increases, having sworn up one side and down the other that they won't. If they do, though, this proposal does give the president cover: Now if the sequester happens, he can blame it on Congressional Republicans and say he tried to stop it.
Updated: For what it's worth, White House senior adviser Dan Pfeiffer says on Twitter that Obama has no objection to paying the sequester down piecemeal.