Obama's Minimum-Wage Gamble
There's no clear path to a minimum-wage hike in today's Congress. So why did the president surprise members of his own party and bring it up in the State of the Union?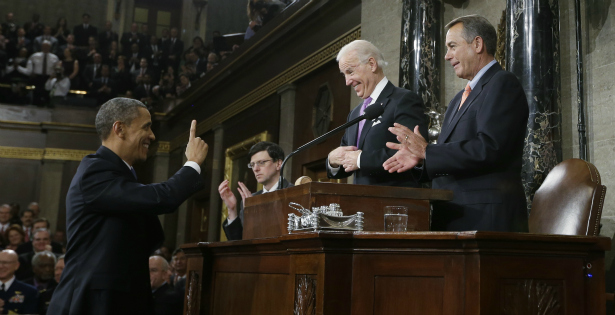 Charles Dharapak/Reuters
In 2008, the Obama-Biden transition effort promised, as part of the new president's poverty agenda, that "Obama will ... raise the minimum wage to $9.50 an hour by 2011" and "index it to inflation."
That didn't happen, and when Obama in his 2013 State of the Union address once again brought up the question of raising the minimum wage -- though to a slightly lower amount -- it took some members of his party by surprise. A minimum-wage hike is a perennial progressive Democratic favorite, but it wasn't on the radar to emerge as a top priority for the president and his party in the year ahead.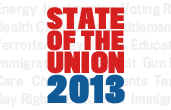 President Obama lays out his second-term vision for America.
See full coverage
"[T]oday, a full-time worker making the minimum wage earns $14,500 a year. Even with the tax relief we've put in place, a family with two kids that earns the minimum wage still lives below the poverty line. That's wrong. That's why, since the last time this Congress raised the minimum wage, 19 states have chosen to bump theirs even higher," Obama said Tuesday night. "Tonight, let's declare that in the wealthiest nation on Earth, no one who works full-time should have to live in poverty, and raise the federal minimum wage to $9.00 an hour."
He tried to make the idea sound bipartisan: "Working folks shouldn't have to wait year after year for the minimum wage to go up while CEO pay has never been higher. So here's an idea that Governor Romney and I actually agreed on last year: let's tie the minimum wage to the cost of living, so that it finally becomes a wage you can live on." (You can see Romney calling for the minimum wage to be indexed to the CPI or another inflation index here.)
On Wednesday, House Speaker John Boehner quickly -- and predictably -- shot the idea down, as Republicans have with so much minimum-wage-increase talk in the past. "Listen, when people are asking the question 'Where are the jobs?' why would we want to make it harder for small employers to hire people? I've got 11 brothers and sisters on every rung of the economic ladder. I know about this issue as much as anybody in this town," Boehner said. The speaker in 2006 opposed raising the federal minimum wage to its current $7.25 an hour from $5.15; the last national minimum-wage hike through legislation came in 2007, when Democrats still controlled the House.
Sen. Marco Rubio of Florida, who delivered the GOP rebuttal to the State of the Union and has emerged as a prominent new face for the party, also dismissed the proposal. "I don't think a minimum-wage law works," he said on CBS's This Morning.
So why did Obama bring the issue up, knowing it would be a hard sell in the GOP-controlled House -- and even in the narrowly Democratic Senate, which is already grappling with the hot-button issues of immigration, gun control, and climate change?
The answer is that it's good politics for Obama and the Democrats to put the GOP in the position of opposing a popular economic measure that has particular appeal to Hispanics and women ("nearly two-thirds of minimum wage workers," according to the National Women's Law Center), two groups the GOP is increasingly trying to woo. And it's good politics to do so just as Republicans are struggling to make some long-deferred compromises on immigration, in part in hopes of helping a future national Republican candidate perform better with Hispanics than did Romney in November. And also: It will give Democrats something to run on in 2014.
As Obama and the Democrats meet with more success in Congress -- especially if there's a real immigration deal -- and as Republicans increasingly highlight a small but diverse group of next-generation GOP leaders from modest circumstances, such as Rubio, Democrats are going to need a fresh wedge issue on which to cast the GOP as the party of the rich, the already-established, and the intransigent. The minimum-wage fight will be clarifying, even if it's not one Democrats can expect to win any time soon.