Obama's Chicago Speech Can't Address Gun Violence Unless It Takes On Race
Academic research long ago showed that poverty and institutional racism are at the root of urban crime. Will the president have the courage to say so?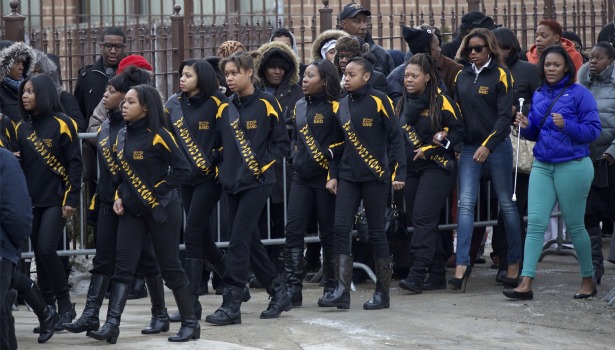 One of the iconic moments of late Bush-era America came when Kanye West wandered off script at a Hurricane Katrina telethon and boldly proclaimed, "George Bush doesn't care about black people." Despite some obvious political and personal differences between Bush and Barack Obama, the current president has also been criticized for taking black supporters for granted and failing to advance a policy agenda that effectively combats black suffering.
But as the nation's gun-violence crisis continued this week, President Obama is pushing back on those critics. On Tuesday, he invoked slain Chicago teenager Hadiya Pendleton during the State of the Union Address. Though brief, the passage in the speech was an implicit public affirmation that black lives lost to gun violence -- so often invisible to the national media -- matter just as much as white victims. Obama's insistence that Pendleton's parents "deserve a vote" on gun policy is a fierce moral appeal to the conscience of legislators and civil society.
Obama has a chance to reinforce and build on that when he travels to Chicago today to deliver a speech on urban gun violence. But the speech won't realize its full potential or leave a lasting legacy if the president doesn't directly address race and condemn systemic racial oppression in a manner we have not yet heard from him.
A good place to start would be acknowledging he wouldn't be speaking in Chicago if not for the efforts of community organizer Aisha Truss-Miller and the Black Youth Project, a University of Chicago-based initiative focused on civic engagement among young black Chicagoans. The BYP petitioned Obama to travel to Chicago and address gun violence, gathering more than 45,000 signatures in two weeks. As Professors Cathy Cohen and Eddie Glaude noted on Twitter, the speech's existence is a victory for young people of color from Chicago and proof that Obama will respond to the voices of marginalized Americans.
There is a belief -- usually implicit and unspoken -- in the response to mass shootings involving white victims, an idea that they are more worthy of mourning, national outrage, and legislative action. The tragedies in Aurora, Newtown, and other white neighborhoods were earth-shattering. But gun violence claims scores of no-less-innocent young people each year in America's forgotten urban neighborhoods -- those plagued by inadequate schools, concentrated poverty, and unemployment. Between 1979 and 2009, gun deaths among white children and teens decreased by 44 percent, while the rates for black children and teens increased by 30 percent. These victims have failed to register on the national moral radar, and that's why it was so important to recognize the Pendleton family in his address. Obama need not shed tears or deliver the same sort of eulogy he did in Newtown, but he should conjure the same patriotism and empathy, reaffirming his statement that "these neighborhoods are our neighborhoods and these children are our children."
The real suspense is how Obama will address the racially loaded elements of "urban violence." Historically, conservatives have used behavior to explain the plight of black and Hispanic urbanites, chiding these populations for being lazy and violent and for lacking the morality and discipline to stop committing crimes. Obama has tried to strike a balance between addressing behavior and talking about structural inequality, as we saw in his 2008 speech on Father's Day at a black church in Chicago. In his fatherhood speech, Obama issued a strong call for an increased sense of personal responsibility and commitment to one's children among black men. He linked inadequate fatherhood to violence and mass incarceration in black communities, and pleaded to a receptive audience for renewed dedication to parenting. (Obama again emphasized the importance of fatherhood during Tuesday night's speech.)
Only a short section of the Father's Day speech focused on the government's obligation to interrupt the cycle of economic and political violence to which impoverished black communities are subject. Obama cannot repeat this mistake. If he wishes to highlight behavioral shortcomings, he needs to place them in context and shift the emphasis from the choices individuals make to racism as a political and economic system that limits choice and opportunities for nonwhites.
The debate about what actually causes "urban violence" has long been settled in academic research by sociologists like Robert Sampson and William Julius Wilson. Of course, smart choices and the cultivation of a love ethic are vital to improving our lives, no matter where we live. But the findings are clear and unambiguous: The violence will not cease unless we dismantle American apartheid, mass incarceration, and a labor market with no place for the black and Hispanic working class. The root causes of urban disaffection are extreme class and race segregation, and joblessness in poor neighborhoods; from those come family disruption, violence, and other anti-social behaviors. For example:
Obama's visit to Chicago is a sign that he is conscious of these challenges, but his speech will show how serious he is about addressing them. If we can't address the illness and inconvenient truth of racism, calling it by name and forming legislation to address it, there will be no solution to urban gun violence.