Obama Vows Openness on Drones "" But Will He Follow Through?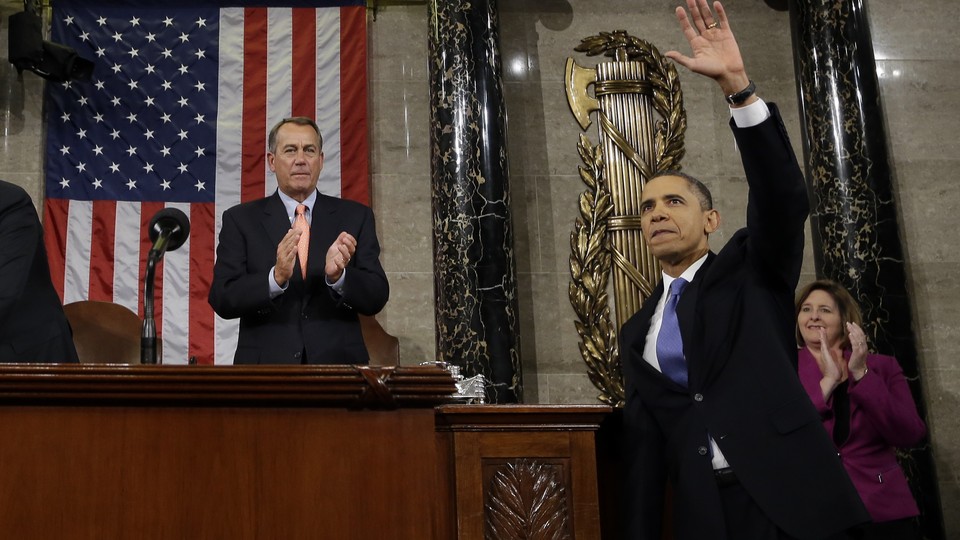 In his State of the Union address, President Obama promised to go further to make the administration's targeted-killing program more transparent. But some experts have their doubts.
Since quadrupling the number of drone strikes compared with his predecessor, Obama has been criticized by lawmakers over what many see as excessive secrecy surrounding the program. On Tuesday night, the president sought to placate his critics, saying he would "continue to engage Congress" in ensuring the program is not left without checks.
"That's why my administration has worked tirelessly to forge a durable legal and policy framework to guide our counterterrorism efforts," Obama said. "Throughout, we have kept Congress fully informed of our efforts."
That line surprised some counterterrorism experts who disagreed with Obama's view that he has kept lawmakers in the loop. In at least one circumstance, the program targeted Americans affiliated with al-Qaida. And until recently, the Justice Department has even withheld detailed legal papers that justify the program.
"I thought the president said a lot of nice things last night, only some of which were true," said Noah Shachtman, a nonresident fellow at the Brookings Institution. "There are certain members of Congress who are informed about what's going on, but I don't think anybody would confuse that with oversight."
Before last week's hearing for John Brennan's bid to become the next director of the CIA, the administration finally gave certain members of the Senate Intelligence Committee the detailed legal papers. But direct oversight and certain judicial checks on the program do not exist.
The president said that in the coming months he "will continue to engage Congress" to make sure the targeted killing and other such intelligence programs will become more transparent. But it remains unclear what steps the administration would take to lift part of the veil of secrecy.
Senate Intelligence Committee Chairwoman Dianne Feinstein, a California Democrat, on Wednesday defended the president's speech, saying the administration has in fact given Congress certain insights into the controversial program.
"The secrecy of the program has made it difficult to detail the robust oversight conducted by the Intelligence Committee of counterterrorism targeted killings," Feinstein said in a statement.
Right now, officials provide classified videos of drone strikes that occur and also spend a good deal of time reviewing the operations. Feinstein said the committee has held 35 monthly meetings to review the strikes with officials.
But Council on Foreign Relations fellow Micah Zenko called that "oversight through a soda straw." One means of new oversight would be for administration, military, or CIA officials to not only provide off-the-record hearings with certain congressional committees to describe what strikes occur, but they could also brief lawmakers on how the strikes fit in with the broader foreign policy objectives of the U.S.
Several Senate and House committees are planning to hold hearings in the coming weeks to explore their options for oversight of the administration's program. Zenko saw that as a positive step.
"Part of why you have long-form, congressional hearings on the record is you get some public accounting and public record of what's going on," Zenko said. "The U.S. has essentially ceded its strategic communications strategy for these."
Additionally, there's always the option of drafting legislation specific to these operations, either through a new bill or an update to the Authorization for Use of Military Force signed after the Sept. 11, 2001, attacks.
Either way, however, the idea of congressional oversight speaks more broadly to the tensions between Congress and the White House for these issues, said Matthew Waxman, a professor at Columbia Law School specializing in national security.
"Although the targeting issue has attracted recent congressional and public scrutiny, this is also part of a long-running struggle between the executive branch and Congress, as to how much of a check Congress should play generally on intelligence and military operations," Waxman said.