Obama Legacy on Immigration Reform Tied to Rubio, His Frenemy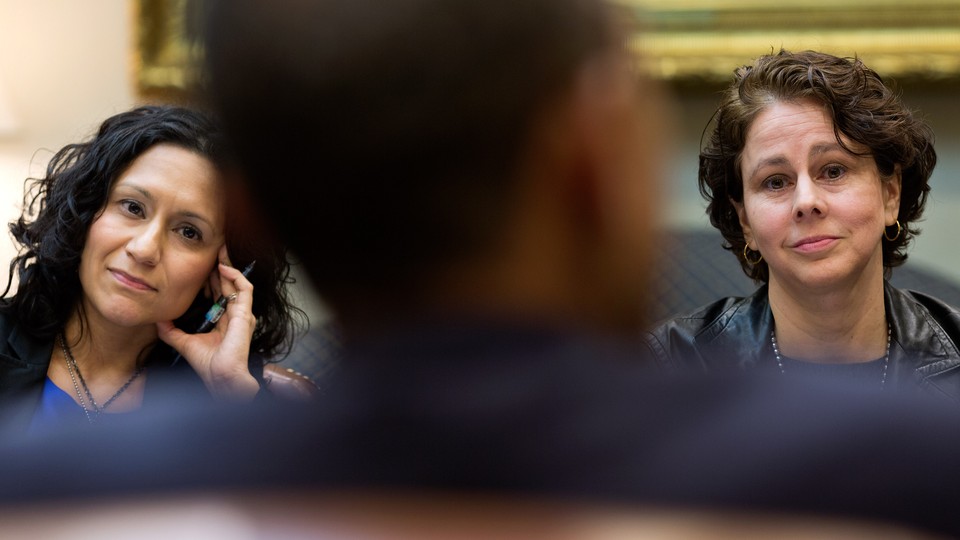 President Obama and Florida Sen. Marco Rubio, arguably the two most important people in a potential immigration deal, aren't exactly pals.
More than one month after the Republican senator declared he was eager to pass sweeping reforms, the president finally picked up the phone. Rarely a day goes by without Rubio blasting Obama's ideas on immigration as misguided or much worse, even when common ground exists. When a White House draft of an immigration bill was leaked to USA Today this weekend, Rubio dubbed it "half-baked" and "dead on arrival."
Such public declarations largely amount to political posturing. Obama's liberal base expects a quicker path to citizenship for illegal immigrants than what Rubio has outlined. Rubio risks his credibility with conservatives if he appears to be in cahoots with the president. With Rubio's political identity hinging on his status as a leading Republican foil to the president -- exemplified by his delivery of the party's official rebuttal to the State of the Union speech last month -- "" it's hard to imagine these rivals coming together.
But while some immigration reform advocates worry that ill will could doom a deal, they also point to the high stakes for both sides in courting the fast-growing Hispanic community that sealed Obama's second term. In other words: Obama and Rubio may never be friends, but they could be frenemies.
"The power of the Latino vote looming out there keeps both parties at the table," said Ali Noorani, executive director of the National Immigration Forum. "It's either a "˜win-win' or a "˜lose-lose' for both sides."
At a time when one of Washington's most common laments is that big deals never get made anymore, the tension between Obama and Rubio is an obvious symptom of an increasingly polarized political environment.  Ronald Reagan and Tip O'Neill, they are not. The Republican president and Democratic House speaker famously put aside their partisan backbiting for an occasional lunch or after-hours drink and reached a historic compromise on Social Security.
Obama and Rubio have never socialized one-on-one, but it's possible they are building a new framework for the elusive "grand bargain," in which bright lines are drawn long before consensus is reached. "I think the tension between these two important players shows this is a serious negotiation," Noorani added. "At some point, they have to move behind closed doors and sit across the table from each other, and this is the precursor to that."
Rubio and Obama have clashed over immigration policy since last year, when the senator began promoting a proposal that would allow illegal immigrants in college or the military to obtain legal status. The president pre-empted Rubio by issuing an executive order granting temporary visas to children brought to this country illegally. Rubio accused the president of enacting a shortsighted policy that would derail any efforts at comprehensive immigration reform.
Since then, Rubio has repeatedly questioned the president's commitment to real reform. When the president gave a major speech on immigration in Last Vegas last month, Rubio accused him of overlooking border security at the risk of increasing the number of illegal immigrants in the U.S. And when the White House plan was leaked over the weekend, Rubio immediately issued a scathing statement.
"This legislation is half-baked and seriously flawed," he said. "If actually proposed, the president's bill would be dead on arrival in Congress, leaving us with unsecured borders and a broken legal immigration system for years to come."
One of Rubio's complaints was that the president would allow illegal immigrants to jump in front of people who have applied legally, even though the president has repeatedly said they should go to the "back of the line." Rubio also said the White House plan fails to tighten border security, even though it calls for more patrols.
"Rubio is so worried about coming off his conservative perch that there is a knee-jerk reaction to anything the president does, and sometimes it's hyperbolic and factually inaccurate," said Marshall Fitz, director of immigration policy at the liberal Center for American Progress. "There is a risk of creating artificial schisms just because of the right's distaste for anything Obama does. It would be tremendously disappointing if that meant they couldn't get it over the finish line."
The common line of attack from Republicans that Obama doesn't want a deal because then his party can't use immigration as a wedge issue flies in the face of the president's obvious interest in legacy-building during his second term.
Still, Rubio's allies insist that if the president was truly interested in an immigration overhaul, he would have called the senator long before Tuesday. They frequently point to an amendment Obama sponsored as a senator as a "poison pill" that killed an immigration bill in 2007.
"This president has played politics before on immigration, and there's a lot of suspicion within the Republican ranks," said Republican consultant Ana Navarro. "I think it's incumbent upon him, after campaigning on immigration, speaking on it at his inauguration and in the state of the Union, to issue the invitation to Rubio."
On Tuesday, the president did just that, placing phone calls to Rubio and other Republican senators working on an immigration plan and depriving them of one of their chief complaints -- at least for one day.