Obama Cries Out for Climate-Change Solutions, but What Happens Now?
The president heartened environmentalists with the strongest presidential statement on warming in history. All that's left to see is how he follows through.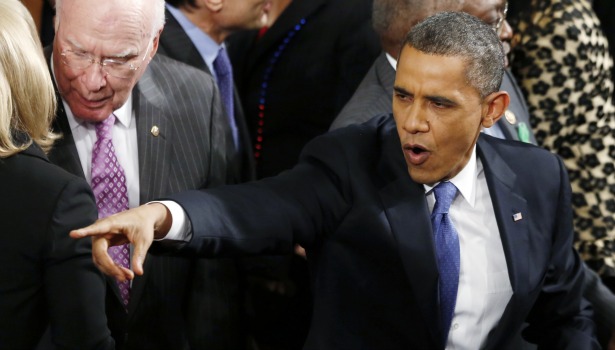 Reuters
President Obama followed up his Inaugural Address with more strong words for climate protection in his State of the Union, delivering the lengthiest soliloquy on climate change in presidential history.
"The 12 hottest years on record have all come in the last 15," Obama said. "Heat waves, droughts, wildfires, and floods -- all are now more frequent and intense," he said, echoing the data frequently cited by scientists and environmentalists.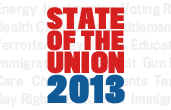 President Obama lays out his second-term vision for America.
See full coverage

Coming into the speech, environmentalists were looking for the president to acknowledge the threat of climate change and declare that he would take executive action to control carbon dioxide pollution in the face of the imminent threat of climate change. He delivered on all accounts.

He declared the real and substantial threat of climate change. "We can choose to believe that Superstorm Sandy, and the most severe drought in decades, and the worst wildfires some states have ever seen were all just a freak coincidence," he said. "Or we can choose to believe in the overwhelming judgment of science - and act before it's too late." The cost of rebuilding after Hurricane Sandy for New York and New Jersey will top $60 billion.

Obama urged Congress "to pursue a bipartisan, market-based solution to climate change, like the one John McCain and Joe Lieberman worked on together a few years ago." In this passage, he seemed to be endorsing a cap-and-trade system, although few environmentalists have much passion for trying this strategy again.

And then Obama threw down the gauntlet.
"But if Congress won't act soon to protect future generations, I will," he said. "I will direct my Cabinet to come up with executive actions we can take, now and in the future, to reduce pollution, prepare our communities for the consequences of climate change, and speed the transition to more sustainable sources of energy."
The most obvious path here is for the Environmental Protection Agency to crack down on carbon-dioxide emissions from already-existing power plants and to regulate carbon dioxide as a pollutant. But there are a
raft
of other
options
Obama could undertake, too. He could use his authority to block the Keystone XL pipeline, which would bring dirty tar sands through the U.S. to be exported and burned abroad. He could issue new energy-efficiency standards for appliances and building. In the State of the Union Obama offered the goal of "cut[ting] in half the energy wasted by our homes and businesses over the next 20 years." Much of the regulations to do this could be executed without congressional action.

Tempering his enthusiasm for climate-change solutions somewhat, Obama reaffirmed his "all of the above" strategy for energy development, neglecting the reality that some energy sources are dirtier than others. Much like during his campaign against Mitt Romney, Obama bent over backwards to demonstrate his support for developing new fossil-fuel resources. He said, "My administration will keep cutting red tape and speeding up new oil and gas permits."

Nonetheless, Obama's speech will be looked back upon as the clearest call for climate-change action by any president in American history. The question remains whether he'll wait for Congress to fail to act or whether he'll take executive action starting now.