Nothing Big or Bold About Obama's State of the Union Address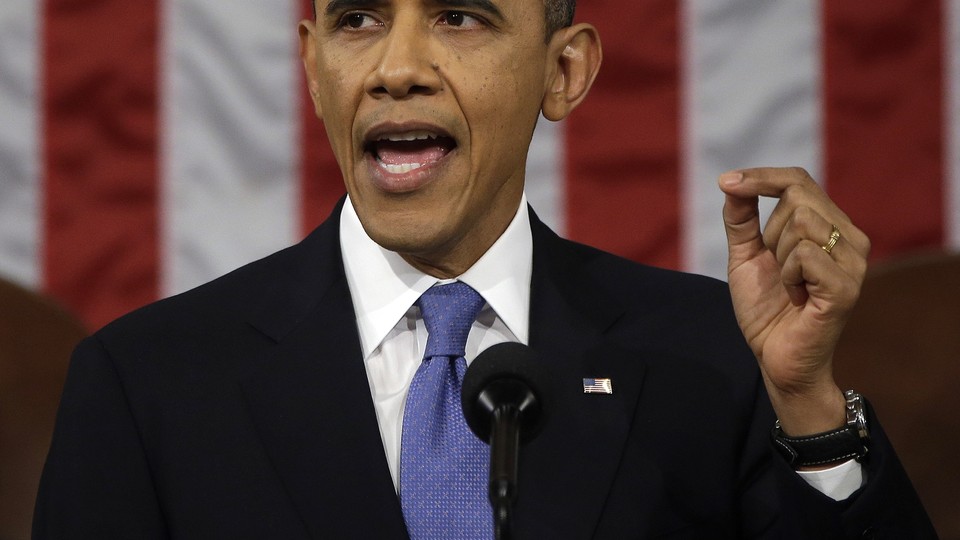 Rather than go big and bold, President Obama settled Tuesday night for incremental and pragmatic.
For all his swagger and political capital, the president subtly acknowledged the limits of what he can accomplish--even while promising in his State of the Union address to create "a rising, thriving middle class." His speech lacked the moon-shot vibe you'd expect from a president courting greatness.
The agenda he discussed Tuesday night was a mixture of old proposals and new ones fashioned on the cheap, bowing to the obstinacy of his GOP rivals and the brutal fiscal reality of the times.
"Let me repeat--nothing I'm proposing tonight should increase our deficit by a single dime," Obama told a joint session of Congress. "It's not a bigger government we need, but a smarter government that sets priorities and invests in broad-based growth."
Obama may suspect that that his legacy is already in place or in motion, and that precious little can be added to it.
In his first term, he averted an economic depression, ended the war in Iraq, and extended health care insurance to millions. His decisive reelection cemented a coalition of young, nonwhite, and well-educated voters that could fortify the Democratic Party for a generation.
That victory virtually assures that Congress will ease immigration laws. The postelection massacre in Newtown, Conn., gave him a chance to enact modest gun control legislation.
It all would make for a solid record, but Obama surely wants to be remembered as more than a merely good president. What else can he do?
Climate change is an existential threat to mankind, a hugely complicated issue that could foist a problem-solving leader into the pantheon of presidencies. And yet it remains a mere promise: Obama challenged Congress to take action and said if they don't, he will use his executive powers to limit pollutants.
"For the sake of our children and our future," Obama said, "we must do more to combat climate change."
Preventing the looming debt-and-deficit crisis would burnish Obama's legacy, but he faces a stubborn, antitax Republican Party. While Obama has the upper hand on the issue politically, he is in cahoots with the GOP in one respect: Neither side has been willing to admit that taming the deficit would require sacrifice by all Americans, including the middle class.
But, unlike GOP leaders, Obama is willing to upset his political allies. He signaled again that he was open to finding savings in Medicare.
Obama urged Republicans to postpone the looming deadline for draconian budget cuts, giving both sides room to negotiate a so-called grand bargain on deficit reduction. "Let's agree, right here and now, to keep the people's government open, pay our bill on time, and always uphold the full faith and credit of the United States of America," he said.
Finally, the economy is a legacy enhancer. He focused most of the speech on jobs, economic growth, and a rising middle class, making up for the fact that coverage of his inaugural address glossed over those issues.
"Deficit reduction alone is not an economic plan," Obama said. "A growing economy that creates good, middle-class jobs--that must be the North Star that guides our efforts."
He proposed raising the minimum wage from $7.25 an hour to $9 an hour and providing preschool to all 4-year-olds--poll-tested programs that would indisputably help the working poor and rising middle-class.
White House officials conceded that the GOP House is unlikely to pass a minimum wage hike, and states would bear the brunt of the preschool proposal.
He promised to create more "Manufacturing Innovation Institutes," which have been proven to create jobs that might otherwise go overseas. Obama also renewed his call to invest billions of dollars in the nation's crumbling infrastructure, particularly bridges and roads.
Responsible homeowners should be able to refinance their mortgages at today's lower rates, he said, and the federal government should spend $15 billion to help people repair homes in economically depressed areas.
He also urged Congress to consider value and affordability in making determinations about which colleges and universities get federal aid.
The White House refused to put a price tag on the entirety of his agenda, which suggests that it was not intended as a major stimulus to the economy.
The emotional climax of the address came when Obama challenged Congress to put his gun control proposals to a vote, using a preacher's cadence to evoke the names of shooting victims.
"Gabby Giffords deserves a vote!"
"The families of Newtown deserve a vote!"
"The families of Aurora deserve a vote!"
The confident, forceful delivery was a marked contrast from the low point of his reelection campaign, the first debate with GOP challenger Mitt Romney.
Obama's biggest advantage is his pitiful opposition. After a decisive defeat in November, the GOP is struggling to stay relevant in the face of pro-Democrat demographic trends. Infighting between party pragmatists and ideologues threatens to split the party in two, a civil war that played out before the public Tuesday night when the GOP countered Obama with dual addresses by Sens. Marco Rubio of Florida and Rand Paul of Kentucky, both darlings of the tea party representing different wings of the GOP.
"The American people don't expect government to solve every problem," Obama said. "They don't expect those of us in this chamber to agree on every issue. But they do expect us to put the nation's interests before party. They do expect us to forge reasonable compromise where we can."
In fact, polls suggest that Americans don't believe their leaders in Washington are capable of forging deals and fixing problems. They know--and Obama must know--that big and bold isn't possible in Washington right now, if ever.