North Korea's Nuclear Test: Taunting Obama on the Eve of His SOTU Speech
The pariah state's latest nuclear test is an embarrassment for the administration's non-proliferation strategy.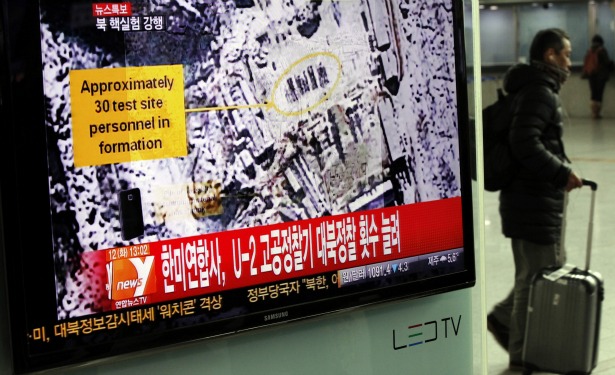 The White House sought to brazen out North Korea's nuclear test on Tuesday, insisting that "this wasn't a surprise," in the words of spokesman Tommy Vietor, and that it would not alter the tough nonproliferation message President Obama had already planned to deliver in his State of the Union address. "[North Koreans] have been saying for some time they intended to do this," Vietor told National Journal on Tuesday. "The president was always planning to say that if they want to join the international community, they need to change their behavior."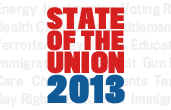 President Obama lays out his second-term vision for America.
See full coverage
Nonetheless, North Korea's third nuclear test since 2006 must be seen as a major embarrassment for Obama, coming on the eve of his biggest speech of the year (after his second Inaugural Address, of course). From the earliest days of his presidency, Obama has made nuclear nonproliferation a key goal, and his advisers have said he had wanted to revive this as a major "legacy" item in his second term. But North Korea's act of open defiance only illustrates how little progress there has been on several fronts.
The administration's early policy of "strategic patience" -- refusing to negotiate until Pyongyang unilaterally agreed to suspend its program -- appeared to provoke only more defiance from North Korea. Last week, Iran's supreme leader, Ayatollah Ali Khamenei, rebuffed a U.S. offer to negotiate directly over its covert nuclear program, despite multilateral agreement to impose the harshest sanctions yet on Tehran. And last fall, Russia abruptly announced it was dropping out of the Nunn-Lugar Cooperative Threat Reduction Program, which since 1991 has helped Moscow destroy or safely store nuclear, biological, and chemical weapons left over after the collapse of the Soviet Union.
It's not a pretty picture to present to the world at the start of Obama's second term. Vietor, asked about the apparent failure to halt either Iran's and North Korea's nuclear programs, replied: "How is that different than four years ago?" On the broader issue of nonproliferation, Vietor also noted that the U.S. and Russia had signed a New START pact in 2010. Yet Republicans in Congress have resisted further cuts in the U.S. nuclear arsenal, suggesting this effort signals U.S. weakness, especially after Obama was heard telling Russia's then-president, Dmitry Medvedev, over an open microphone that "after my election I have more flexibility" in making concessions on America's missile-defense program. The North Korean test is likely to only stiffen GOP resistance.
Seeking to put on a tougher face immediately after the test, White House officials also sought to discredit a story in The New York Times on Monday that reported Obama had planned to use his State of the Union speech to call for another dramatic decrease in the U.S. nuclear force, from about 1,700 weapons today to just above 1,000, saying the article exaggerated the willingness of the administration to make those cuts.
To be fair, the latest North Korean test appears to be just another attempt by Pyongyang to play the game of nuclear blackmail it has pursued for a generation, and which successive U.S. administrations have failed to derail. Since the 1994 Agreed Framework, the Clinton-era pact under which the North was to get fuel oil, food aid, and billions of dollars' worth of civilian nuclear equipment in return for freezing and "eventually" dismantling its plutonium program, North Korea has used its sputtering nuclear program as a bargaining chip to gain Western attention. And every time it has failed to follow through on pledges to dismantle the program. Even the George W. Bush Administration, after denouncing the Clinton deal with Pyongyang, eventually came around to the idea that the North Korean regime wasn't about to collapse after all, and it might be better to trade off proliferation for a little food and aid. Yet its own attempt at an aid-for-nukes deal in 2005 fell apart as well, and the North conducted its first test in 2006.
After Kim Jong Il's death in December 2011, his son Kim Jong Un resumed the same pattern. When Obama's first-term policy of strategic patience, largely the brainchild of former Secretary of State Hillary Clinton, bore no diplomatic fruit, Washington again resumed efforts at negotiations with Pyongyang, both directly and in an effort to revive the old "six-party" talks consisting of the U.S., China, Japan, South Korea, Russia and North Korea. As Tuesday's test demonstrates, this did not work either. "There is a history here of accommodation and provocation," outgoing Defense Secretary Leon Panetta said last fall.
Despite affecting insouciance about the State of the Union, Obama responded with harsh rhetoric Tuesday morning, calling the North Korean test a "highly provocative act" that "undermines regional stability" and constitutes "a threat to U.S. national security."
The White House, putting the best possible face on things, also sought to recast the nuclear test as a bigger challenge for China than it is for Washington, coming at a time when Beijing is going through its own difficult leadership transition and faces a renewed U.S. presence in the Pacific. China had asked North Korea not to set off its device, and Pyongyang openly defied that warning, appearing to highlight China's weakness. "What this does is to put a new test to the Chinese leadership," Vietor said.