The pariah state's latest nuclear test is an embarrassment for the administration's non-proliferation strategy.
The White House sought to brazen out North Korea's nuclear test on Tuesday, insisting that "this wasn't a surprise," in the words of spokesman Tommy Vietor, and that it would not alter the tough nonproliferation message President Obama had already planned to deliver in his State of the Union address. "[North Koreans] have been saying for some time they intended to do this," Vietor told National Journal on Tuesday. "The president was always planning to say that if they want to join the international community, they need to change their behavior."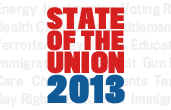 President Obama lays out his second-term vision for America.
See full coverage
Nonetheless, North Korea's third nuclear test since 2006 must be seen as a major embarrassment for Obama, coming on the eve of his biggest speech of the year (after his second Inaugural Address, of course). From the earliest days of his presidency, Obama has made nuclear nonproliferation a key goal, and his advisers have said he had wanted to revive this as a major "legacy" item in his second term. But North Korea's act of open defiance only illustrates how little progress there has been on several fronts.
The administration's early policy of "strategic patience" -- refusing to negotiate until Pyongyang unilaterally agreed to suspend its program -- appeared to provoke only more defiance from North Korea. Last week, Iran's supreme leader, Ayatollah Ali Khamenei, rebuffed a U.S. offer to negotiate directly over its covert nuclear program, despite multilateral agreement to impose the harshest sanctions yet on Tehran. And last fall, Russia abruptly announced it was dropping out of the Nunn-Lugar Cooperative Threat Reduction Program, which since 1991 has helped Moscow destroy or safely store nuclear, biological, and chemical weapons left over after the collapse of the Soviet Union.