Mr. Abe Goes to Washington: Japan PM Talks Autos, North Korea With President Obama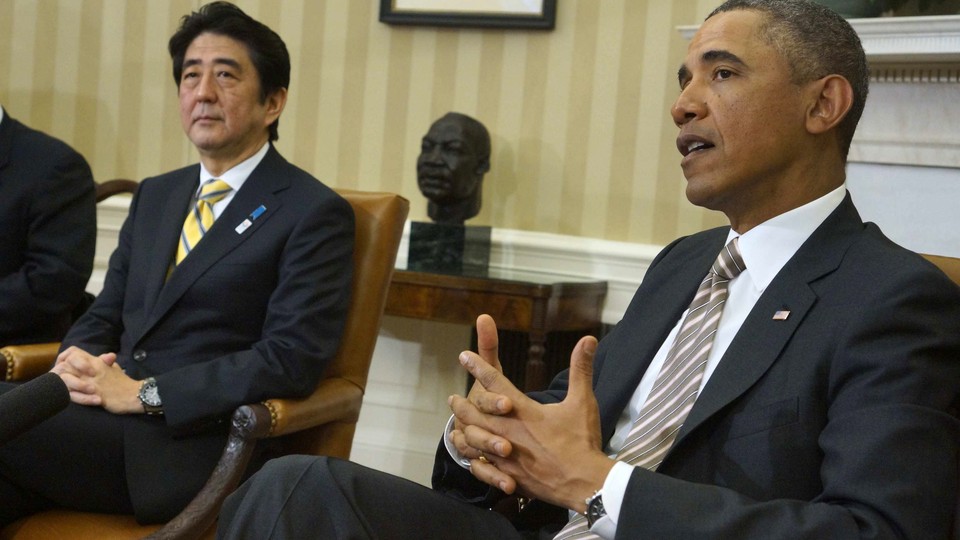 During President Obama's four years in the White House, Japan has had five different prime ministers. On Friday, Obama met with the latest man to hold that position, Prime Minister Shinzo Abe, at the White House to reinforce the two nations' strategic military and economic partnership.
This isn't the first time Abe has been to Washington. He was here during his earlier, brief stint as prime minister between 2006 and 2007. Last December, he was reelected when his Liberal Democratic Party retook power after a landslide victory.
Japan remains a vital ally for the United States, as White House officials plan for the "pivot" to Asia. With a new Pacific free-trade agreement under discussion and the North Korean nuclear threat more palpable, Abe said he wants to forge an even stronger relationship with Washington. And Obama seems willing, just as he has in recent years. In fact, Obama's first meeting with a foreign official as president was with then-Prime Minster Taro Aso of Japan in February 2009.
"You can rest assured that you will have a strong partner in the United States throughout your tenure as prime minister," Obama told Abe on Friday.
Here are the five things you need to know about the two leaders' meeting on Friday afternoon.
Currency Manipulation: The Japanese economy, the third-largest in the world, has been ailing for years. Other countries accuse Japan of seeking to devalue its currency to try to boost exports. The weakening yen has dropped 14 percent since November, according to Bloomberg. Analysts fear that if Japan continues to devalue its currency, other nations will follow suit. White House officials on Thursday would not say whether Obama and Abe would discuss this issue in their meeting on Friday.
North Korea's Nuclear Program: After yet another North Korean nuclear test and separate tests of its ballistic-missile capabilities, experts are worried about the threat Pyongyang poses to the stability of the region. Both Obama and Abe have criticized its recent "provocative" actions. On Friday, Abe said that Japan would work with the U.S. in seeking further United Nations sanctions and would also work with South Korea. "We just cannot tolerate the actions of North Korea, such as launching missiles and conducting nuclear tests," Abe told reporters during a picture-taking session with Obama in the Oval Office. "So we agreed we would cooperate with one another and deal resolutely with North Korea."
China: Japan has been locked in a dispute with China over the sovereignty of islands in the East China Sea. The United States has not taken a public position. With both Chinese and Japanese warships surrounding the cluster of islands, world leaders fear the standoff could lead to a military conflict. The islands in question are rich with oil and natural gas, as well as fish. Abe on Friday called the U.S. a stabilizing factor in the region, helping prevent a broader conflict between Japan and China.
U.S. Auto Industry: Obama said he is eager for Japan to join a proposed Trans-Pacific Partnership, a free-trade pact between the United States and 10 other nations, but with some caveats. One of the biggest issues White House officials have cited is trade barriers for U.S. cars. Administration officials say they are seeking a fairer playing field for U.S. automakers in Japan, including lower tariffs. Neither leader mentioned the issue in brief remarks to reporters. Rice and beef tariffs are also still a point of contention between the two nations.
Pivot to Asia: In Obama's second term, the U.S. will continue its stepped-up engagement with Asia, seeking to bolster relationships in the Pacific and increase its presence in a region caught up in China's rise. The United States has put additional Marines in Australia and deployed more ships to the region. Although Washington and Tokyo had a brief dispute over the relocation of the U.S. military base in Okinawa, Abe has said he wants to strengthen ties with the U.S. as China's power rises and amid worries about North Korea. On Friday, both leaders talked up the two countries' strong ties. "I think I can declare with confidence that the trust and the bond in our alliance is back," Abe said.