Meet Dr. Ben Carson, the New Conservative Folk Hero
After confronting President Obama at the National Prayer Breakfast, the accomplished doctor became an instant star. Is he destined for political success?
After confronting President Obama at the National Prayer Breakfast, the accomplished doctor became an instant star. Is he destined for political success?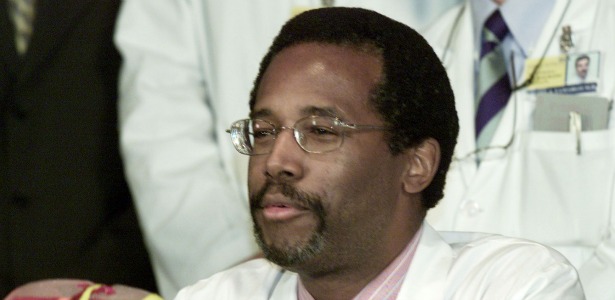 Reuters
There are two ways you might have heard of Dr. Ben Carson. If you're a doctor or follow medicine, you might know of his great success -- the youngest head of a major division at Johns Hopkins, one of America's medical meccas; the first surgeon to successfully separate conjoined twins, back in 1987; a Presidential Medal of Freedom winner late in George W. Bush's term. He was also mentioned on The Wire.
Or if you've tuned in to Fox News or clicked onto National Review Online in the last week, you've probably heard his praises announced in loud voice. Carson, who is head of pediatric neurosurgery at Hopkins, also made a brief appearance on ABC's This Week Sunday. Carson's big break came when he spoke at the National Prayer Breakfast in Washington on February 7. Here's his keynote speech:
Things don't get interesting for a while, so you might want to skip to about halfway through. Carson delivered an opening shot against "political correctness," and then -- after namechecking Tocqueville, recapping his own inspirational life story, and calling for a better education system -- voiced concern about the national debt and argued the case for a flat tax, using the Bible's injunction to tithe a set percentage, and for health-savings accounts, a medical option that has gained currency among conservatives. Crucially, he delivered this speech from a podium just feet from President Obama, who of course oversaw the passage of a very different health-care plan and has been a major proponent of progressive taxation. Obama, as he often does, remained somewhere between impassive and bored-looking. It's fair to say he didn't seem to be enjoying himself.
This act of courage (or chutzpah, depending on your perspective) has earned him instant fame among conservatives. National Review's John Fund, Daniel Foster, and Jonah Goldberg have all extolled him; Goldberg even tweeted this last Tuesday as Obama was finishing his speech to a joint session of a Congress:
I like the universe where Ben Carson just finished his State of the Union. Why can't I live in *that* universe?

-- Jonah Goldberg (@JonahNRO) February 13, 2013
The trio's boss, National Review Editor Rich Lowry, used his weekly Politico column to recap the speech. There were the many Fox News appearances, and the Wall Street Journal ran an editorial titled, "Ben Carson for President."
Not all the attention has been quite so positive, especially since the breakfast is usually treated as a nonpartisan, nonpolitical occasion. The speech earned Carson a sharp rebuke from the widely syndicated conservative columnist Cal Thomas, who called on the doctor to apologize publicly.
"His remarks were inappropriate for the occasion," Thomas wrote. "It would have been just as inappropriate had he praised the president's policies. The president had a right to expect a different message about another Kingdom. I'm wondering if the president felt drawn closer to God, or bludgeoned by the Republican Party and the applauding conservatives in the audience."
Liberal and mainstream outlets have been slower to pick up on Carson. When he appeared on This Week, interviewer Jon Karl seemed a bit bemused, shying away from probing questions about policy and favoring the formulation, "What do you make of ...?"
As for the rest of us, what should we make of Carson's sudden rise to popularity? As Lowry pointed out, Obama and most liberals would agree with the basic principles at stake: personal responsibility, the importance of education, the benefits of intact families. Obama has on occasion talked the talk about the national debt, though many on the right feel he hasn't walked the walk. Only the flat tax is seriously divisive. Carson has spoken publicly on controversial topics in the past, but has never received so much attention. He is a longstanding critic of Obama's health-care overhaul. He has also stated that he does not believe in evolution.
Though many commentaries have tried to tiptoe around it, it's impossible to pretend there's no racial dimension involved in a successful black conservative castigating the liberal black president. Black conservatives remain fascinating to Americans of all political persuasions and ethnicities; look no further than Herman Cain's presidential campaign. And in the age of Obama -- when many on the right feel that any criticism of the president is liable to draw undeserved claims of racism -- a champion for the cause who can sidestep that retort is sure to be welcomed. Jonah Goldberg came closest to addressing this question, likening Carson to Booker T. Washington.
Carson has remarkable parallels with Cain, it's true -- but they're much deeper and more interesting than skin color. Both men rose from hardscrabble backgrounds, Carson in Detroit as the son of an illiterate single mother who had wed at 13, Cain as the son of a chauffeur in Atlanta. Both found academic success, then went on to impressive careers. Both are cancer survivors. And both burst onto the political scene as professionally successful political unknowns confronting unsuspecting Democratic presidents. Compare Carson's speech with Cain's first great moment in the public spotlight. That was in 1994, when Cain, then the CEO of Godfather's Pizza, got into a debate with President Clinton at a town hall meeting on his health-care overhaul and quickly gained national acclaim. (Of course, there's no reason to believe that Carson has anything like the personal skeletons in the closet that forced Cain to abandon his presidential run.)
While Carson doesn't have the powerful, pulpit-honed oratorical skills Cain does, both approach political speaking with the same style that as brought them success in their side gigs as motivational speakers. They're affable, humorous, self-deprecating, and can easily mix lite religion with simplistic talking points on policy (trying to reconcile Carson's desire to pay down the deficit urgently while also implementing a flat tax is only slightly less challenging that making 9-9-9 coherent as a taxation system). The idiom allows speaker to flip smoothly between motivation and self-promotion: Carson's prayer-breakfast speech casually plugged his recent book America the Beautiful as well as a scholarship fund he and his wife established.
Setting aside the Wall Street Journal's hyperbolic call for a President Carson, does the doctor have a future in politics? He left the door open this weekend, saying, "That's not my intention, but I always say, 'I'll leave that up to God.'" In 2010, former Maryland Republican Governor Bob Ehrlich approached Carson about running with him in an attempt to reclaim the governor's mansion, but Carson declined, Fund reports. Carson says he's an independent, but assuming his views would push him toward the GOP, Maryland is generally tough going for Republicans. There's only one in the Congressional delegation. Senator Barbara Mikulski, a Democrat, won't be up for reelection until 2016, and her fellow Democrat Ben Cardin has a term that ends in 2018. But Democratic Governor Martin O'Malley will have to step down in 2014 due to term limits. If Carson wants to make a run for it, it's clear he's got some fans in the conservative media to help him get started.