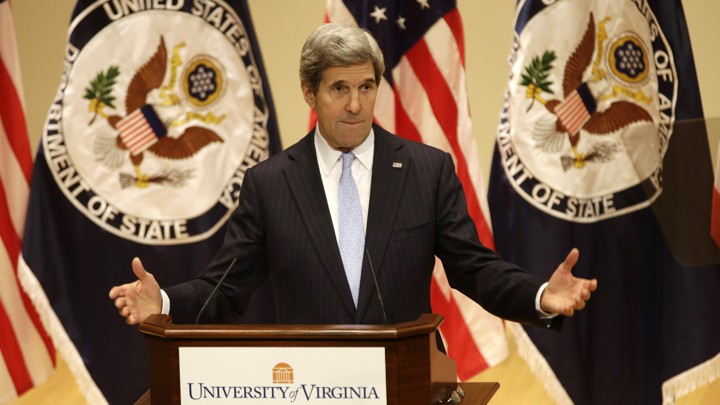 The idea of John Kerry living it up in Cartagena, drinking and dancing with his State Department colleagues and locals as his predecessor Hillary Rodham Clinton once famously did, is hard to imagine. But their policies might not be as different as their individual styles.
On Wednesday, just weeks into his tenure as secretary of State, Kerry made his first public address in his new position at the University of Virginia. Fittingly, Kerry's address was made at the school founded by Thomas Jefferson, the nation's first secretary of State.
Ahead of his trip to Europe and the Middle East, Kerry made a passionate plea for U.S. foreign affairs funding in the wake of paralyzing budget talks in Washington. While the United States "must get its fiscal house in order," he said, the State Department's reach on global trade and human rights cannot be limited.
"This is a time to continue to engage for the sake of the safety and economic health of our country," Kerry said. "We can't afford the kind of delays and obstruction that stands on the horizon of Washington."
While observers have been quick to point to the stark differences in Kerry and Clinton's personalities — the international superstar Clinton and the sometimes monotone Kerry — his tenure as secretary might not be as dissimilar from hers as they think. Tamara Cofman Wittes, the director of the Brookings Institution's Saban Center for Middle East Policy, said that both leaders, whether in their Senate careers or on the national political stage, garnered international fame and respect.
"Both Secretary Clinton and Secretary Kerry came into the job with tremendous prestige in their own right and a set of issues that they've championed throughout their career in their own right," said Wittes, who previously served as the deputy assistant secretary of State for Near Eastern affairs. "But they are serving a president."
After a bruising primary, President Obama made an effort to show that he and Clinton looked as if they were shoulder-to-shoulder on the administration's foreign policy initiatives. For Kerry, it's unlikely that would be much of an issue, seeing as he and Obama worked closely together while Kerry chaired the Senate Foreign Relations Committee. Kerry, the diplomat in waiting, also took several trips to the Middle East on behalf of the president to broker deals and smooth relations.
But Kerry might bring along his own pet issues. In the Senate, Kerry championed environmental issues and is likely to put a new emphasis on Europe and Asia, knowing many of those leaders. He has also touted the economic opportunities in Africa and warned against the dangers of global terrorism. However, it is still unclear on which issues Kerry will focus more of his attention.
One of the biggest issues that Clinton brought to the forefront was empowering women internationally. In several of the countries she visited, she held town-hall and other events on the issue, while leading the charge in creating the Office of Global Women's Issues. The office, which was made permanent through an executive order from Obama as a tribute to Clinton's services, works toward women's health and leadership worldwide.
In his confirmation hearing, Kerry was pressed by Sen. Barbara Boxer, D-Calif., on whether he would continue to fund and champion the office. Kerry said he would, and reiterated that promise on Wednesday.
"We value gender equality knowing that countries are in fact more peaceful and prosperous when women and girls are afforded full rights and equal opportunity," Kerry said.
He departs Sunday for the United Kingdom, Germany, France, Italy, Turkey, Egypt, Saudi Arabia, the United Arab Emirates, and Qatar, a trip that the State Department has labeled a "listening tour." It's an appropriate first trip for Kerry, who can draw on his foreign affairs experience and his father's career in the foreign service, Wittes said.
"This is someone who's demonstrated through the work that he's done traveling as a senator that he believes in really listening, and he believes that you really do have to put yourself in somebody else's shoes if you really want to be able to persuade or have an impact," Wittes said.
The challenges facing the United States as Kerry starts this new position are stark — from Iran's nuclear program to a renewed focus on Asia — but the office of secretary of State is unlikely to fundamentally change. Clinton may have had the nightclubs in Colombia or the dancing in South Africa, but Kerry has a few cool attributes too: Remember his motorcycling and windsurfing skills?
We want to hear what you think about this article. Submit a letter to the editor or write to letters@theatlantic.com.