It's Only Monday, but Here's This Week's Craziest Conspiracy Theory
A disgraced former FBI agent claims that CIA director-nominee John Brennan is a convert to Islam. That's false -- and it doesn't matter anyway.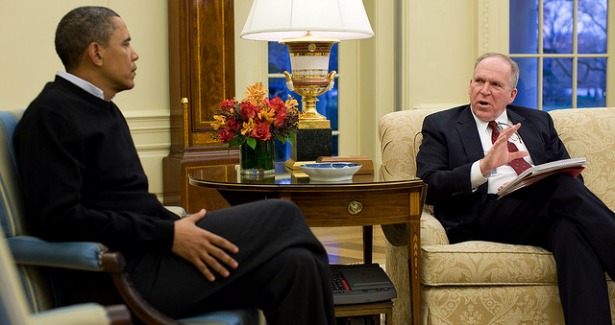 Pete Souza/The White House
So you thought that with Barack Obama's reelection, scurrilous whisper campaigns about secret Muslims would finally die out?
No dice.
Josh Marshall calls our attention to a new, wacky, baseless conspiracy theory: that John Brennan, President Obama's nominee for CIA director, is a Muslim convert. Here, from former birther clearinghouse WorldNetDaily, is the tale:
One of the FBI's former top experts on Islam has announced that President Obama's pick to head the Central Intelligence Agency, John Brennan, converted to Islam years ago in Saudi Arabia.

As WND has reported, former FBI Islam expert John Guandolo has long warned that the federal government is being infiltrated by members of the radical Muslim Brotherhood. But Guandolo now warns that by appointing Brennan to CIA director, Obama has not only chosen a man "naïve" to these infiltrations, but also picked a candidate who is himself a Muslim.

"Mr. Brennan did convert to Islam when he served in an official capacity on the behalf of the United States in Saudi Arabia," Guandolo told interviewer and radio host Tom Trento.
It's only Monday, but this has to be the least sensible conspiracy theory of the week. It's essential to point out that there is exactly zero evidence for this claim. Nor is Guandolo a reliable source. He resigned from the FBI, apparently after the agency opened an investigation into his multiple affairs. Since then, he's made a career on the anti-Islam circuit.
Moreover, as with the false Obama claims, there's the question of, So what? There can be little doubt about Brennan's zeal for fighting Islamist terror. Though he has reportedly been an internal voice calling for controls over drone killings, he has overseen White House counterterror strategy over the last four years, as drones have become the hallmark of the War on Terror and the top ranks of terrorist organizations -- including Osama bin Laden -- have been killed. In fact, most critiques of the Obama terror strategy that Brennan has spearheaded have focused on whether it's too focused on targeted killing.
But actually, the greatest irony of the whole thing is that the man who actually leads the CIA's fight against Al Qaeda, and who would be Brennan's employee, is in fact a convert to Islam. As The Washington Post's Greg Miller reported last year:
As chief of the CIA's Counterterrorism Center for the past six years, he has functioned in a funereal capacity for al-Qaeda. Roger, which is the first name of his cover identity, may be the most consequential but least visible national security official in Washington -- the principal architect of the CIA's drone campaign and the leader of the hunt for Osama bin Laden. In many ways, he has also been the driving force of the Obama administration's embrace of targeted killing as a centerpiece of its counterterrorism efforts.

Colleagues describe Roger as a collection of contradictions. A chain-smoker who spends countless hours on a treadmill. Notoriously surly yet able to win over enough support from subordinates and bosses to hold on to his job. He presides over a campaign that has killed thousands of Islamist militants and angered millions of Muslims, but he is himself a convert to Islam.
It's worth discussing whether the government strategy for fighting Al Qaeda needs recalibration. It's reasonable to question how American laws should apply to targeted killing, and whether drone strikes are effective at killing but bad at winning hearts and minds. But whether Muslims are competent to kill bad guys? The record speaks for itself.