In Migrant-Worker Shortage, Strawberries Are Spring's First Endangered Crop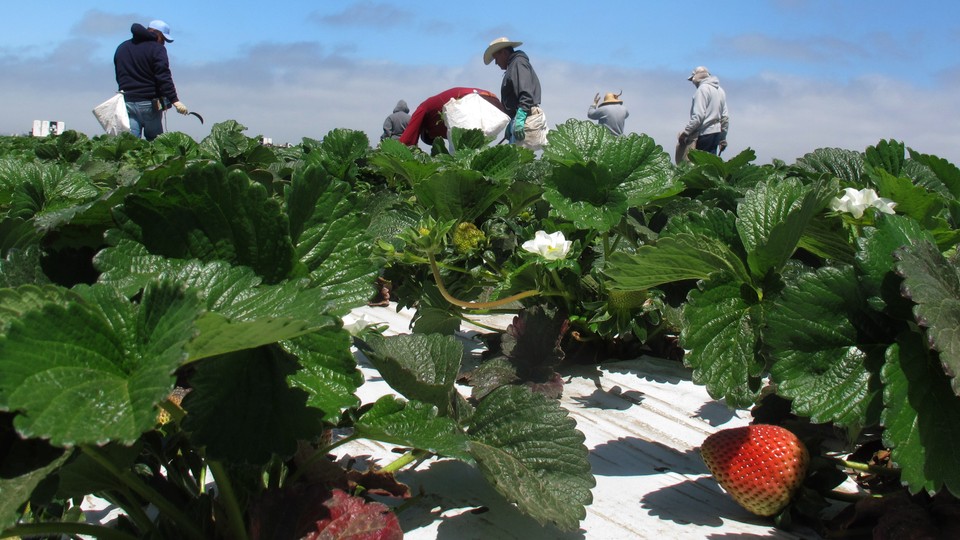 With up to 80 percent of America's field hands believed to be undocumented workers, and with fewer prospective laborers crossing the border, your appetite for strawberries and other fresh foods may go unsated this spring.
(Related Next America Facts: The Human Cost of Fruits and Vegetables)
"Labor is the No. 1 issue for agriculture. It's not pesticides, water supply, or land use. Without workers, we're out of business."
So says Red Bryan, a California berry producer for 40 years. He echoes farmers' predicament last year, when they faced the state's worst-ever worker shortage, according to CNBC.
Bryan was featured in a Wednesday Wall Street Journal  story that examined the economic impact of border and immigration policy on America's food supply.
Highlights from the article, all suggesting rising costs for farmers and consumers:
Many farmers want the immigration-reform bill to permit more seasonal workers, perhaps allowing some who amass a certain total of work days to stay permanently.
Fewer individuals risk crossing the border because of cartel violence, more low-skilled jobs recently created in Mexico, and tighter U.S. enforcement from California to Texas.
Long resistant to securing official temp workers using an agricultural visa, some farmers are now doing so, opting to pay higher wages to prevent a ruined crop or to avoid fines for hiring undocumented workers. The Labor Department reports year-over-year growth in H-2A visas of 8 percent. However, a related issue raised in a Hispanic Business article last summer said that red tape often means workers, on average, arrive 22 days late.
The average field worker in 2012 earned $10.76 an hour, up from $9.40 in 2007. 
Elsewhere:
Labor shortages could cost the U.S. produce industry $5 billion to $9 billion, according to a American Farm Bureau Federation projection cited last summer by Hispanic Business.
America's farmlands have long been harvested by foreign workers willing to work hard for low wages. Immigration reform could dry up that supply, The Washington Post reports, citing research by professors of agriculture and economics in California and Mexico. If, after immigration reform, the U.S. admits people who instead of working crops opt for other jobs, the worker shortage issue will recur, they say.
Anticipating summer worker shortages in the Pacific Northwest, the Washington Farm Labor Association sent recruiters recently to Nogales, Mexico, hoping to secure 3,000 crop pickers, via H-2A visas, the Tri-City Herald reports. Washington state, rich with apples, cherries, apricots, onions, and grapes, is No. 2 in the U.S. in its need for field hands, using almost 60,000 seasonal workers.