How to Name a Mountain After Ronald Reagan
If this activist gets his way, there will be a Mount Reagan in Nevada, possibly as soon as next year. But it hasn't been easy.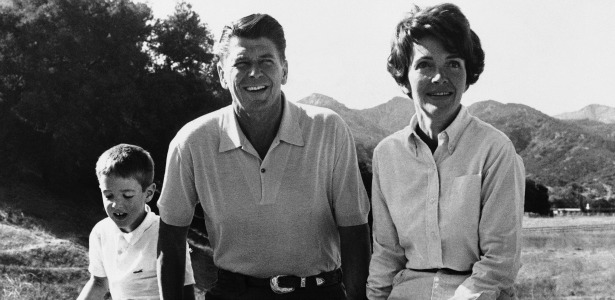 Associated Press
Chuck Muth imagines a world where Las Vegas tourists could take a patriotic break from gambling and Cirque du Soleil for a side trip to Mount Reagan.
Muth, a Nevada activist and former executive director of the American Conservative Union, is spearheading the effort to get a Las Vegas-area peak named after the late president and right-wing hero. The initiative is part of the Ronald Reagan Legacy Project, a push to memorialize the former president as widely as possible that's backed by anti-tax crusader Grover Norquist, who is an old friend of Muth's. The sometimes-controversial effort has gotten more than 3,000 landmarks named for the Gipper, including highways, buildings, and schools -- but never a mountain. While 12 other presidents have U.S. mountains named for them, and FDR has a peak in Canada, getting approval for Mount Reagan has proved unexpectedly difficult.
Muth has been working on the proposal for more than a decade, and now he believes it is finally close to succeeding. In an interview, Muth and I discussed whether this mountain is grand enough for Reagan, why the "Mount Reagan" in New Hampshire doesn't count, and how Mark Twain ran afoul of Smokey Bear. This is an edited transcript of our conversation.
---
Why do this?
In 1997, Grover Norquist started the Reagan Legacy Project with the intention of having something named after Ronald Reagan in all 50 states. I moved back to Las Vegas in 2009 and discovered there was nothing named for Reagan in Nevada. Talking to [other activists], one beer led to another, and we thought, we've got plenty of mountains here -- why don't we try to name a mountain after Reagan?
That was four years ago. What happened?
What we didn't know was all the bureaucratic speed bumps we would encounter along the way. There is a Board on Geographic Names that has to agree to any naming of natural features -- first the Nevada board, then the national board has to approve it. First we thought about renaming Boundary Peak, on the California border. It's the tallest peak in the state, it's got a totally generic name -- who could possibly object? But it turned out there was an objection. The county commissioners in Esmeralda County said, "It's always been named Boundary Peak." They weren't willing to change it.
So we went to the Mount Charleston area [in the Spring Mountains northwest of Las Vegas] and tried to find a significant, appropriate peak that wasn't already named, but we couldn't. And then we found out you can't name something new in a wilderness area. So the project kind of died off. We let it slide.
When did you restart the project?
One day recently, I was driving home with my daughter to our house near Sunrise Mountain, and she said, "You know, actually, it's not Sunrise Mountain. It's Frenchman Mountain." Everyone in Las Vegas calls it Sunrise Mountain, but technically that's not the name. That sparked an idea -- this one's already misnamed; let's just unofficially start calling it Mount Reagan on our own and not worry about getting the federal government's permission.
Last August, I mentioned to [local conservative radio host] Alan Stock that we ought to start informally calling it Mount Reagan. But then we found out the peak of Sunrise Mountain was actually unnamed -- not the whole mountain, just the summit portion. So we might be able to officially name the peak, and then we would have the only official Mount Reagan in the country.
It seems like quite an ordeal to get a mountain named.
Yeah, they'll let you name something that's not already named, but they don't tend to change the names of things unless they're offensive, like Jewfish Creek or Negro Mountain.
Wait, are those real? Is the government actively policing our geographical features for political correctness?
Oh, yeah. Jewfish Creek is in Florida, Negro Mountain is in Pennsylvania. There are active efforts to change those. I guess we could have tried to make the argument that Frenchman Mountain is offensive, but we didn't want to go there.
Frenchman Mountain, by the way, is actually named after a scam artist -- a guy named Paul Watelet who fleeced settlers by filing false mining claims. And he wasn't even French, he was Belgian.
We learned all kinds of interesting history researching this project. For example, Ronald Reagan was a marquee performer on the Las Vegas Strip for two weeks in 1954. He owed back taxes to the IRS and needed the money. He also filmed a World War II propaganda film with Burgess Meredith at Nellis Air Force Base in Nevada [The Rear Gunner, 1943]. Now, if you want to commemorate a natural feature for someone with a national or international reputation, they do not have to have a direct connection to that feature. Reagan clearly fits that bill, so we didn't have to establish that he had a connection to the Las Vegas area. But since the connection was there, we figured it couldn't hurt to document it.
What does the process entail?
We had to fill out an application -- naturally, no federal bureaucracy operates without lots of forms to fill out. We submitted it [Wednesday, the 102nd anniversary of Reagan's birth] to the Nevada Board on Geographic Names. They will have a hearing in Reno on March 14. In the meantime, they'll reach out to other agencies -- the Bureau of Land Management, the Forest Service, the Clark County Commission -- to find out if there are any legitimate objections to the proposal. If there's no substantial opposition, they could vote as early as September to approve it, and then it would be sent the the federal Board on Geographic Names.
Usually, if the state board approves something, the federal board will approve it, but you never know what will come up. Two years ago, the state board approved naming a cove in Lake Tahoe after Mark Twain. But it was rejected at the national level because the Forest Service discovered that when Twain went camping at Lake Tahoe, at one point he left a campfire burning and apparently set off a forest fire. The Nevada board is not happy they were overruled; they've found new evidence that it may not have happened, and they're appealing the decision. But we don't know what objections could come up.
We think we've met all the criteria. In 2003, the New Hampshire legislature created a Mount Reagan in New Hampshire by renaming Mount Clay. But one of the [federal board's] rules is you can't officially name something after someone until they've been deceased for five years. In 2003, Reagan was still alive. In 2010, New Hampshire applied to make the name official, and it was rejected. Their main reason was that it already had a name. But in their discussions they also noted they'd received 160 emails opposing the change for various reasons. That's why we're collecting individually signed petitions at the local level. We want to bring thousands of signed petitions demonstrating local support for this to help overcome whatever objections there are.
I think we have a very good chance of making this happen. We've complied with all the requirements. Our biggest concern has always been that people of the opposite political persuasion will object simply because they don't like Reagan's politics. We accept that that's the case, but it shouldn't be a criteria. The board has assured us that purely political objections will not be taken into account.
What's your connection to Reagan?
I'm a Reagan kind of guy. He shaped my political philosophy when I was in my 20s. One of my greatest regrets is that I was invited to the inaugural ball in 1984 but didn't go because I couldn't afford to rent a tux. When he passed away in 2004, I was living in Baltimore and my kids were 3 and 4. My wife and I took the family, got in the car at 10 at night, parked at Union Station and walked to the rotunda to pay our respects. The line stretched all the way to the Mall. We waited for 12 hours. Nobody was complaining -- we were all just standing there reminiscing about the president. I have a big picture on my wall of him lying in state.
What's the mountain like?
It's on the east side of Las Vegas. The elevation is 4,052 feet. It's not part of a larger mountain range. There is a hiking trail that goes all the way to the top. You can hike up it, but it's a very strenuous, steep hike that takes about four hours. There's also a service road for four-wheelers to get to the top to service the radio towers that are up there. The view from the top is supposedly just fantastic -- you see the wilderness, the barren desert, and Lake Mead to the east, and then on the west side you see Las Vegas and the bright lights of the city and the Strip. You can see Boulder City and Nellis Air Force Base. I've never been to the top. I tried walking it with my kids, but we only got about a quarter of the way up before we got tired.
President McKinley's namesake mountain in Alaska is 20,000 feet. Do you really think a 4,000-foot peak is sufficiently grand to honor the greatness of President Reagan?
I've had a couple of people say, "You need to find a better mountain." There are, I'm sure, higher mountain peaks. The problem is, are they unnamed? You're just not going to get the board to unname something that already has a name. This is a peak that can be seen from anywhere in Las Vegas. It can be hiked. It's easy to get to, unlike Mount Rushmore. People all over the world have great respect for Ronald Reagan, and a lot of them come to Las Vegas. It would be a great tourist attraction for the millions of people who come here to go and see. I'm not saying it's the most majestic mountain in the world, but as far as an unnamed mountain that's easy to get to, I think it's certainly appropriate for honoring a great president.
What do you think Reagan would make of this effort?
He was a very humble man. I'm sure he wouldn't have wanted a lot of to-do over him. But I think he would have had a lot less objection to a mountain named after him than a federal government building.
It does seem like your struggles with the bureaucracy to get this named are an ironic tribute to Reagan's small-government philosophy.
Believe me, that was the first thing I thought about. Immediately, when I found out there's a whole federal department for naming mountains, valleys, and rivers, I thought, "This is something Reagan definitely wouldn't have approved of." I've had a little change of heart, though. After getting into it, when I started reading about the conflicts over names, and the problems it creates when there are different maps with different, conflicting names, or when states decide to change the names of things without federal approval. And the process really hasn't been that onerous -- it's nowhere near as bad as the IRS.
It's right near your house, right?
The base is about a block from my doorstep. I'm looking at it out of my window right now. The other day, at sunrise, I took a beautiful picture of the sun peeking over the top of the mountain. It was morning in America.