How Much Trouble Is Senator Bob Menendez In?
The New Jerseyan is coming under scrutiny for his friendship with a Florida doctor -- and their allegedly scandalous dealings in the Dominican Republic.
The New Jerseyan is coming under scrutiny for his friendship with a Florida doctor -- and their allegedly scandalous dealings in the Dominican Republic.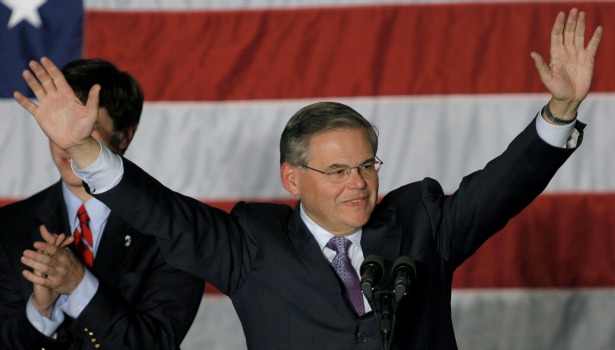 Reuters
Edwin Edwards -- bon vivant, convicted felon, three-time husband, and four-time Louisiana governor -- once cracked that he could only lose an election if he was "caught in bed with either a dead girl or a live boy." New Jersey Senator Bob Menendez faces some allegations that could test what exactly it would take to chase him out of office.
Back on November 1, then Daily Caller-reporter Matthew Boyle reported allegations by two unnamed women in the Dominican Republic, a popular sex-tourism destination where prostitution is legal, that Menendez paid to have sex with them. The story didn't go anywhere, partly because it was so close to the election and Menendez was already a prohibitive favorite for reelection -- he ended up beating his GOP challenger by nearly 20 percentage points -- and partly because the Daily Caller has a reputation for wildly overpromising on scoops and then underdelivering on facts. (Remember the video that was going to end Obama's campaign?) The article suggested there might be dirt, but nothing there that passed a smell test for serious news organizations.
Since then, though, reporters have had time to dig in, and it's become clear that something peculiar was afoot with Menendez's close relationship with a Florida doctor and political donor with whom he traveled twice to the Dominican Republic in 2010. That man, Dr. Salomon Melgen, is now the subject of an FBI investigation, the
Miami Herald reports:
Stringing up crime scene tape and using a locksmith, the FBI on Tuesday and Wednesday raided the West Palm Beach business of an eye doctor suspected of providing free trips and even underage Dominican Republic prostitutes to U.S. Sen. Bob Menendez -- who has denied what he calls the "fallacious allegations."
The two men are old friends, the New York Times explains. Their relationship is both personal -- Melgen comforted Menendez when his mother died -- and monetary, with the doctor donating hundreds of thousands to the senator and other Democratic causes. Menendez, in turn, has reportedly used his influence to help Melgen out in business. The senator has now written a $58,000 check to reimburse Melgen for private-plane flights. "We can assume the Senate Ethics Committee is looking at the allegation," Menendez's spokesman said.
But while five-figure reimbursements raise eyebrows, it's the more lurid allegations that make the story more explosive -- and pose the greater political danger. Menendez opened the floodgates to coverage by directly mentioning the prostitution charge in a denial, saying in a statement on Wednesday, "Any allegations of engaging with prostitutes are manufactured by a politically motivated right-wing blog and are false."
Attacking the messenger may typically be a weak strategy, but it's not entirely unwarranted in this case. Boyle, who now works at Breitbart.com, has developed a reputation for juicy, scandalous stories that fall apart on closer inspection -- or sometimes, any inspection at all. He hyped a coup against John Boehner that flopped feebly, claiming to have advance knowledge that at least 17 people would vote against him for speaker (12 did), and in 2011 erroneously claimed that the EPA was planning hire 230,000 new "bureaucrats" -- a fantastic misreading of a Justice Department brief.
Boyle and the Daily Caller both claim to have emails that shed light on the situation. One, reportedly sent by an informant using the name "Peter Williams" to Citizens for Ethics and Responsibility in Washington, includes an email in Spanish that claims to recount Menendez's visits to the Dominican Republic. (Contrary to the DC story, there's no clear indication in the email that any of the women were underage.) And the informant has refused to speak with the FBI by phone or speak on the phone with agents, according to the Herald, complicating the investigation.
This follows closely on another ethical scrape for Menendez. In December, it was revealed that an unpaid intern in his office turned out to be an illegal immigrant who is a registered sex offender. The Department of Homeland Security put an arrest on hold until after the election to avoid the appearance of tampering with politics. And the allegations come as Menendez is set to succeed John Kerry as chair of the presitigious Senate Foreign Relations Committee.
It's tough to tell just how much political danger Menendez is in, especially since we don't know yet if any of the allegations are true, or what charges if any he might face. Repaying questionable donations is a good way to nip trouble in the bud, even if it raises questions. Patronizing prostitutes is a pretty big political sin, but not a fatal one -- especially if you're busted early in a six-year Senate term and live in a state that heavily favors your political party -- just ask Louisiana Senator David Vitter. And unlike Vitter, Menendez -- a divorcé -- is single. Evidence of patronizing underage prostitutes, however, would likely be a career-ender.
So far, members of Menendez's party have reacted cautiously. Fellow New Jersey Senator Frank Lautenberg, who has himself been involved in
some intraparty skirmishes recently
, offered some rather tepid remarks. "If there are infractions as they are reported, it's too bad,"
Lautenberg told reporters, according to the Newark Star-Ledger. "There a lot that's said and covered, but I for one know Bob as a very capable United States senator, and I'm sorry to see him in this position." White House Press Secretary Jay Carney refused to reply to a vague question Thursday, where a journalist cited "reports regarding Senator Bob Menendez" and asking whether Obama had confidence in him.
Presumably, many are playing a waiting game, avoiding hugging him too close in case the worst is true. But unless it becomes completely untenable, Democrats will probably try to save Menendez. If he were to resign, New Jersey Governor Chris Christie, a Republican, would appoint his successor, thereby cutting into the Democratic advantage in the Senate. A special election in 2014 would fill the seat until its expiration in 2016.