Here's Who You Think Should Sit With the First Lady for Obama's Speech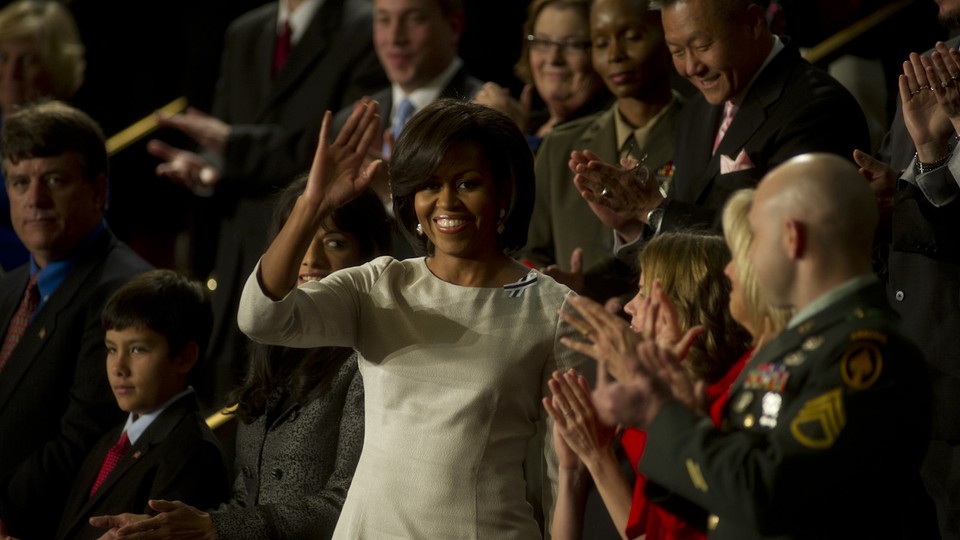 With 400 Taliban militants bearing down on Combat Outpost Keating in Afghanistan, Staff Sergeant Clint Romesha was one of the U.S. troops to take back the overrun camp, risking his life along the way.
On Monday, President Obama will award Romesha with the country's highest military award: the Medal of Honor. On Tuesday, Romesha will have the privilege of sitting in the first lady's box at the president's State of the Union address.
Since Ronald Reagan's 1982 State of the Union speech, the White House has invited Americans to sit in the first lady's box to honor his or her contribution to the country or highlight a key part of the president's political agenda. The president is expected to discuss his ideas for bolstering the economy and urge action on key priorities, such as immigration reform and gun control.
Last week, we asked National Journal readers who they thought would get the coveted invite this year. Here are their suggestions:
Newtown Victims' Parents
(Recommended by Rachel Fauber, Kelsey Jones, Dfd3292, and Jen Kalaidis)
The mass shooting that killed 20 elementary school students in Newtown, Conn., spurred a renewed debate on gun control in the United States and prompted Obama to seek stricter laws. One reader mentioned by name Robbie Parker, the father of 6-year-old Emilie, who was killed in the Newtown shooting. In January, Obama unveiled a series of legislative proposals along with executive actions aimed at preventing gun violence.
Hadiya Pendleton's Parents
(Recommended by Helen Thompson)
As she was walking home from school, Hadiya Pendleton, a 15-year-old honor student from the South Side of Chicago, was shot dead in the crossfire of a gang fight. A week earlier, she traveled to Washington with her school's marching band to participate in the inaugural festivities. Just days after first lady Michelle Obama and other top administration officials, including senior adviser Valerie Jarrett and Education Secretary Arne Duncan, attended Pendleton's funeral in Chicago, the presence of her parents would bring a powerful reminder of the gun and gang violence that plagues the third-largest city in the U.S.
Sandy Victims
(Recommended by Jen Kalaidis)
Superstorm Sandy swept across the East Coast, devastating shore lines and displacing thousands of people. Although a relief package was held up in Congress, lawmakers eventually passed a bill that provided millions of dollars to states that were hit hard by the storm. The president might honor the victims, while also discussing the broader effects of climate change in the coming years.
DREAMers
(Recommended by Rachel Fauber, Daniel Flores, and Dfd3292)
With the immigration-reform effort gaining momentum in Congress, Obama is likely to highlight some of the undocumented immigrants in this country who want a path to citizenship. In his second inaugural address, the president said it would be one of his priorities in his agenda. Some Republican lawmakers have indicated openness to new immigration proposals. Obama could invite some of those undocumented immigrants, who call themselves "DREAMers," after the failed Dream Act that would would have provided a path to citizenship to certain immigrants who pursue higher education or military service in the U.S.

Sophia Bailey-Klugh
(Recommended by Jen Kalaidis)
Sophia Bailey-Klugh, a 10-year-old from San Diego, wrote a letter to Obama about her two fathers and thanked the president for supporting same-sex marriage. Her letter went viral when one of her fathers posted the letter on Facebook. Last year, the president gave his support to same-sex marriage and made that issue and the pursuit of equal rights for gay couples a campaign theme. He also highlighted the issue in his inaugural address last month. Baily-Klugh could end up with an invitation to sit in the first lady's box. Or the White House might extend the invitation to another family with a same-sex couple.