Grading Obama: High Marks for Style but Low Ones on Civil Liberties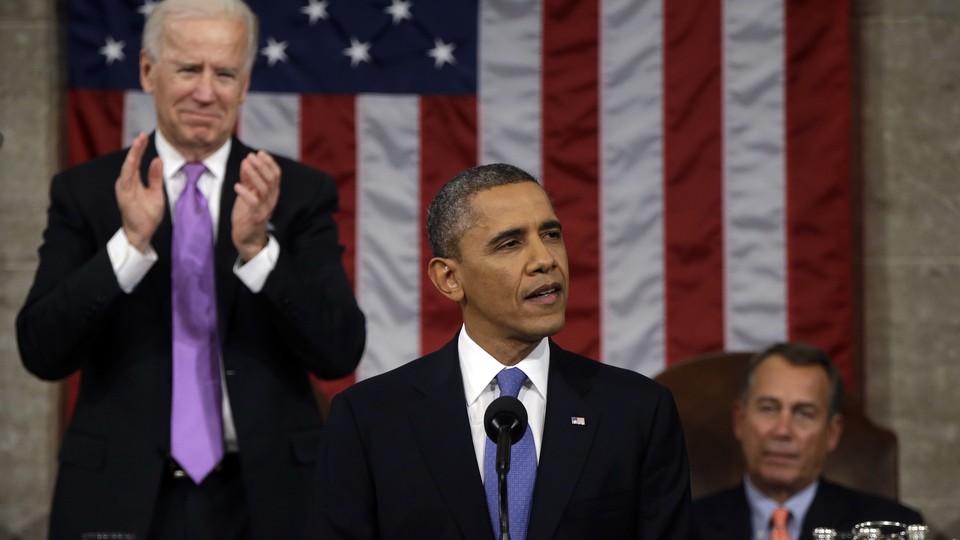 President Obama is promising to help parents "get the most bang for your educational buck" through a new "College Scorecard" rating colleges and universities. Certainly he won't mind the conceit of an "Obama Scorecard" grading his State of the Union address.
STYLE: A-
Just the fifth Democrat since the Civil War to win a second term, Obama exuded confidence and determination. His pitch for gun-control legislation was emotionally powerful, and may well be a rare State of the Union moment that is long remembered. With the cadence and bearing of a preacher, Obama evoked painful memories of gun violence while imploring Congress to act. "Gabby Giffords deserves a vote! The families of Newtown deserve a vote! The families of Aurora deserve a vote!"
SUBSTANCE: C+
His agenda was a mixture of recycled Democratic initiatives and gimmicks, most of which won't pass the GOP-controlled House or won't be adequately funded because of the nation's fiscal restraints. If his goal was to energize his emerging coalition of young, minority, and college-educated voters, he succeeded. Liberal commentators declared it a bold and visionary address. Obama spoke past Congress and the 47 percent of Americans who voted against him. He did nothing to smooth relations with Republicans or to take ownership of the dysfunctional, unpopular government he oversees.
CLIMATE CHANGE: Incomplete
Obama deserved credit for unabashedly declaring climate change a problem that threatens the existence of humankind. We can continue to deny the obvious, Obama said, "or we can choose to believe in the overwhelming judgment of science--and act before it's too late." If Congress doesn't act, Obama said he will. The president seems to be poised to impose stiff pollution limits on coal-fired power plants via the Environmental Protection Agency, which could be a bold and courageous act. His grade is being withheld until he finishes his work.
EDUCATION: C
Obama promised to extend preschool to each of the nation's 4-year-olds and make schools more accountable to parents, both noble goals. The first initiative requires investment that must be mostly shouldered by states. Obama did not say how much federal money he could commit to the goal. Accountability measures such as a "College Scorecard" could be valuable, but they risk being as gimmicky as this "Obama Scorecard."
JOBS: C+
Obama declared that a growing economy that creates good, middle-class jobs is the "North Star that guides our efforts." He wants to raise the minimum wage and invest federal money in job-creating infrastructure projects, proposals that face stiff resistance in the House. Nobody should doubt Obama's sincerity on this issue; he gets an "A" for effort throughout his term. But, in a bow to fiscal and political realities, he did not put forward anything close to what an economist would consider a robust stimulus package.
CIVIL LIBERTIES: D-
He promised to "forge a durable legal and policy framework to guide our counterterrorism operations." It was his response to criticism over the Justice Department's lax rationale for targeting suspected terrorists, including U.S. citizens, for assassination. "Throughout, we have kept Congress fully informed of our efforts," he said, a direct contradiction of the facts. "I recognize that in our democracy, no one should just take my word that we're doing things the right way." Nobody will--which is why Obama's final grade will be an "F" unless he quickly keeps his word on transparency, due process, and procedure.