Dianne Feinstein's Outrageous Underestimate of Civilian Drone Deaths
The powerful Democratic senator says that fewer than 10 civilians per year are typically killed by America's targeted killing program -- despite extensive evidence to the contrary.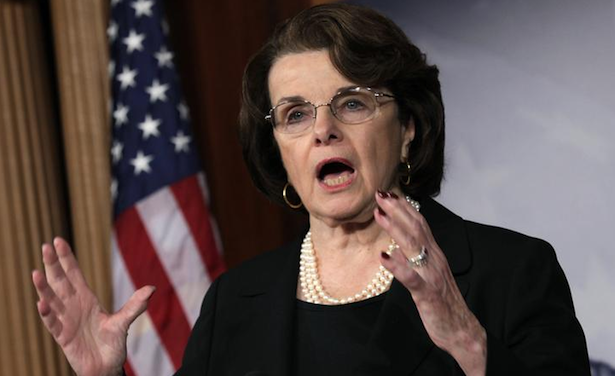 Reuters
As chair of the Senate Intelligence Committee, Dianne Feinstein bears more responsibility than anyone in America for ensuring that Congress conducts vigilant oversight of President Obama's targeted killing program. Last week, during remarks at the beginning of John Brennan's confirmation hearings, the California Democrat spoke about her desire for more transparency from the executive branch, and then made a striking claim about the number of civilians the U.S. is killing:

I've been calling for increased transparency on the use of targeted force for over a year, including the circumstances in which such force is directed against U.S. citizens and non-citizens alike. I've also been attempting to speak publicly about the very low number of civilian casualties that result from such strikes. I've been limited in my ability to do so. But for the past several years, this committee has done significant oversight of the government's conduct of targeted strikes, and the figures we have obtained from the executive branch, which we have done our utmost to verify, confirm that the number of civilian casualties that have resulted from such strikes each year has typically been in the single digits.

Feinstein is explicitly trying to assure Americans privy to less information than she is that, if they could just see the truth, they'd be relieved that so few innocent people are killed in their name. It scarcely needs to be said that it would be despicable to lie about something like that; and that spreading false information out of ignorance or lack of due diligence would be deeply irresponsible for someone in her position, as it would mislead her fellow citizens, damage public discourse, and undermine the credibility of the committee she is charged with stewarding.
Well, prepare to think less of Feinstein.
Her claim that civilian casualties have "typically been in the single digits" for "several years" was imprecise. To evaluate it charitably, let's look at the years 2009, 2010, 2011, and 2012, the same span she has served as chairman. In that four-year period, do civilian casualties average no more than nine per year, or about 36 total? Are they anywhere close to that estimated figure?
Or are the civilian deaths actually much higher than that number?
Independent researchers believe that Feinstein is wrong. The Bureau of Investigative Journalism is one of several organizations that estimate deaths by drone. By their reckoning, the minimum number of civilians killed in drone strikes within Pakistan alone are 119 in 2009, 97 in 2010, 68 in 2011, and seven in 2012. That's a total of 291 civilians killed, 64 of them children. Remember, that doesn't include civilians killed by drones in Yemen or Somalia. We're just talking about strikes in Pakistan since Obama took office.
The New America Foundation is another organization that estimates the number of civilians killed in drone strikes. I've been critical of their numbers in the past because, for reasons I explain here, they almost certainly systematically underestimate the number of civilians that are killed. By their count, drone strikes within Pakistan killed a minimum of 66 civilians in 2009, 16 in 2010, 56 in 2011, and five in 2012, a total of 143 civilians killed. Again, that's only in Pakistan.
For Feinstein to be correct, these two organizations, with their independent tallies, wouldn't just have had to get their minimum civilian casualties figure wrong, they'd have had to wildly overestimate the number -- even though, considering their methodologies, underestimates are more likely. Keep in mind that these organizations didn't even look at all the drone strikes conducted in Pakistan, just the ones that made it into the press; and that it's widely reported that the drone war has shifted away from Pakistan and into Yemen and Somalia in the last year or two.
Another way to prove Feinstein wrong would be to find specific examples of strikes that caused more civilian casualties than she claims. In 2009, there was a targeted killing* that Dexter Filkins later reported on for The New Yorker. Initially, the Yemeni government claimed responsibility for the attack, saying it killed 34 Al Qaeda fighters. Later, American officials confirmed that we're the ones who conducted the attack. Filkins went to Yemen to interview eye-witnesses. "I met a fifteen-year-old girl named Fatima Ali, who, when she rolled up the sleeves of her chador, showed me terrible burns," he said, describing just a small portion of his reporting. "Another girl was missing a finger. Her mother, she said, had been killed by the strike."
As he relayed last week:

Some months after the attack in Al Majalah, Amnesty International released photos showing an American cluster bomb and a propulsion unit from a Tomahawk cruise missile. A subsequent inquiry by the Yemeni parliament found that fourteen Al Qaeda fighters had been killed -- along with forty-one civilians, including twenty-three children.

Later, when I spoke to American officials, they seemed genuinely perplexed. They didn't deny that a large number of civilians had been killed. They felt bad about it. But the aerial surveillance, they said, had clearly showed that a training camp for militants was operating there. "It was a terrible outcome," an American official told me. "Nobody wanted that."