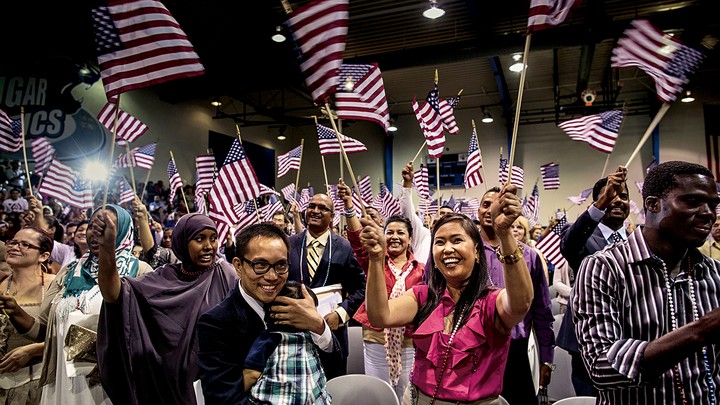 A coalition of immigration-advocacy groups is calling on Congress to invest more in U.S. citizenship services, a movement that comes after a study commissioned by the National Partnership for New Americans found that the $680 naturalization fee has become a significant barrier to citizenship for legal permanent residents.
More than 90 percent of LPRs want to naturalize, but a quarter of them cite cost as the main reason why they haven't applied, the report's lead author Manuel Pastor said in a conference call. The study also found that the price difference between renewing a green card and applying for citizenship was significant enough to dissuade legal immigrants from seeking naturalization.
"If price matters, we might want to think about the balance between all of the benefits we can get between nurturing naturalization and encouraging citizenship," Pastor said. In addition to the application fee, hidden costs attributed to learning English and studying American civics--two requirements to passing the citizenship test--build on the burden felt by immigrants who want to naturalize, Pastor added.
The "Becoming American" campaign, led by the Partnership and the National Immigration Forum, is asking  U.S. Citizenship and Immigration Services to reevaluate its fee structures and also encouraging Congress to invest more in the U.S. citizenship process.
The campaign argues that the benefits of citizenship for LPRs would also stimulate the U.S. economy and workforce, and that citizenship has a specific value benefiting both immigrants and the country.
Of the estimated 13.1 million LPRs in the U.S., 8.5 million were eligible to naturalize, according to a 2011 report by the Homeland Security Department.
The report released by the coalition focuses on Mexican immigrants, who make up a significant portion of LPRs: 31.1 percent of the 8.5 million. Several countries in Asia and Latin America make up the next largest shares, at just 3 to 4 percent each.
If all 8.5 million eligible LPRs became citizens, their earnings over the next decade would increase by $21 billion to $52 billion, causing the national GDP to rise to between $37 and $52 billion, said Omar Duque, president of the Illinois Hispanic Chamber of Commerce.
The movement comes on the heels of a report released by Pew Hispanc iCenter that found 93 percent of legal Mexican immigrants, who make up the largest share of LPRs, would become citizens if they could. When asked why they didn't seek naturalization, more than a quarter cited language barriers and nearly 1 in 5 cited financial costs.
Currently, immigration fees go toward paying for USCIS services, and the cost for naturalization is essentially paid by the immigrants themselves, Angelica Salas, executive director for the Coalition for Humane Immigrant Rights of Los Angeles, said on the same call.
Salas said that the high costs associated with naturalization has made becoming a citizen a "luxury" for many, especially low-wage workers whose weekly salary alone is far less than the $680 required for the application. Citizenship, she added, should be "about allegiance, not about affordability."
"Immigrants want to become U.S. citizens. They not only see the individual benefits of the citizenship but they see it as a means to become "¦ fully integrated in the country they love," Salas said.
This article is part of our Next America: Communities project, which is supported by a grant from Emerson Collective.
We want to hear what you think about this article. Submit a letter to the editor or write to letters@theatlantic.com.