American Catholics Overwhelmingly Approve of Pope Benedict""And Other Handy Statistics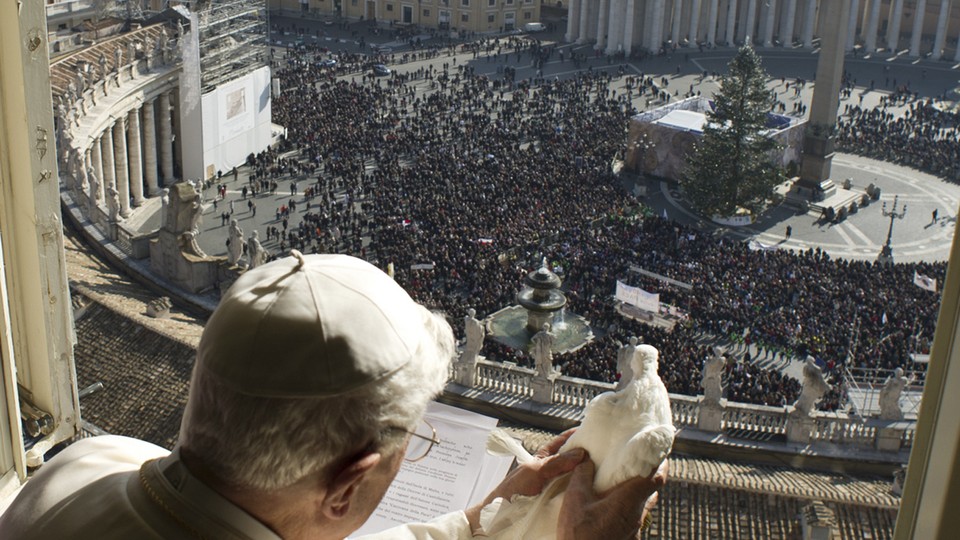 With 1.18 billion followers, the Catholic Church has an enormous worldwide footprint, which makes Monday's news that Pope Benedict XVI will resign all the more significant. Plus, the move is mostly unprecedented: The last time a pope resigned, the Earth was still the center of the known universe.
Of those 1.18 billion, approximately 77.7 million are Americans. The Catholic Church still represents the largest single denomination in the country, although the majority of Americans (51.3 percent) are affiliated with a Protestant sect.
Let's break down the numbers a bit further.
♦   Twenty-four percent of Americans call themselves Catholics. Massachusetts has the highest concentration (43 percent of the state's population); Arkansas has the lowest (5 percent). Source: Pew.
♦  Twenty-four percent of that 24 percent attend Mass on a regular basis.
♦   A third of American Catholics are Hispanic, and that percentage will only grow. According to Pew, "About half of all Catholics under age 30 are Hispanic (45 percent)," however, "the vast majority of Catholics age 70 and older (85 percent) are white."
♦  Pope Benedict XVI is very popular, but not as popular as John Paul II. Seventy-four percent of Catholics are at least "somewhat satisfied" with current papal leadership.
♦  Even among the less observant Catholics, the pope is popular — 68 percent approve.
♦  Catholicism has seen high rates of attrition, despite the influx of immigrants from Latin America. "While nearly one-in-three Americans (31 percent) were raised in the Catholic faith, today fewer than one in four (24 percent) describe themselves as Catholic," a Pew report states.
♦  30.6 percent of the 133th Congress is Catholic; in the early 60s, Catholics accounted for 18.8 percent.
♦  Of freshmen in Congress, 36.5 percent are Catholic.
♦  There are slightly more Catholic Democrats in Congress than Catholic Republicans (93 to 70).
♦  The number of priests in the country is declining (58,000 in 1965; 39,000 in 2012). Worldwide, the number of priests has remained stable during that time period at around 400,000. Source: Georgetown University.
♦  President Obama's approval rating among Catholics more or less tracks that of the population at large.