2-Party System? Not to a Generation Immune to Hue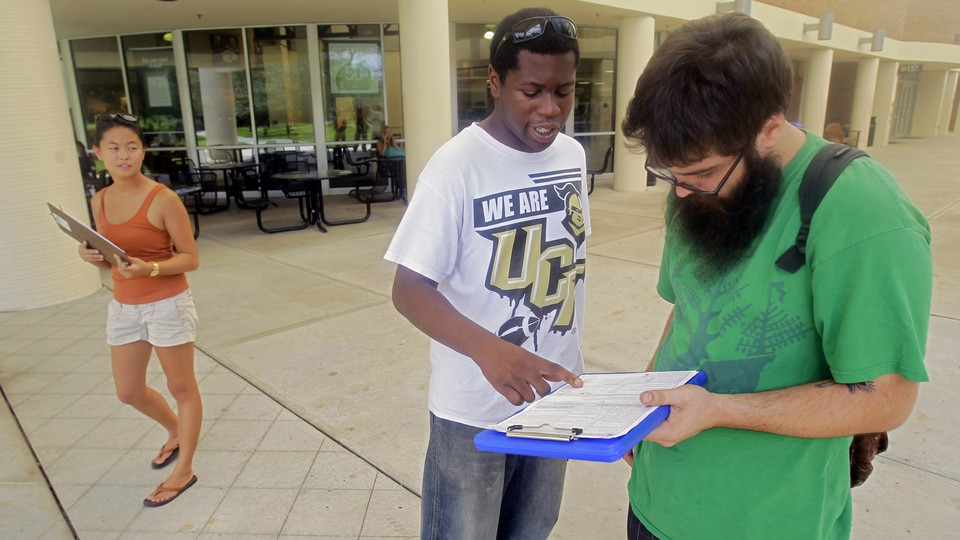 Call them tribes. Call them associations.Call them passions. Call them parties.
Whatever ultimately compels a group of individuals to pull a lever, punch a chad, or touch a screen ultimately bestows another label onto a voter--usually Republican or Democrat.
In America now, and for decades to come, voters may not fall into such clearly defined camps.
Last month, National Journal's Ron Fournier offered six reasons the two-party system may be moving toward obsolescence, an argument compelled by the nonpartisan No Labels campaign that advocates cross-aisle collaboration--and ultimately the absence of an aisle.
Last week, Dartmouth College political-science professor Brendan Nyhan took issue with some of Fournier's arguments--arguments that were influenced by his years of covering political dynamos Ross Perot, Pat Buchanan, and Howard Dean before their ultimate flameouts.
This morning, Fournier replies to many of Nyhan's points, trying to foresee the changing American political landscape.
The impact on politics of a rising number of people of color on that landscape can't be accurately forecast either, but those demographic shifts factor in significantly. That's what The Next America is all about--examining the people, institutions, and policies of a demographically diversifying nation.
But what demographic do people most identify with? And which party earns their support?
As the nation's first majority-minority state, California is often used as a case study of the future America. While Democrats may reign (38 of its 53 U.S. House representatives are Dems), the Golden State may not necessarily be a blue dynasty for decades to come (three of its 19 U.S. House members who are people of color are Hispanic Republicans).
NJ's Ronald Brownstein writes that President Obama, entering his second term, can basically disregard an aging, white male-dominated GOP electorate (except perhaps for those individuals now in Congress); instead, he can look to the "coalition of the ascendant," which returned him to the White House: the minorities, millennials, and socially liberal upscale and educated whites, especially women.
Like always, the political power of the future lies in the hands of youth; but these days, the twentysomethings are the group to watch, as Brownstein writes in another column. As a group, millennials--raised to embrace their individualism--show their colors: they're green; care about college tuition costs; love their doting grandparents but bristle at carrying the future costs of the aging; wear pink and yellow ribbons or bracelets; and typically disregard skin color (mixed race is America's fastest growing demographic).
Given our current two-party system, from the lens of youth,  the future may look favorable for Democrats. But many millennials are entrepreneurial and once established may become a bit more conservative. But, given their wide-ranging interests, passions, and tribal identities, won't they foremost look for candidates whose positions most interest them?
I've been involved with The Next America for a year now. I think the two-party system will weaken fast. From my view, America faces a forthcoming era of political pastiche where an individual will sift through a collage of candidates who they may identify with on various levels, beyond party. I think the Next America generation will proudly--and eagerly--gravitate to individual candidates for years to come, often influenced by personality and shared passions.