Why Republicans Are Keeping the Man Who Led Their 2012 Disaster
Reince Priebus presided over an electoral drubbing. The party is directionless and adrift. But nobody wants to rock the boat.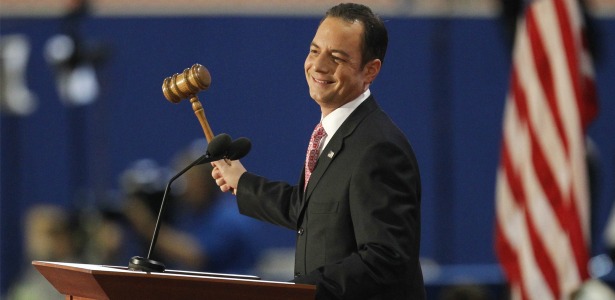 Reuters
CHARLOTTE, North Carolina -- Republicans had a terrible 2012. They lost the presidential election and lost seats in the Senate and House of Representatives. So naturally, they are not changing a thing when it comes to who's in charge.
Reince Priebus, the chairman of the Republican National Committee for the past two years, is expected to coast to reelection when committee members vote for party leadership Friday. Though Priebus has a would-be challenger, he is a fringe character who probably does not have enough support even to be officially nominated, meaning Priebus -- the leader of a party widely agreed to be in disarray, who presided over a dispiriting and unanticipated electoral drubbing -- may even be reelected chairman by a unanimous vote.
Ask the Republican activists from all over the country who have gathered here for the committee's winter meeting whether Priebus should have the job again, and you're likely to get a quizzical look. "That's easy," Chris Devaney, chairman of the Tennessee Republican Party, told me, in the voice you might use to explain something to a small child. "No question. I think he has done an excellent job."
Contrast this situation with two years ago, when Republicans had just had an epically great election under the leadership of then-Chairman Michael Steele, the gregarious former lieutenant governor of Maryland. The Tea Party wave of 2010 swept the GOP to power in the House and state houses across the country. So naturally, Republicans couldn't wait to get rid of the chairman who'd presided over their triumph. In a messy, free-for-all committee meeting featuring multiple candidates and seven rounds of voting, they chose Priebus instead.
Party members have an explanation for this seeming illogic. Steele was blamed for driving the national party into debt, handing out contracts to undeserving cronies, failing to communicate with the party rank and file, and not doing enough to cultivate donors. He also had a penchant for controversial comments, as when he called the war in Afghanistan "a war of Obama's choosing" that Americans did not support. Steele had been selected as the party's first African-American chairman in part as a symbolic counterpoint to America's first black president; four years later, the GOP is more unpopular with minorities than ever, but having the face of the party advertise its diversity no longer appears to be a priority.
Priebus's promise, on being elected chairman, was to restore the party's financial stability and not cause any embarrassment. Two years later, members feel he's done that. "He has taken this Republican National Committee out of debt," said Samuel Raia, the state chairman from New Jersey. "He has supported the state parties and has very good relationships with all the [party] members," said Saul Anuzis, the former Michigan state chairman, who ran for chairman against Priebus and came in second two years ago. The RNC went from owing $24 million when Priebus took over to raising, in conjunction with Mitt Romney's presidential campaign, nearly $1 billion for the 2012 campaign. (It now has $3 million in cash on hand.)
'I think he has done an excellent job,' Chris Devaney told me, in the voice you might use to explain something to a small child.
"Everybody realizes it's unusual, after an unsuccessful campaign, to have no change in leadership," said Ron Kaufman, the longtime GOP fixer and committeeman from Massachusetts who was a senior adviser to Romney's campaign. "I give the RNC huge credit for what they did for the Romney campaign. I've been doing this since the second Lincoln administration, and I've never seen better synergy between a presidential campaign and the RNC."
Never mind the fact that the major task with which the RNC was entrusted -- running the GOP's ground game -- is widely thought, in retrospect, to have been one of the Romney campaign's major weaknesses. "The RNC couldn't have done in six months what the Obama campaign did in six years," Kaufman said. And donors feel confident enough in the committee to invest in its future, he added.
Republicans recognize that the beating they took in November ought to be the occasion for some sweeping changes in the party's functioning and orientation. "Soul-searching" is a popular phrase at this week's gathering; banners have been hung featuring the slogan "Renew. Grow. Win," and various presentations, mostly closed to the press, are set to examine what went wrong and how the party can do better.
But the idea that some new blood might be a good thing has gained no currency at all among the GOP's grassroots activists. Not only will Priebus coast to reelection, there has also been no turnover among senior staff at the committee. (Partly, this is because, since the number of Republican elected officials has shrunk, there are fewer jobs out there for GOP staffers and operatives.)
One person perplexed by this state of affairs is Mark Willis, the committeeman from Maine who is challenging Priebus for the chairmanship. An IT manager by day, Willis lives with his wife and children on a 20-acre farm in Dennysville, a tiny town not far from the easternmost point in the United States, where he raises Icelandic sheep for fleece and meat.
"The chances of me winning are pretty small," Willis told me. "But someone ought to step up and challenge [Priebus]. I don't think he should run unopposed after the convention and election we just had."
Willis is a member of the "liberty movement," the libertarian strain of the party led by former Rep. Ron Paul, whose members staged a protest at the summer's GOP convention in Tampa when they felt they were treated unfairly by the party establishment. To be nominated for chairman, he needs the support of the majority of RNC members from three states. Currently he has two, Maine and Nevada. "I have until Thursday at 5 p.m. to get a third state," Willis says. "I'm an optimist."
Willis has an eight-point reform agenda for the party, including undoing the rules changes pushed through in Tampa that prevented Paul from waging a floor fight for Romney's delegates. He also wants to fire all the RNC's pricey consultants and institute competitive bidding for contracts -- something even committee members who don't share Willis's desire to end foreign entanglements and eliminate the Federal Reserve can sometimes be heard to grumble about.
To Willis, the committee's complacency in the wake of its November drubbing makes no sense. "People have not been held accountable," he said. "If the status quo does not change, this party is doomed. Someone has to say it. But I think people just don't want to rock the boat."