Why Don't Democrats Love Hagel, and Who Would They Prefer at Defense?
Lukewarm support from Obama's party for his nominee reflects trends in the progressive defense establishment that go back several generations.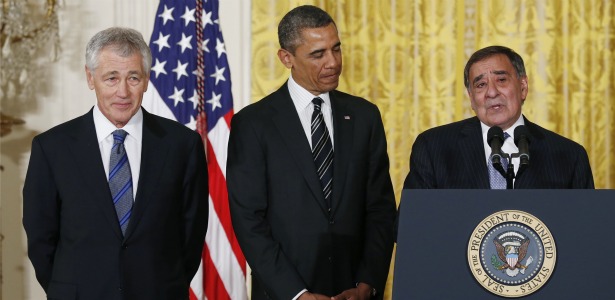 Kevin Lamarque/Reuters
When Chuck Hagel walks into his hearings before the Senate Armed Services Committee this morning, he'll be a favorite (though not a sure thing) to win confirmation as secretary of defense. But he still won't be a favorite of many progressives.
By now, high-profile Democratic senators have gotten in line behind the president's nominee, though not before making their chilliness known. Chuck Schumer of New York -- seen as a crucial vote because of his cachet as a defender of Israeli interests -- announced his backing, in somewhat tepid form, only after a one-on-one meeting. Maryland's Ben Cardin suggested that while he was open to voting for Hagel, the former Nebraska senator wasn't his first choice. The turning point for many on the left seems to have been the harsh criticism he received from conservatives; some liberal pundits explicitly made the argument that the nature of the opposition to Hagel proved he was the right choice.
Still, that doesn't mean there's wild enthusiasm about him in the Democratic defense establishment. I spoke with some wonks to see why they weren't more excited about Hagel. Many of them preferred to speak on background, citing the close-knit circle they ran in, but they offered a picture of the reasons for reservations among progressives.
Hagel Might Be Right on Iran, But... : Like Obama, Hagel has voiced a deep skepticism about American military adventurism overseas, including any sort of action in Iran. And of course, many on the left agree. But all that shows is that Hagel is an old-school, small-'c' conservative -- it doesn't mean that he's a liberal who shares the same goals. Hagel has also said publicly that he supports the end of "don't ask, don't tell," which he once voted for, and apologized for anti-gay comments he made years ago, but even those who take his reversals at face value worry he doesn't share their values on other cultural and strategic issues. Hagel -- along with just-confirmed Secretary of State John Kerry -- is expected to be more cautious and reluctant about American force than the outgoing Secretary of State Hillary Clinton or Robert Gates and Leon Panetta, the first two Obama defense secretaries.
Can He Manage?: While the loudest attacks on Hagel have come over his positions on Israel and on gay rights, there are persistent if quieter worries about Hagel's administrative abilities. One view holds that the most important skill for a defense secretary is management -- after all, the president sets the overall policy tone and vision, but the secretary has to be able to wrangle the enormous, unruly, incredibly expensive behemoth that is the Pentagon. Vision can be outsourced, but without management, nothing else works.
Democrats Never Love the Pentagon: For the first time in many years, Democrats have the edge on defense. Obama has won high marks for his handling of the war on terror, especially killing Osama bin Laden, while Republicans' standing with voters is still reeling from the debacle of the Iraq War. That flip can't immediately reverse years of Democratic distrust of the Pentagon, though; defense just isn't something that progressives of a certain age (to wit, the age that can recall the Vietnam War) get excited about.
Isn't It Time for a Democrat to Appoint a Democratic Secretary?: Bill Clinton's first two secretaries of defense were both Democrats, but from the time Republican William Cohen took the job in 1997, it's was all GOP until 2011, when Panetta took office. The culprit is the same lingering Vietnam hangover that makes Democrats wary of the Pentagon -- there just aren't as many foreign-policy minds of the right age for a Cabinet position, though there's a much bigger crop who will be ready within a few years. But Defense is also seen as a good place for Democratic presidents to reach out to the GOP and guarantee a bipartisan cabinet (not that Hagel has gotten much love from his own party). While that's understood, and even condoned, it's not loved. "People are happy, because Hagel is a decorated war hero and enlisted man, but nobody wants to say anything that suggests a lack of love for the homegrown Democratic establishment," says Heather Hurlbut, executive director of the National Security Network.
Of course, there are some candidates on the left who would have fit the bill. Most commonly mentioned are Ash Carter, currently deputy secretary of defense, and Michele Flournoy, who was under secretary of defense until February 2012 (the prospect of a historic Flournoy appointment, which would have made her the first female defense secretary, excited many progressives). And those two aren't alone. Here are few other names that come up frequently:
Richard Danzig, Clinton's navy secretary and current chairman of the Center for a New American Security
Senator Jack Reed of Rhode Island, a former Army Ranger
Lawrence Korb, who was a Reagan adviser but has been critical of GOP foreign policy and is a senior fellow at the liberal Center for American Progress
John Hamre, deputy secretary of defense during the Clinton Administration
Rudy DeLeon, Hamre's successor as deputy secretaries of defense.
The Democratic establishment might not be wild about Hagel, but they remain very loyal to the president. If Hagel is who Obama thinks he needs in the job, most of them are willing to defer to his judgement.