Who Is Denis McDonough, Obama's New Chief of Staff?
The hard-working, devout close confidant -- currently deputy national security adviser -- will serve as the president's right-hand man.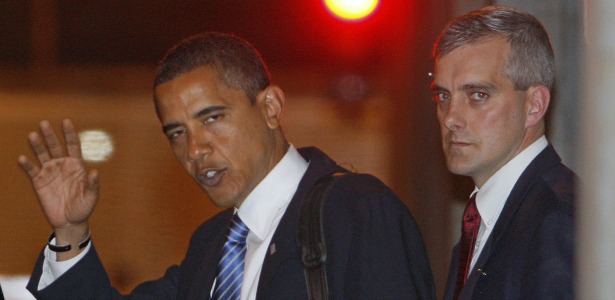 Charles Dharapak/Associated Press
President Obama will officially tap Deputy National Security Adviser Denis McDonough to become his next chief of staff Friday afternoon, turning to a member of his close inner circle to fill one of the most important jobs in his administration. He replaces Jack Lew, who Obama has nominated for Treasury secretary.
Here's what you need to know about McDonough:
A broad portfolio: McDonough, 43, is the No. 2 to National Security Adviser Thomas Donilon and has a broader portfolio than his title suggests. As an adviser to Obama's 2008 campaign, McDonough has had a lot of face time with the president. He has been a part of the decision-making on a huge range of national security issues, from Asia policy, to Afghanistan, to the Arab Spring, to Europe and Latin America. He was among the small group of aides in the room in May 2011 when Obama was monitoring the Navy SEAL raid that killed Osama bin Laden.
No-drama style: A native of Stillwater, Minnesota, McDonough is even-tempered and is known within the White House as someone who is not a showboater. Those qualities that are highly valued by Obama, a fellow Midwesterner who, dating back to his campaign, prefers to keep drama and ego clashes to a minimum on his team.
A favorite with White House staff: McDonough is well-liked among the White House staff. He is known for leaving thank-you notes for staffers when they have worked hard on a project. Former White House Deputy Communications Director Jen Psaki recalls receiving one such note from him for her work on Obama's hectic first overseas trip as president in 2009 when he traveled to London for the Group of 20 before heading to France, Germany, the Czech Republic, Turkey, and Iraq.
A legendary work ethic: Psaki describes McDonough as the "hardest worker on the planet." The description is in keeping with those of other White House aides who have worked with McDonough.
Capitol Hill experience: McDonough is a former aide to Senator Tom Daschle and would bring Capitol Hill experience that could be helpful to Obama as he spars with House Republicans over fiscal issues and seeks to make headway on legislative priorities such as immigration reform and gun control. Although his main area of expertise is foreign policy, he is no novice when it comes to domestic politics, as a veteran of the White House and a former campaign aide.
Experience with the press corps: McDonough began his tenure at the National Security Council as a senior strategist on communications, a job in which he got to know many members of the White House press corps. Interacting with the media has traditionally been a part of the portfolio of chief of staff, although the amount of time occupants of the job spend on this can vary greatly. McDonough has some solid relationships with members of the press corps but also has had some tense interactions. The Obama White House is known for taking reporters to task when aides dislike an angle in a story. McDonough did not shrink from that part of the job.
A devout Catholic: McDonough is a devout Catholic and lives in Takoma Park, Maryland, with his wife and their three children. He grew up in a family of 11 children, one of whom became a priest.