White House Crushes Death Star Petition, Nerd Dreams Everywhere
Citing costs, vulnerabilities, and existing space programs, the administration says it will not construct an enormous weaponized space station.
It turns out the Death Star won't be coming to a galaxy not too far away anytime soon.
Earlier this week, we brought you news of a petition demanding that the White House build a Death Star, noting that it had reached a threshhold that would require administration response. Now the response is here and ... it's disappointing -- a fact that Paul Shawcross, the author and chief of the science and space branch of the Office of Management and Budget acnkowledged in his title: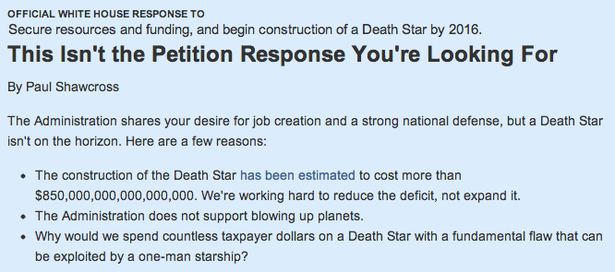 Frankly, I find his lack of faith disturbing. Does Shawcross really not believe that with a little Yankee ingenuity, the American military-industrial complex couldn't solve the original Death Star's susceptibility to an X-wing fighter? American exceptionalism really is dead.
Shawcross is surely right, however, that in a time of budget cuts -- some $492 billion is due to be cut from the Pentagon's budget on March 1, barring a congressional fix -- such a large outlay for defense might be untenable. Unfortunately, Shawcross does not offer any insight into whether the White House believes a Death Star would be legal. The 1967 Outer Space Treaty bans weapons of mass destruction in space, but allows conventional weapons. It's unclear how the Death Star would be categorized, although the Obama Administration has shown a willingness to read laws concerning war creatively.
As always, there's a serious point underlying all of this. Shawcross cites several items as consolation for intergalatic-exploration aficionados. For example:
But NASA is in fact facing serious budget cuts. The agency has consistently looked at smaller and smaller funding over the years. It has had to pull out of a Mars mission organized by the European Space Agency, due to lack fo funds; Congress angrily questioned NASA's administrator over cuts last March, but of course it's them who control the purse strings, and as you may have noticed they have a hard time raising even minimal new revenue.
The Stars Wars puns in Shawcross's response are pretty great, though.