The White House Should Build a Death Star
Just one of the many recommendations the American people have shared with the president to improve the welfare of the nation
Step away from Twitter; don't even think about creating that spoof account. Fake Twitter profiles are so 2012. The hip gag for 2013 is White House petitions.
The administration created a website called We the People back in fall 2011, but it has only really hit its stride in the last few weeks. For the uninitiated, here's how it works: Anyone older than 13 can create a petition. Any petition that gets 150 signatures in the first 30 days becomes searchable on the site -- so basically, all you have to do is round up all your friends. Any petition that collects 25,000 signatures earns an official White House response "in a timely fashion." Any petition that falls short goes into the virtual shredder.
Predictably, this well-intentioned if meaningless gesture at transparency and openness was quickly dominated by two groups, in this order: pot-legalization activists, then Internet snark merchants. (Yes, there's some solid overlap on that Venn diagram.) In honor of this year's clever-but-soon-tiresome comedic device, here are the 14 silliest, weirdest, and most entertaining petitions from We the People.
****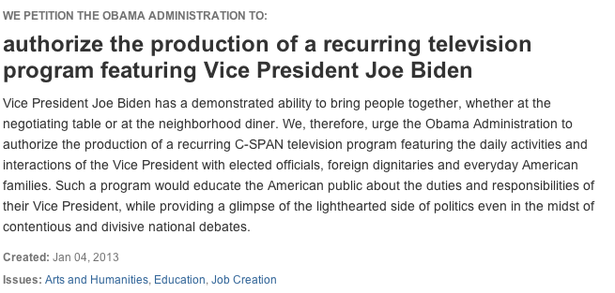 A classic of the genre, inspired by the vice president's
insane/insanely charming stand-up routine
while swearing in senators last week. Of course, the Biden reality-show push has deep roots, and
The Onion
probably deserves royalties; calling this "job creation" and "education" is a nice touch.
The Atlantic Wire
's
Richard Lawson has some excellent ideas
about how this might work in real life.
Signatures as of 1/7: 1,714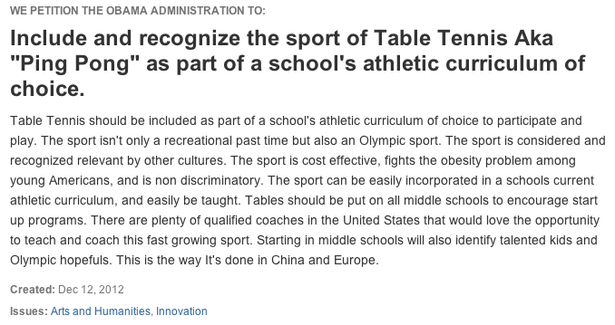 For every intentionally humorous petition, there are a dozen that don't intend to be funny. They're also usually funnier. Someone has been working on their elevator pitch about table tennis, although it seems like this might not be the most pressing priority in America's public schools. Bonus points for random capitalization.
Signatures: 871

Seriously,
who would think
that
this
was a good idea?
Signatures: 5,149

This is truly a sad situation. Losing a pet is no fun. It's probably not under the purview of the federal government, though.
Signatures: 1,218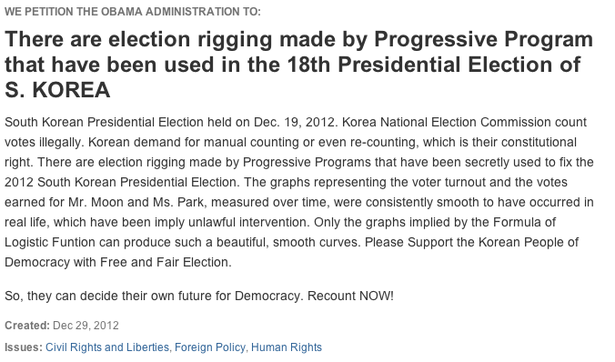 It's not that the U.S. has never interfered in the domestic operations of a foreign country, but it is still hard to imagine Obama intervening and imposing an electoral recount on a major ally. Also, that's a statement, not a request. Through the wonders of the Internet, however, this petition has enough signers to fill a mid-size basketball arena.
Signatures: 14,676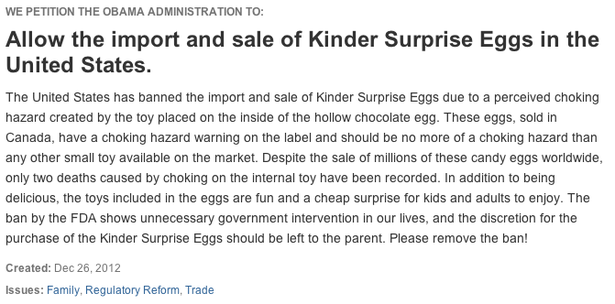 So this one is fairly reasonable. Have you ever had one of these candies? They're delightful. It's like Cadbury Creme Egg but with a toy in the middle instead of a sugary goop. In July, an American couple was detained by Customs officials for trying to bring them into the country, and threatened with fines of $2,500 per egg. It seems like there might be greater dangers to American children than German candy.
Signatures: 2,687

Ban her from what? Eating Kinder eggs? Perhaps it would be more effective to petition directly against the FISA Amendments Act.
Signatures: 10,532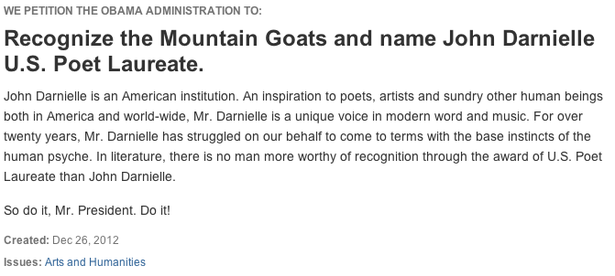 Hyperliterate indie rock
is all well and good. And
when Mountain Goats frontman John Darnielle is right, he's right
. But if anyone's going to replace current U.S. Poet Laureate and Pulitzer Prize winner
Natasha Trethewey
, Obama favorite,
White House regular
, and Medal of Freedom recipient Bob Dylan -- who like Darnielle sings poorly -- is probably ahead of him on the list.
Signatures: 3,650 (all of them are Brooklyn Vegan readers)

You don't have to like Piers Morgan -- and really, few people do -- to recognize that American courts have generally recognized that non-citizens living within the United States enjoy the same right to free speech as citizens. It's also hard to see how criticizing a law breaks any Americans laws or would justify deportation. And what sort of precedent would it set if the government were to go out of its way to individually persecute a single television host over a political stand? Talk about slippery slopes!
Signatures: 104,547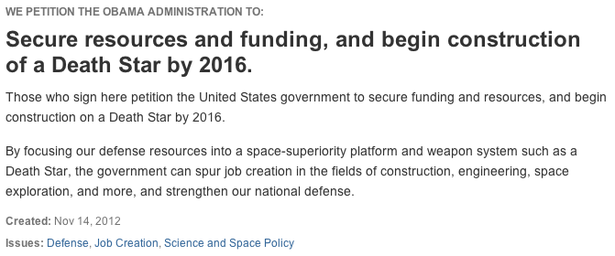 "That's no moon. It's a stimulus package!" No snark here. This is a straight-up great idea, and could unite the left (say, George Lucas) and right (say, Newt Gingrich). Having easily crossed the 25,000 threshold, this one's going to the White House. Their reply is eagerly awaited.
Signatures: 33,836

The founding hipsters first arrived on Bedford Avenue two decades earlier convinced that the East Village was "overpriced" and that more generally, Manhattan was "so over."

In recent years, the trustifarians have turned the Bedford Avenue area into a disneyland of fashionable shops and expensive cocktail bars. The baby-bankers living in the glass, waterfront towers have pushed out the smack junkies and complain to the police about "noise" from rock musicians.

As such, the grittier East Williamsburg would prefer to disassociate from Williamsburg as a fully separate and independent neighborhood. The people of East Williamsburg actually have real jobs. Their shops are not particularly fashionable. Some of the bars are genuinely dangerous dives. Please allow the neighborhood to secede.
Naturally We the People, like everything else, eventually degrades into insidery hipster jokes among New Yorkers. Here, residents of a marginally lower-rent neighborhood pretend to have the moral high ground over their slightly more gentrified neighbors, apparently either ignorant of the fact -- or trying to pretend they're ignorant of it, more likely -- that "East Williamsburg" is a made-up real-estate appellation for Bushwick. In a similarly hipster-themed gag, the bar Jackie's Fifth Amendment in bougie burg Park Slope petitioned to secede and create its own neighborhood.
Signatures: Both petitions expired without reaching the requisite 25,000. They were cooler before people knew about them anyway.
****
Think this all sounds pretty silly? You might wish the White House would just ignore all of this and continue to work through the traditional channels.
There's a petition for that
, of course.