The White House Project Shutters Its Doors
A group founded in 1998 to promote women in politics and help one win the presidency quietly folds, citing the fundraising environment.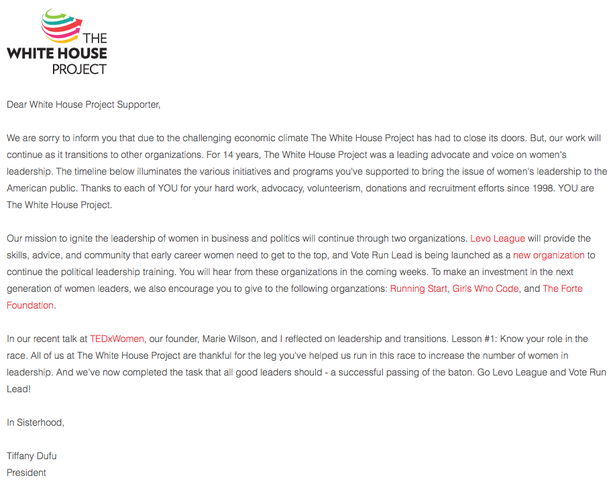 Updated 1:10 p.m. "We are sorry to inform you that due to the challenging economic climate The White House Project has had to close its doors," the message on the White House Project website read. And with that, a group that since 1998 has been a prominent voice on behalf of the goal of putting a woman in highest office in the land, as well as many of the lower ones, came to a quiet end on Monday.
"What happened is what's happening around other women's organizations and and other nonprofits.... The math doesn't work after a while," explained White House Project founder Marie Wilson, who gave up the presidency of her group two years ago and is currently working on a book project about "how we need to shift our structures and strategies to keep up with the times."
"I didn't exactly expect to start with my own," she observed. During its 14 years, the group changed how other organizations did business, how women in politics were represented in the popular culture and media, and the number of women who got trained in how to run for office, she said. "We did launch a conversation about the presidency that was unheard of," she added.
"[O]ur work will continue as it transitions to other organizations," the group's outgoing president, Tiffany Dufu, said in an online statement pointing to the Levo League and noting that "Vote Run Lead is being launched as a new organization to continue the political leadership training" previously provided by the White House Project.
The Levo League is a "startup designed to elevate young women in the workforce by providing the career resources needed to achieve personal and professional success," mainly focused on Gen Y women and those just starting their careers. Vote Run Lead describes itself as "the country's largest nonpartisan civic and political training program," and worked in close partnership with the White House Project for the past decade to train women considering in pursuing political careers.