The Two Most Powerful Allusions in Obama's Speech Today
On reading it through after hearing it, this is another carefully crafted speech. More so, I would say, than Obama's first inaugural address. But these two parts got my attention the instant I heard them:
1) Lash and sword. This inaugural address, like nearly all previous ones, began with an emphasis on the importance of democratic transfer-of-power. For instance, the first words of JFK's address in 1961 were, "We observe today not a victory of party, but a celebration of freedom." But Obama introduced the familiar theme with this twist:

Today we continue a never-ending journey to bridge the meaning of [our founding] words with the realities of our time.  [Note: this preceding sentence is the one-sentence summary of the speech as a whole.] For history tells us that while these truths may be self-evident, they've never been self-executing; that while freedom is a gift from God, it must be secured by His people here on Earth. The patriots of 1776 did not fight to replace the tyranny of a king with the privileges of a few or the rule of a mob.  They gave to us a republic, a government of, and by, and for the people, entrusting each generation to keep safe our founding creed. 
 
And for more than two hundred years, we have. 
 
Through blood drawn by lash and blood drawn by sword, we learned that no union founded on the principles of liberty and equality could survive half-slave and half-free.  We made ourselves anew, and vowed to move forward together.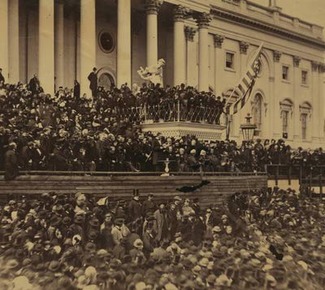 I like the precise logical concision of contrasting "self-evident" with "self-executing" truths. But "blood drawn by the lash" is an impressive and confident touch. It was of course an allusion to a closing passage in what is generally considered history's only great second inaugural address, Abraham Lincoln's in 1865 (
right
):
Fondly do we hope, fervently do we pray, that this mighty scourge of war may speedily pass away. Yet, if God wills that it continue until all the wealth piled by the bondsman's two hundred and fifty years of unrequited toil shall be sunk, and until every drop of blood drawn with the lash shall be paid by another drawn with the sword, as was said three thousand years ago, so still it must be said "the judgments of the Lord are true and righteous altogether."

Half-slave, half-free was an allusion to another of Lincoln's most famous addresses, his "House Divided" speech from his campaign for the Senate in 1858. (And Lincoln's phrase "house divided" was his own allusion to the Book of Mark.) 
 
2) Seneca Falls, Selma, and Stonewall. I thought the allusion in this passage was eloquent on many levels:

We, the people, declare today that the most evident of truths -- that all of us are created equal -- is the star that guides us still; just as it guided our forebears through Seneca Falls, and Selma, and Stonewall; just as it guided all those men and women, sung and unsung, who left footprints along this great Mall, to hear a preacher say that we cannot walk alone; to hear a King proclaim that our individual freedom is inextricably bound to the freedom of every soul on Earth.

The rhetorical and argumentative purpose of the speech as a whole was to connect what Obama considers the right next steps for America -- doing more things "together," making sure that everyone has an equal chance, tying each generation's interests to its predecessors' and its successors' -- with the precepts and ideals of the founders, rather than having them be seen as excesses of the modern welfare state.
As in the one-sentence summary at the start of the speech, Obama wants to claim not just Lincoln but also Jefferson, Madison, Adams, George Washington, and the rest as guiding spirits for his kind of progressivism. In this passage he works toward that end by numbering among "our forebears" -- those honored ancestors who fought to perfect our concepts of liberty and of union -- the likes of Elizabeth Cady Stanton, Lucretia Mott, Martin Luther King and other veterans of Selma including still-living Rep. John Lewis, and the protestors 44 years ago at the Stonewall.

I call the passage above an allusion rather than a dog-whistle because a dog-whistle is meant not to be recognized or understood by anyone other than its intended audience. Obama certainly knew that parts of his audience would respond more immediately and passionately to the names Seneca Falls, Selma, and [especially] Stonewall than other parts, but his meaning is accessible to anyone. As is his reference, while speaking barely a two miles from the Lincoln Memorial, to what "a King" said on "this great Mall."

I have no illusion, delusion, allusion, or even dog-whistle conception that this speech will change the partisan power-balance affecting passage of anything Obama mentioned, from climate legislation to reforming immigration law. But as politics it was a departure for him, and as rhetorical craftsmanship once again it deserves careful study.