The Next Step in Eliminating Hunger: Teaching Kids How to Cook
17 million American children are malnourished, a number that hasn't budged much in years. Here's how to change that.
17 million American children are malnourished, a number that hasn't budged much in years. Here's how to change that.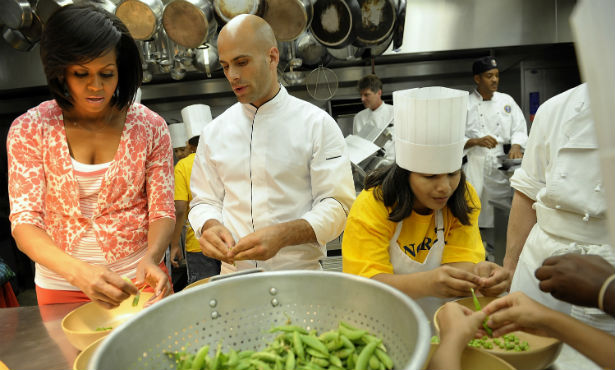 Hunger is everywhere: in cities, in suburbs, in rural areas. Today nearly 50 million people in the richest country on earth "lack the means to get enough nutritious food on a regular basis," according to the advocacy group Share Our Strength. The U.S. Department of Agriculture reports that 17 million of the malnourished are children -- this from the agency that is charged with feeding more than 30 million students a day through the National School Lunch Program.
The burden of relief falls increasingly to networks of non-profits struggling to combat the ravages of hunger and poverty and starved for funding themselves. We are proud to be affiliated with a number of these remarkable organizations, such as Martha's Table and D.C. Central Kitchen, which serve thousands of meals each day to hungry children and adults, and provide groceries to families. Their dedication exemplifies the great tradition of American volunteerism. But even as the crisis continues, we should take note of these organizations' larger calling. They emphasize rightly that filling a stomach is only a stopgap.
Sustainable nourishment comes from knowing how to cook, tending the land, appreciating our rich food traditions, and taking care of each other. What we need now is a commitment at the highest levels of government to commit to a national crash course in edible education. Domestic food security -- access to sufficient, safe, and healthy food -- has not improved in the last four years, but it's an area where President Obama could make a significant difference in his second term.
Our schools can lead the way. Healthy eating in the earliest years of life establishes the foundation of a child's future physical and mental vitality, academic achievement, and economic productivity. It is significant that many millions of children today must rely on school food as a prime source of nutrition. The federal government should institute a free, universal meals program that lives up to the stated pledge of the Child Nutrition Bill of 2010: "Healthy, Hunger-Free Kids." The USDA should expand its excellent "farm to school" initiative, and establish ironclad criteria for procuring food that ensures healthy outcomes and supports local, sustainable economies.
Schools should at the same time incorporate food knowledge into academic curricula. Make the cafeteria an honored partner in every part of a school's education. Bring science into school gardens and global studies into kitchen classrooms. Guide students to learn basic food skills that will serve them throughout their lives. Encourage them to explore the pleasures of the palate and discover the civility and generosity of sharing meals together.
Obama has committed billions of dollars to addressing global-nutrition problems, while First Lady Michelle Obama has been a tireless advocate for children's nutrition and anti-obesity initiatives at home. Her Let's Move program promotes healthy food in schools, improved neighborhood access to healthy, affordable foods, and increased physical activity. The 2010 nutrition bill -- championed by the Obamas -- has attempted to improve standards for school meals, emphasizing fruits and vegetables.
These are laudable accomplishments, but there is more work to be done. Let's teach our children to be well. At this time of new beginnings, let's show them how to take care of themselves, their communities, and the planet. Let's nurture them, make them feel respected and valued. Let's above all prove to them that they do, indeed, have bright futures.