The Mayor Who Took a Sledgehammer to NYC's Pinball Machines
An absurd outbreak of moral panic and needless paternalism decades before "Nanny Bloomberg" took over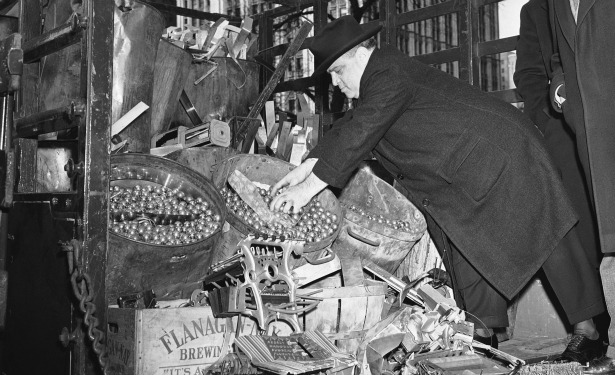 Mayor Fiorello LaGuardia checks over pinballs and other metal turned over by the police department in February 1942. (Associated Press)
In "For Amusement Only," Laura June's history of American arcades at The Verge, there's a fascinating digression on pinball machines, a form of entertainment that most everyone today regards as wholesome.
Bygone New York Mayor Fiorello LaGuardia thought otherwise. As he saw it, circa January 1942, "pinball machine pushers were 'slimy crews of tinhorns, well dressed and living in luxury on penny thievery' and the game was part of a broader 'craze' for gambling," June writes. "He ordered the city's police to make Prohibition-style pinball raids and seizures its 'top priority,' and was photographed with a sledgehammer, triumphantly smashing the seized machines."
The raids were only partly explained by the fact that some pinball machines were mob-owned, she continues:

LaGuardia's mission gave voice to sentiments which hearkened back to the moral outrage of the Prohibition era, too, most of which had nothing to do with organized crime. Pinball, a "pointless game," was attractive to children, and this worried parents and "concerned citizens." Seth Porges, a writer and expert in the history of pinball, says there were "off the books" justifications for the banning of pinball in addition to those that were actually used to make it illegal.

On the one hand, he says, "they successfully made the case that pinball was a type of gambling," but under the surface was a much more temperance-fueled, nearly religious belief that pinball was a tool "from the devil," which corrupted youths. Newspapers across the country nodded their heads in agreement as games of all sorts - billiards, and even "old ladies' bridge clubs" -- were held up to scrutiny. At the time, it was easy to make the case that pinball was morally corrupting, at least insofar as it was a gateway to gambling, as well as a complete waste of time. Many large cities followed in New York's footsteps, including Los Angeles and Chicago (San Francisco is one of the only major cities to have never banned the game), and pinball bans became fairly commonplace across the United States.

How long did this absurd moral panic endure? Well, pinball was banned in New York until 1976! And the paternalism surrounding the industry apparently even struck "Nanny Bloomberg" as overwrought: "Mayor Michael Bloomberg signed into law an amended bill that raises the number of coin-op games that can be placed in New York City's public locations without an arcade license. Officials from the Amusement and Music Owners Association of New York joined the mayor as he put his signature on legislation that increases the threshold of game placements from four to nine. An arcade license is required for locating 10 or more games at a single site."
Crazy lover of liberty that I am, it seems to me that today's New Yorkers might even be able to handle unlicensed establishments with 12 or 13 arcade games, but let's focus on the past.
Mayor LaGuardia wasn't an idiot or an incompetent. Nor were World War II-era New Yorkers dumb. The fact that their zealous paternalism robbed fellow citizens of an amusement, despite its by-now-self-evident harmlessness, isn't a reason to condemn them. It is, rather, a reason to tread carefully when we codify our own judgments into binding municipal law. Pinball bans seem unbelievably absurd today. What regulations will seem equally needless to future generations? In my New York City days, it was the inability to buy wine in grocery stories that constantly bothered me. My home state, California, bans the sale of horse meat for human consumption, though it's perfectly legal to use horse meat in pet food.
One needn't be a doctrinaire libertarian to favor the repeal of laws that impinge on freedom without serving any urgent purpose. Things like pinball, convenient wine purchases, and horse meat for those who like it may seem like small things, but the aggregate loss of happiness for which they're responsible adds up.