The Human Cost of Fruits and Vegetables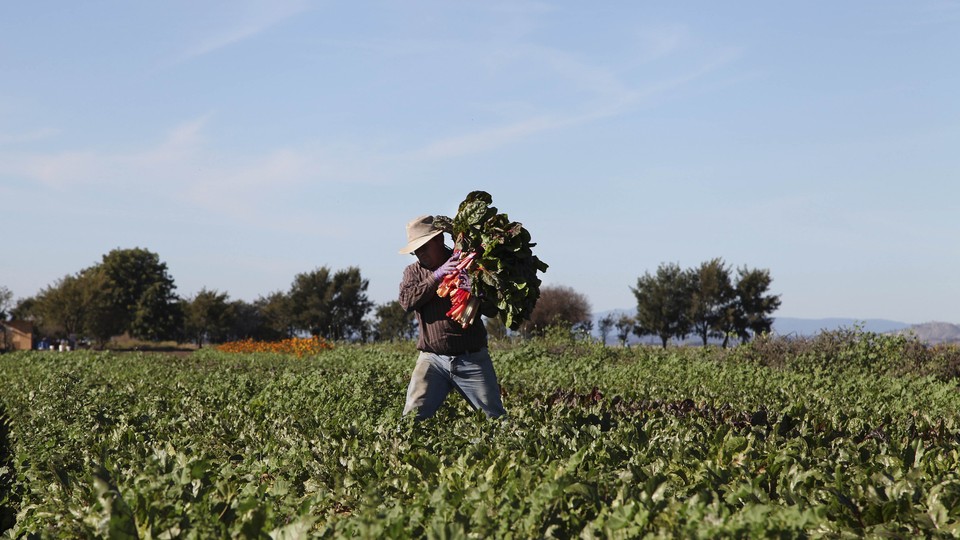 Americans pay relatively little for fresh fruits and vegetables year round, in part because of the work done by farmworkers. But a new study by the Center for Progressive Reform titled "At the Company's Mercy: Protecting Contingent Workers from Unsafe Working Conditions," reveals the true human and economic cost of weak workplace regulations.
Farmworkers in the United States face dangerous working conditions ranging from exposure to pesticides to picking produce under extreme heat. Slips, trips, and falls at work are common among these workers, the study revealed.
"Workers can become entrapped in grain silos and engulfed in clouds of pesticides," authors of the report wrote. Their low earnings often place these workers at or below the poverty line.
Here's a snapshot of some numbers:
1: At least one farm laborer dies each day while picking fruits and vegetables for U.S. consumption.
2%: The share of unionized farmworkers in the U.S.
$10,000:  The starting average individual income for a farmworker is between $10,000 and $12,499, while the family household income is between $15,000 and $17,499.
44%:   The share of farmworkers who indicated they do not speak English. Only 24 percent said they speak English well.
30%:   The percentage of farmworker families earning an income below the poverty line.
8%:  The proportion of farmworkers receiving food stamps.
15%:  The percentage on Medicaid, a federal-state entitlement for parents, children, elderly, and the disabled.
$15:  The amount of money U.S. households would pay per year if farm wages increased by 40 percent. Such wages increases would lift each seasonal worker above the poverty line, says Philip Martin, a labor economist at the University of California (Davis).
72%:  The share of farmworkers who are foreign-born.
42%:  The percentage of migrant workers who have traveled at least 75 miles within the previous year to work.
78%:  The percentage of farmworkers who are male

Sources: Center for Progressive Reform, National Center for Farmworker Health, and the Kaiser Commission on Medicaid and the Uninsured