The High Cost of Shutting Down One Medical Marijuana Operation
A single prosecution can easily run more than $1 million -- all to send an empty message about federal drug laws and hand the market share over to a less savory purveyor.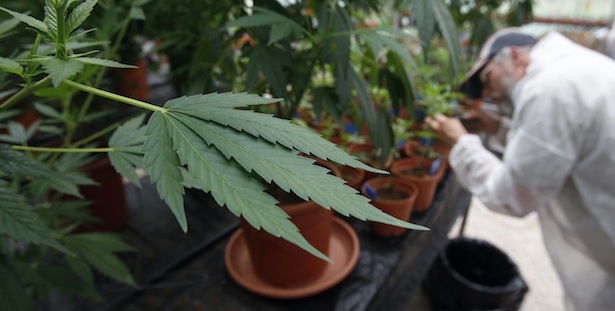 Reuters
When Matthew R. Davies was growing and selling medical marijuana in California, the 34-year-old father of two "hired accountants, compliance lawyers, managers, a staff of 75 and a payroll firm. He paid California sales tax and filed for state and local business permits," the New York Times reports. Unfortunately for him, federal agents raided his business, and "the United States attorney for the Eastern District of California, Benjamin B. Wagner, a 2009 Obama appointee, wants Mr. Davies to agree to a plea that includes a mandatory minimum of five years in prison." Let's set the legal questions aside and think through the costs of this course:

The opportunity cost of focusing on other crimes

$235,000 in incarceration costs

Two young girls with an absent father

Substantial lost tax revenue from his operation

Other marijuana sellers going underground

Less savory drug dealers, including violent cartels, getting more business

More of a hassle for sick medical marijuana patients to get their prescription filled
Doesn't that seem awfully "expensive" when the only real benefit is sending the message that you can't get away with openly flouting federal drug laws? If that's the biggest benefit you can plausibly claim, isn't that a sign that the law should change? After all, it isn't as if anyone believes that sending Davies to jail is going to make victory in the drug war any more plausible. Or appreciably decrease the number of people smoking marijuana. Or even significantly diminish the supply, since there's always another person growing on the black market.
All casualties are purposeless when you're fighting an unwinnable war.
Later in the article, we learn that "two of Mr. Davies's co-defendants are pleading guilty, agreeing to five-year minimum terms, to avoid stiffer sentences." Wow. So the federal government thinks it's worth investing more than a million dollars to shut down this particular operation. Maybe you're sympathetic to marijuana legalization, or maybe you're against it. Regardless, could you spend that $1 million-plus better? Could you spend it in a way that saved more lives or created more happiness or resulted in more justice meted out than jailing these three?
I could.
One of Davies's employees, who met him after seeking marijuana to help her through ovarian and cervical cancer, gave this quote to the reporter: "I totally trusted them. We're not criminals. I've never been arrested my whole life. I need that medication, and so do a whole lot of people."
How many people, on hearing a story like hers, are going to react in a way that weakens rather than strengthens regard for the rule of law? The Times also quotes a former federal drug prosecutor who says, "It's mind-boggling that there were hundreds of attorneys advising their clients that it was O.K. to do this, only to be bushwhacked by a federal system that most people in California are not even paying attention to." But ignorance of the law or getting bad attorney's advice only keeps you out of jail in America if you're a police officer or elected official.