The Emergency Committee for Israel Goes All In
Well, a minute ago I was trying to remember exactly what Chuck Hagel's business background had been before he got into politics. Showing my sophisticated search skills, I typed "chuck hagel wikipedia" into the Google search box. And what should I see?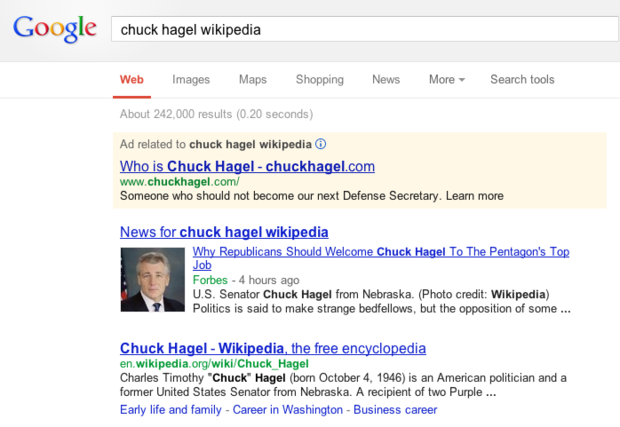 The very first item in the search-results list, which is an ad and has a fine-print disclosure line (and very faint background tinting) to that effect, is from something called chuckhagel.com. And if you click on that link, you get the full anti-Hagel blast. It has a slideshow of shifting critiques of Hagel, mainly emphasizing the themes that he is Bad on Defense, Bad on Israel, and Overall Too Extreme. Here is a relatively polite sample:
And what's the source of this direct "Contact Your Senator" lobbying attempt to reject a Cabinet-level nominee? Is it the Republican party, from which Hagel became estranged when he criticized the Iraq war? Democratic activists, who would like a Democratic president to choose someone from his own party? GLBT groups, who have not forgiven Hagel for his anti-gay comments about ambassador James Hormel 15 years ago?
No. It is none of these.
It was bad for US-Israel relations as a whole, not just relations between the Obama and Netanyahu administrations, that the sitting leader of one country appeared to so clearly desire so obviously plumped for the defeat of the other. [I'm talking about Netanyahu's apparent strong and open pro-Mitt Romney stance last year. But some people closer to the scene have argued that he was more careful than I think; thus this edit.] It is hard to see anything but further strain coming from a personalized campaign against a former Republican senator -- and current co-chair of the President's Intelligence Advisory Board, who has been vouched-for by five former U.S. ambassadors to Israel and four former national security advisers plus a wide assortment of military and political figures, is a wounded combat veteran, etc. -- when that campaign is being led by a group called "the Emergency Committee for Israel." Suppose a campaign against a Treasury or Commerce nominee were being led by a group of Americans calling themselves "The Emergency Committee for China," or "The Emergency Committee for Germany" or the Emergency Committee for any place else. Or a campaign against John Kerry being led by "The Emergency Committee for Cuba," or maybe Russia. That would be madness, and so is this.
The Atlantic
's Jeffrey Goldberg -- who has
previously
argued
that Hagel-style bluntness might be a plus for U.S.-Israel relations --
predicted today
that AIPAC would wisely try its best to stay out of the middle of a partisan confirmation battle. This wisdom seems to have escaped the Emergency Committee. Let's hope they back off. Among other reasons: most of the time, even controversial nominees finally get confirmed. Let's suppose that Chuck Hagel is the most forgiving and thickest-skinned person imaginable. Even so, how would he be expected to feel about a group that had done its best to pronounce him unacceptable -- and had done so in the name of another country?
__
UPDATE Several people have written in to say that the "Emergency Committee for Israel" really doesn't represent anyone except its donors and its small staff. Therefore they say that its anti-Hagel campaign, though very prominent -- on Google and in a number of news outlets -- should not be given too much weight or taken as representing anything more than itself. Noted, and I will try to leave it there.
On the other hand, just now we have Elliott Abrams, whose wife is one of the three people listed as being on the Emergency Committee's board (along with Kristol and Gary Bauer),
telling Melissa Block
on NPR that Hagel is an outright anti-Semite. Listen for yourself, but this is how it sounded to me:
[Block asked, are you saying the Senate should reject Hagel?] Abrams: He has a chance at his confirmation hearing to show that he is not what he appears to be, which is frankly an anti-Semite. It's not just being anti-Israel. He's got a problem with what he calls "the Jews," the Jewish lobby. I think if  If he can't satisfy people that he is not in fact bigoted against Jews, he certainly should not be confirmed....  




[Block again: You are saying he is not just "anti-Israel," but in fact anti-Semitic?] Abrams: I think if you look at the statements by Hagel, and then you look at the statements by the Nebraska Jewish community, about his unresponsiveness to them ... I don't see how you can reach any other conclusion, that he seems to have some kind of problem with Jews. 
Oh boy.