Study: Blacks and Latinos Take Longer to Complete STEM Doctoral Degrees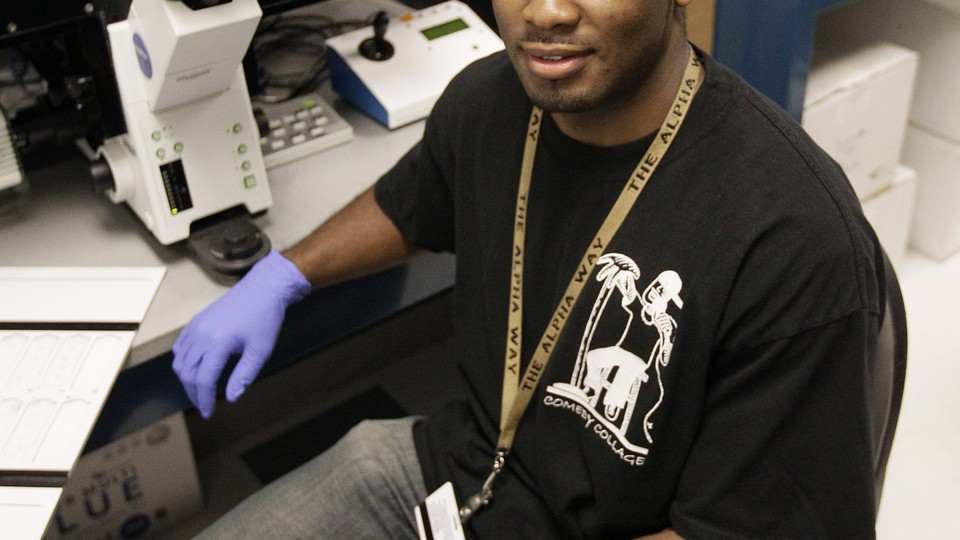 African-American and Hispanic students typically take more time to earn a doctoral degree in science, technology, engineering, and math than nonminorities, delaying the time these groups enter the workforce and potentially costing them future earnings, a new study has found.
Overall, the time students take to earn a doctoral degree in STEM fields has been gradually shrinking, except during the early 1990s when the average completion time increased from 6.8 years to 7.3 years. By 2009, the average completion time had declined to 6.3 years, according to a recent study by the American Institutes for Research (pdf).
(Related Next America story: STEM Gap Widens for Minorities.)
A first in a series, the study examined data from the National Science Foundation's Survey on Earned Doctorates between 1990 and 2009. It included only students who are U.S. citizens and legal permanent residents.
Researchers found that it takes blacks longer than any racial group to finish their doctoral degree (6.8 years), followed by Latinos (6.7 years). The trends are similar when looking at different fields of study, including agricultural, biological and biomedical, computer and information, engineering, math, and physical sciences. On average, for instance, blacks spent 10.8 years and Latinos 8.4 years to complete a computer-science doctorate, compared with 7.4 years for nonminorities.
Education advocates, policymakers, and some employers have stressed the need to increase minorities in the STEM fields, in part, because these demographics are changing the racial and ethnic landscape of the country's workforce.
Currently, minorities account for 36.6 percent of the total U.S. population; nonwhite children make up more than half of all kids now born in the country. The challenge remains how to train homegrown STEM workers.
Recent National Science Foundation figures show that minorities obtaining doctorates in all fields have nearly doubled in the past 20 years. Still, they remain relatively low for blacks (6.1 percent) and Latinos (6.3 percent). These groups are also more likely to be concentrated in the humanities, social sciences, and education fields.
(Related: Interactive NSF Graphics: Which Fields Attract Students?)
Last year, colleges and universities granted 16.9 percent of doctoral degrees to Asian-Americans, 5.8 percent to Latinos, 4 percent to blacks, and 2.2 percent to those who identified as being two or more races, according to recent federal figures.
Unsurprisingly, the study found that students who obtain fellowships and research and teaching assistantships finished their programs four years earlier than those who paid for their education through external funding, such as student loans or personal savings.
Students who were married, had dependents, or accumulated undergraduate student-loan debts, regardless of race or ethnicity, generally finished a few years later.