Senator Frank Lautenberg Is Too Old to Run for Reelection
The 89-year-old New Jerseyan is refusing to bow out in 2014 -- in defiance of both fellow Democrat Cory Booker and actuarial tables.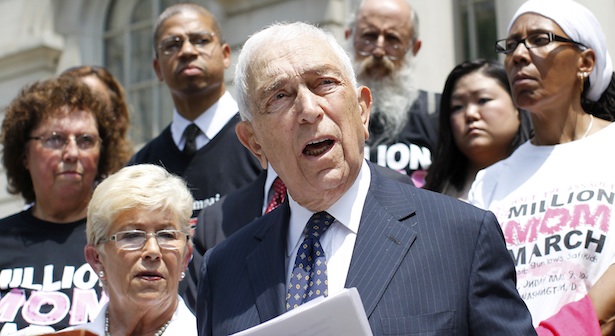 Reuters
Let's not mince words: Senator Frank Lautenberg, who will be 90 in 2014, is too old to run for another six-year term. I am not questioning his mental sharpness or the wisdom that he's accumulated.
They're beside the point.
He'd be starting a new term while fifteen years older than the average life-expectancy for American males. What are the odds he'd survive in adequate health until 2020?
Low. Too low to risk letting him try, given the political disruption and discontinuity of service that would result if he failed. As a general matter, I am against age discrimination in hiring. I usually oppose mandatory retirement rules. And I know that New Jersey voters can reject the man even if he decides to run.
But don't candidates owe their constituents the promise that, to the best of their ability to estimate, they'll be capable of finishing the job? The hard truth is that Lautenberg can't make that promise. Beyond actuarial reality, he's already missed important votes because of health problems.
I don't know if he could win a primary, but incumbency and name recognition are powerful advantages, and if he won, voters in the general election wouldn't be permitted to just choose the man with the better platform, or the ones from the party with whom they identify more closely -- to be responsible, they'd have to factor extreme age and its likely effects into their calculations.
At what point should voters consider age in general? I have no idea where the line should be drawn -- just that 90, 91, 92, 93, 94, and 95 are all on the wrong side of it. New Jersey Supreme Court justices must retire at 70.
For those reasons and others, Lautenberg is way out of line for telling -- via the Philadelphia Inquirer -- Newark Mayor Cory Booker, who is interested in running for his seat, "I have four children, I love each one of them. I can't tell you that one of them wasn't occasionally disrespectful, so I gave them a spanking and everything was OK."

Booker, the man he's comparing to a child, is 43 years old -- 10 years older than Jesus Christ when he died, 10 years older than Thomas Jefferson when he wrote the Declaration of Independence, and eight years older than the minimum age at which one can run for president. 

I hope Lautenberg lives to be 110, is healthy and productive until the end, and injects his elder's wisdom into public discourse at every opportunity. But another six years in the Senate just doesn't make sense. Earlier in his career, Lautenberg himself injected age into a race against a 72-year-old Republican opponent. He should retire at the end of his term and stay neutral in the race to succeed him.