Republican Senator Saxby Chambliss Won't Run for Reelection in 2014
The Georgian, a recent target of conservative ire, will retire after two terms, and would-be successors are already lining up.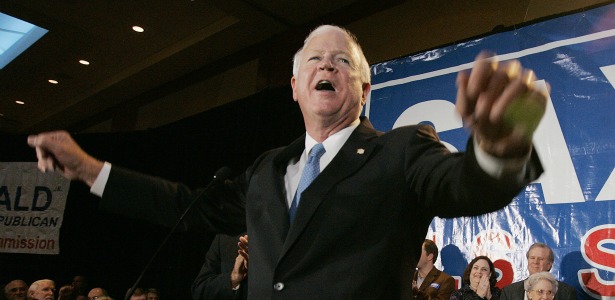 Reuters
Sen. Saxby Chambliss, R-Ga., will retire at the end of 2014, setting off a Republican scramble to fill his seat, according to sources familiar with his decision.
The Atlanta Journal-Constitution first reported the news.
Chambliss has drawn the ire of conservatives throughout the state in recent years -- particularly over his participation in the bipartisan "Gang of Six" and his recent vote in favor of the fiscal-cliff deal. Add to that the roughly $1.5 million he has in the bank for a reelection contest, far short of what other vulnerable senators have stored up for 2014, and Chambliss was high up on the watch list for Republican incumbents who were in danger this year.
Already, Republican Reps. Tom Price and Paul Broun have expressed interest in a bid. Broun has been increasingly critical of Chambliss and told WGAU radio in Athens this week that he was considering a bid. Meanwhile, Price told MSNBC's Chuck Todd on Thursday that he had not ruled out challenging Chambliss, adding: "If opportunity knocks, then you have to open the door."
That door seems to be opened even wider today with Chambliss's announcement. Republican Reps. Phil Gingrey and and Tom Graves have also been mentioned as potential contenders, although Gingrey's recent embrace of former Rep. Todd Akin's controversial comments during last year's Senate race in Missouri could prevent the party establishment from lining up behind him. Former Secretary of State Karen Handel, who lost in a 2010 gubernatorial primary, is another possible candidate.
Democrats are pleased with the news as well, noting that a crowded Republican primary could push candidates far to the right, leaving an opening for a moderate Democrat, such as Rep. John Barrow, to run. Atlanta Mayor Kasim Reed, well-known in the state's largest population center, has also been mentioned as a potential Democratic candidate. However, Reed has said he wants to serve a full second term in office, should he be reelected this year.
"Georgia will now offer Democrats one of our best pickup opportunities of the cycle," DSCC Executive Director Guy Cecil said in a statement Friday. (That's not saying a whole lot. There aren't many good opportunities this cycle, with Senate Minority Leader Mitch McConnell and Sen. Susan Collins of Maine the other potential targets.)
Chambliss will leave office at the end of 2014, after two terms in the Senate.