Recession Pushes States to Make Deep Cuts to Higher-Ed Budgets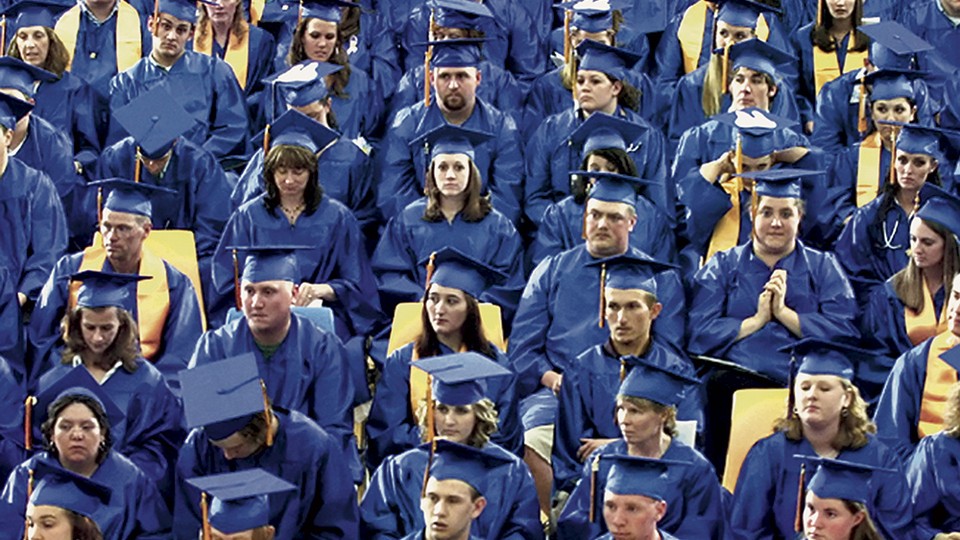 There's little protest that a high-quality education is key to future success, an argument further underscored by President Obama's commitment to investing more in it. There's also a strong consensus — especially among families of color —  that higher education is essential for prosperity. But even with such talk catapulting education into the spotlight, the recession and ensuing stagnant economy have lasting impact.
A recent analysis by Jordan Weissmann of our sister publication The Atlantic found that a full 38 states have substantially cut higher-education funding, many by more than a fifth.
As a result, the burden has been shifted to aspiring college students and their families, even as tuition and student debt continue to soar.
Arizona, New Hampshire and Louisiana have made cuts totalling almost one-third of their budgets between fiscal year 2008 and now. In addition, Weissmann explains, 16 states are planning to cut spending even more in FY 2013, the heaviest facing Florida, Alabama, and New Jersey.
There is some good news. Weissmann reports that 11 states have increased higher-education spending since the recession, with Wyoming and North Dakota both boosting funds by more than 30 percent.
Part of The Next America's mission is to examine how such policies and spending may be affecting people of color, so we took a deeper dive into the graduation rates of states.
The Chronicle of Higher Education released an interactive site examining postsecondary graduation rates by state using data from the National Center for Education Statistics' Integrated Postsecondary Education System. The data tracks first-time, full-time students who entered undergraduate programs in the fall of 2004 and graduated within six years, by 2010, in the height of the Great Recession's aftermath.
Several states that made deep cuts to their higher-education budgets, including Arizona, New Hampshire, and Florida boasted graduation rates that were higher than the national average.
However, diving into the racial demography of the states' graduates reveals a pattern: In nearly every state, white and Asian students graduated at rates near or above the state average, while black and Latino students graduated at a far lower rate.
For example, in California, which cut 23.9 percent of its education budget since the recession, 65.1 percent of students graduated from four-year public universities within six years. Asian and white students graduated within six years at rates higher than average: 72.4 percent and 68.2 percent, respectively. In contrast, just 47.3 percent of black students and 54 percent of Hispanic students graduated within six years.
The less-than-positive news on higher-education spending comes as the NCES releases its annual data on high school graduation, which show that an estimated 78 percent of students across the nation are graduating within four years, the highest since 1974.
The news is relatively positive across the board: Graduation rates for Hispanic students have jumped 10 percentage points over the past five years, to 71.4 percent. Asian-American students have the highest graduation rate, at 93 percent, followed by white students, at 83 percent. African-American students graduated at a rate of 66.1 percent, a jump of 7 points in five years.
This is great news, overall.
But with the added burden of ballooning student debt, a systematic failure among colleges to help its low-income students and rising poverty rates among families (especially among minorities), there's certainly more work to be done.
And considering the continued cuts to state spending on higher education, the next cohort of graduating high school students turned enrolling college freshmen face stiff challenges.