Picture of the Day: The Moment Obama Heard About the Newtown Shooting
Photographer Pete Souza captured the scene in the Oval Office on what Obama has called the worst day of his presidency.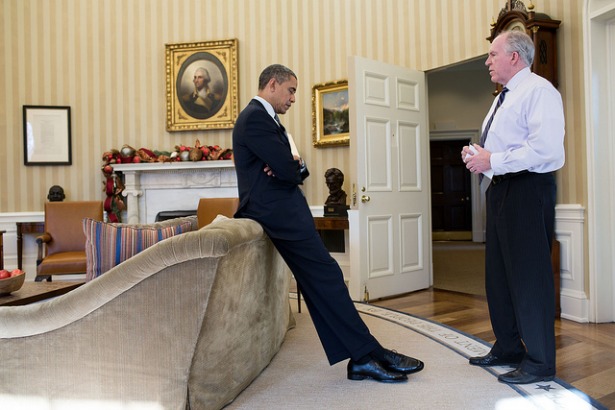 Pete Souza/The White House
Time and again for the last four years, official White House photographer Pete Souza has made history with powerful photographs taken at the right moment -- think of the famous image of President Obama and his team in the situation room during the raid that killed Osama bin Laden. That comes with a price -- Souza works for the president, rather than as a journalist -- but it also provides unusual access (and also adorable stuff like this).
Here's Souza's latest classic: an image of the moment Obama heard about the massacre in Newtown, Connecticut. It's hard to think of a single moment that has visibly ruffled the ordinarily Vulcan-like president like the shooting; he teared up in a statement that day, and again at a memorial in Connecticut, and he's called it the worst day of his presidency. His deflation is clear in this photo. It's interesting, also, to note that the person briefing the president is chief counterterrorism adviser John Brennan.
The photo is part of Souza's 2012 year in photos. You can check out the whole thing here.