On White House Staff, Obama Chooses Loyalty Over Change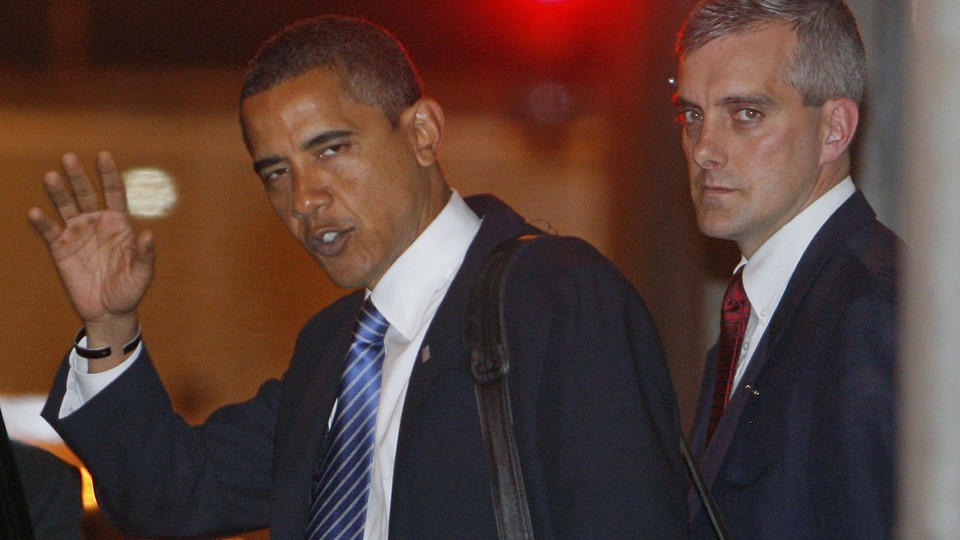 In turning to "one of my closest friends" for his next chief of staff and in naming more members of his White House team who are known quantities, President Obama showed Friday that he has, as he recently claimed, indeed studied the literature of second-term presidencies.
The appointment of Denis McDonough as his new chief of staff, with clear marching orders, gives the president a stable White House at exactly the time that some earlier second-term presidents grappled with an element of instability. There always is going to be an exodus of talent at the start of a second term, if only as recognition that first-term staffers are exhausted. And there always is going to be a debate between choosing fresh blood or loyalists.
With his moves on Friday, Obama has chosen — as he almost always does — loyalists in that debate. Of the 10 staffers named, the closest you get to an "outsider" or fresh blood is Lisa Monaco, the new assistant to the president for Homeland Security and Counterterrorism on the National Security Council. She's the only one who has never had a White House pass. She has to make that long, nine-tenths-of-a-mile trek from the Obama Justice Department to the Obama White House.
This president wants to be comfortable with his chief of staff and wants him to be someone with whom he has long ties. McDonough is the fifth man to hold that position if you include Pete Rouse, who spent three months as acting chief of staff. Only one — William M. Daley — came from outside the Obama orbit and, not coincidentally, he is the only one who proved less than a good fit.
That will not be a problem for McDonough. In his East Room remarks, the president noted he has "been counting on Denis for nearly a decade, since I first came to Washington, when he helped me set up my Senate office, along with Pete Rouse. You know, he was able to show me where the restrooms were and, you know, how you passed a bill."
He described McDonough as "one of my closest and most trusted advisers on my presidential campaign." With evident emotion, he added "we all love Denis so much" and "I cannot imagine the White House without you." It is impossible to picture any recent president expressing similar statements about his chief of staff. None saw one of his staffers as a mentor who helped teach them how government worked. But it is also a reason why Obama's White House has operated with the least friction and the least in-fighting of any recent White House.
The contrast is particularly sharp with President Reagan. Reagan was too passive about his own White House staff and quickly grew to regret some of his second-term personnel decisions as scandals developed. Reagan intended to retain James A. Baker III as his chief of staff. But when the president left for a Christmas vacation in 1984, Treasury Secretary Donald T. Regan approached Baker and proposed the two men swap jobs. Neither told the president until Jan. 7, 1985. Surprised, he signed off on it that afternoon and announced the swap the next day. But almost from the beginning, the imperious Regan was a terrible fit for the easygoing Reagan — and an even worse match with first lady Nancy Reagan.
Martha Joynt Kumar, the presidential historian at Towson University, has identified one of the persistent problems for second-term presidents as the loss of loyalists who remember why a president first ran and what promises he made. "You have to recharge the White House battery and that is essentially done through personnel," she told National Journal. "But one of the things you want to make sure of is that you do have some continuity with people from your first campaign who remember why you ran. And it is difficult to do in the White House because the jobs are so grinding on your time and energy. It is hard to keep people who have that but that is something you want."
In that quest, the elevation of Dan Pfeiffer from communications director to senior adviser may be as crucial as the appointment of McDonough. No one better knows all the promises made by candidate Obama. With longtime Obama intimates Rahm Emanuel, David Plouffe and David Axelrod gone from the White House, the burden now falls to McDonough and Pfeiffer to keep faith with the promises of 2008.