Obama's Message to Republicans: I Won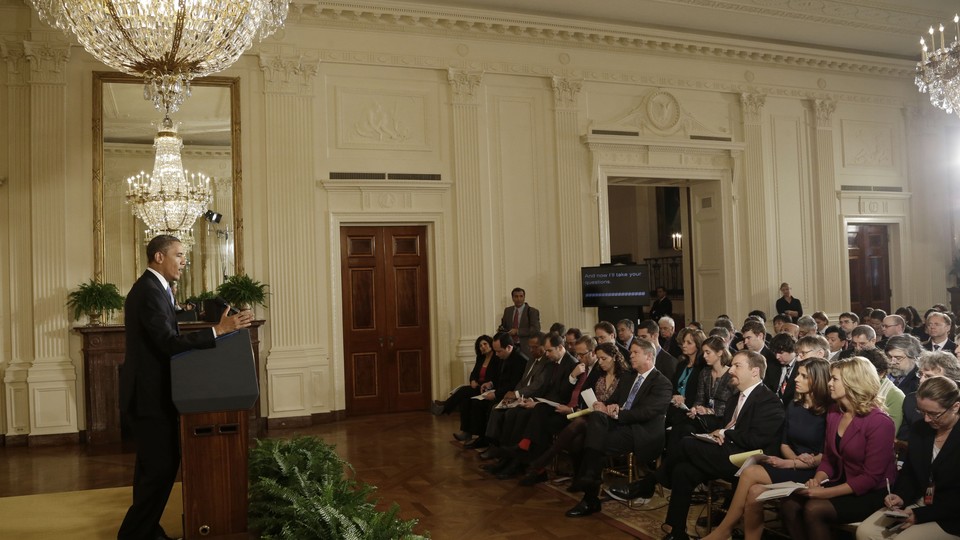 President Obama had a simple message at his press conference Monday: I won the election, and, this time, that's going to mean something. Long gone was the chastened president of 2011 who often seemed tentative in the wake of the Republican takeover of the House. In his place was a man clearly convinced that the country that voted for him 10 weeks ago has his back today in his battles with Congress.
For Democrats, it was a welcome display of confidence and resoluteness. For Republicans, it was painful evidence of their unequal status and proof  that the White House underestimates their resolve in the upcoming fight to raise the debt ceiling. For both sides, it was a clear reminder that the president who takes the oath of office in just six days will have no honeymoon to enjoy. It's going to be a rough month as the debt-ceiling deadline looms.
The president was firm from the start, proclaiming his intent "to carry out the agenda that I campaigned on." He prefaced his position with "as I said on the campaign," lest anyone forget that he waged his successful reelection campaign on the question of tax fairness and a "balanced" approach to deficit reduction. "Turns out," he said pointedly, "the American people agree with me. They listened to an entire year's debate over this issue, and they made a clear decision about the approach they prefer."
Later, when pressed by Major Garrett of CBS and National Journal, he again stressed the public support for his position. "We just had an entire campaign about it," he said. "And, by the way, the American people agreed with me that we should reduce our deficits in a balanced way."
Pointedly, he cast House Republicans who talk loosely about default and deeper spending cuts as out of step with the electorate, saying, "Despite that conversation and despite the election results, the position that's been taken on the part of some House Republicans is that, no, we've got to do it our way."
Clearly emboldened by his reelection, the president was not reticent to throw what he sees as his mandate in the face of Republicans, calling them out on what he sees as their irresponsibility on the debt and suggesting that elections have consequences. It was reminiscent of his health care summit with Republicans on Feb. 25, 2010, when he sharply reminded Sen. John McCain, R-Ariz., that he had lost the 2008 election, telling McCain, "John, we are not campaigning anymore."
But even if the Republican takeaway from Monday's press conference is that the president really does mean he won't negotiate with them over the debt ceiling, it is still quite murky just how that works practically. If congressional leaders tell the White House there is no way they can pass the needed debt measure, will the president refuse to talk with them or refuse to help find a way out before lasting damage is done to the economy?
Obama was pressed by Garrett. But the president committed himself only to have "a conversation" with Republicans about spending. He continued to insist that conversation is divorced from the debt vote even though Republicans see the two as inextricably linked.
"I am not going to have a monthly or every three months conversation about whether or not we pay our bills, because that in and of itself does severe damage. Even the threat of default hurts our economy," he said, twice declaring, "We are not a deadbeat nation."
Republicans wasted little time firing back, demanding far more than a "conversation" about debt and showing no sign of willingness to surrender on the debt vote.  House Speaker John Boehner, R-Ohio, issued a statement in which he claimed the public is on the side of the GOP. "The American people do not support raising the debt ceiling without reducing government spending at the same time," he contended.
Even before the press conference, Rep. Michael Burgess, R-Texas, had called Obama's refusal to negotiate "the most preposterous thing I've ever heard," telling the Associated Press, "He's going to have to negotiate." Sen. Rand Paul, R-Ky., had suggested that Obama thinks he is a king, not an elected president. And Rep. Trent Franks, R-Ariz., had bluntly said the president is "out of his mind" if he thinks he'll get the debt ceiling raised without negotiating with Republicans.
After his confident press conference, no one can doubt the president's determination to avoid such negotiations. But even for a freshly inaugurated president, and even after such a strong performance, it is far from clear just how he can ignore the demands of an equally determined House majority with the fate of the American economy at stake.