Obama Finally Solves His Pastor Problem
By dropping Louie Giglio from the inauguration, the president sends a message that diversity of backgrounds is no longer going to be an excuse for tolerating homophobia.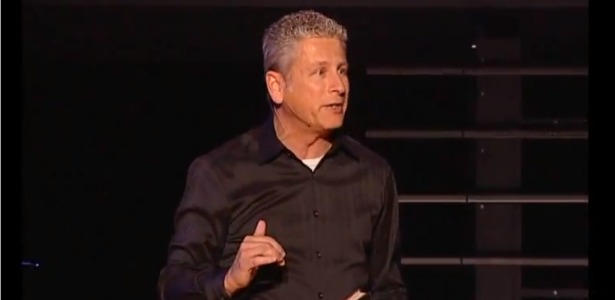 After the fury over his choice of evangelical Pastor Rick Warren to give the invocation at his 2009 inauguration, President-elect Obama defended the selection.
"During the course of the entire inaugural festivities," he told reporters at a December 2008 press conference, "there are going to be a wide range of viewpoints that are presented .... [P]art of the magic of this country is that we are diverse and noisy and opinionated and so that's the spirit in which we have put together what I think will be a terrific inauguration."
And that was that. Warren, who had helped lead the push for California's Proposition 8 to amend the state constitution to forbid recognition of same sex marriage, went on to bless Obama's leadership of this country.
Nothing about that felt magical to many lesbian and gay Americans at the time.
So when it was revealed that the man selected to give the benediction at Obama's 2013 inauguration also had a history of anti-gay sentiments, gay and lesbian activists steeled themselves to again find their objections ignored. But there was no surer sign that times are changing than the Presidential Inaugural Committee's announcement on Thursday that Pastor Louie Giglio had been dropped from Obama's 2013 program.
Giglio, ThinkProgress revealed, had preached a mid-'90s sermon titled "In Search of a Standard -- Christian Response to Homosexuality." In it, he declared homosexuality "a sin in the eyes of God." The oratory was long and comprehensive in rebuking gays and their fight to become "accepted as a norm in our society."
In some ways, the problem Obama faced this time around with Rev. Giglio resembled less of a redo of the Warren situation than what happened when his campaign team chose an "ex-gay" pastor, Donnie McClurkin, to headline a South Carolina gospel tour in the fall of 2007.
It seemed unlikely that Obama's 2008 inaugural committee didn't know a little something about Warren's anti-gay history, even if they chose to ignore it. But it was at least plausible that the campaign didn't adequately vet McClurkin, who says he struggled with same-sex attraction, that gays could be changed through prayer, and had vowed to fight "the curse of homosexuality."
In fact, that's the explanation for the pick that then-Senator Obama gave me during an October 2007 interview. Had McClurkin been vetted, I asked?
"Obviously, not vetted to the extent that people were aware of his attitudes with respect to gay and lesbians, LGBT issues," Obama responded, "at least not vetted as well as I would have liked to see."
But the campaign chose to keep McClurkin in 2007 just like the committee chose to keep Warren in 2008. In both cases, Obama's team tried to smooth the kerfuffle by adding openly gay speakers to the line up: Rev. Andy Sidden in South Carolina and Rev. V. Gene Robinson at the kickoff to the inaugural ceremonies in 2009.
Initially, that appeared to be what the inaugural organizers would do this time around -- pointing to their inclusion of a gay Latino poet, Richard Blanco, in the festivities like a shield to deflect criticism about Giglio.
The problem with that rationale, of course, is that every time you provide a stage to someone who has advanced homophobic views, you broaden their platform and reach while simultaneously legitimizing their point of view.
I sat down Thursday morning, reluctantly, to pen a diatribe about how little the Obama administration had learned over the past five years, even as President Obama has begun to amass a record on advancing LGBT equality that may well be one of his most striking and enduring legacies.
But many equality activists had already beaten me to punch. A couple hours later, Rev. Giglio pulled his name from the inaugural program and the spokesperson for the Presidential Inaugural Committee, Addie Whisenant, said, "We were not aware of Pastor Giglio's past comments at the time of his selection and they don't reflect our desire to celebrate the strength and diversity of our country at this Inaugural."
In one fell swoop, that statement put to rest the history with both Warren and McClurkin, and asserted a new standard: Homophobia will no longer be absolved in the name of diversity and improper vetting is no excuse for an unwillingness to take a stand.
It's a major affirmation of lesbian, gay, bisexual, and transgender Americans across the country. For the first time, they will later this month be able to unreservedly revel in the induction of a president whom many of them admire and appreciate. And that has the makings of a far more magical inauguration.