Mass Exodus Leaves Obama Administration with Dearth of Diversity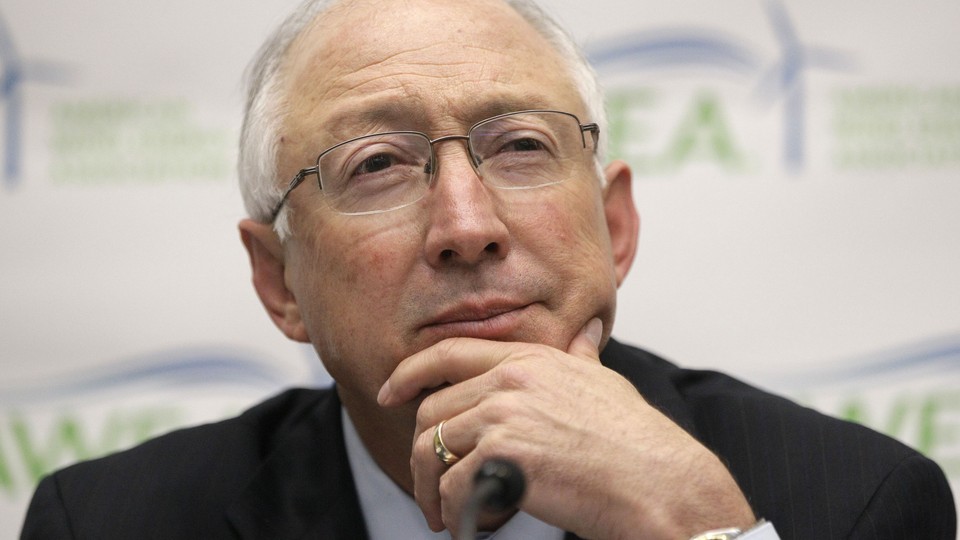 Forget all the caterwauling about women (a bit of which, admittedly, came from me). The impending departures of Labor Secretary Hilda Solis and Interior Secretary Ken Salazar leave President Obama's Cabinet with zero Hispanics, setting off nervous tremors among Latinos and underscoring the inch-deep Democratic bench in that demographic.
Even before the latest developments, the National Hispanic Leadership Agenda, a coalition of 30 large groups, was concerned about lack of Latino representation in the administration and told Obama so in a letter last November. The coalition sent the president another letter Wednesday, complete with 19 names for him to consider for his second-term Cabinet.
"After Secretaries Solis and Salazar announced that they will be stepping down as the heads of their respective departments, our apprehension is amplified," NHLA Chairman Hector Sanchez said in the follow-up. With a historic policy debate on immigration approaching, he wrote, "your Cabinet can ill-afford to not have the unique perspective and voice of high level Latino members. At this critical time our voices need to be amplified, not diminished."
Obama named Sonia Sotomayor as the first Latina justice to the Supreme Court, and his domestic policy director is Cecilia Munoz. But that doesn't cut much ice at this point with NHLA, which is suddenly much further away from its goal of seeing at least three Hispanic Cabinet members.
Three appears unlikely. Still, Obama does have opportunities to make up some ground in future appointments. So far there are vacancies at the departments of Commerce, Interior, Labor and the Environmental Protection Agency, and there will likely be another with the widely expected departure of Energy Secretary Steven Chu.
The diversity report on the Cabinet exodus to date, including Chu, is as follows: Three of seven women are leaving, as are one of three African-Americans, one of two Asians, and two of two Hispanics.
The political irony of Obama's situation has got to tickle Republicans. They may be having trouble winning the votes of minorities and women, but they are doing noticeably better than Democrats when it comes to diversity in the jobs that typically lead to bigger things. High on the GOP roster are two Hispanic senators (Marco Rubio of Florida and Ted Cruz of Texas) and two Hispanic governors (Brian Sandoval of Nevada and Susana Martinez of New Mexico).
Prominent Latinos in the Democratic fold include Sen. Bob Menendez of New Jersey, Rep. Xavier Becerra of California, former New Mexico Gov. Bill Richardson, and Los Angeles Mayor Antonio Villaraigosa. Some are more feasible Cabinet prospects than others. Menendez, the only Hispanic Democrat in the Senate, is in line to become chairman of the Senate Foreign Relations Committeewithin weeks or even days. Becerra was just elected chair of the House Democratic Caucus and is the only Latino in his party's House leadership.
Richardson, a former U.N. ambassador and Energy secretary, has been the subject of several investigations, one of which prompted him to withdraw as a prospective Commerce secretary in 2009. Villaraigosa, who got his start in the labor movement, has been mentioned as a potential pick for Labor or Commerce secretary, though his tenure has been rocky.
Democrats have two up-and-coming Texas stars in the Castro twins, San Antonio Mayor Julian Castro and newly elected Rep. Joaquin Castro. But they are 38, and it would be a reach to put either of them in charge of a Cabinet department now. The same is true of New Mexico's Hector Balderas, 39, a former prosecutor and state legislator whose 2006 win in an election for state auditor made him the country's youngest Latino in statewide office.
The names the Hispanic leadership coalition sent to the White House include Richard Carmona, the former surgeon general who came close to winning a Senate seat last year in Arizona; Los Angeles County Supervisor Gloria Molina; Univision president Cesar Conde; longtime labor leader Linda Chavez-Thompson; Promerica bank founder Maria Contreras-Sweet; and assorted current and former members of Congress. The list runs the gamut, from real contenders to dubious long shots, but it's a start for an administration sorely in need of binders full of Latinos.