Marco Rubio: Obamacare Is an Obstacle in the Immigration Debate
The Florida senator, who favors a "path to citizenship," says it may be too costly if its beneficiaries qualify for the Affordable Care Act.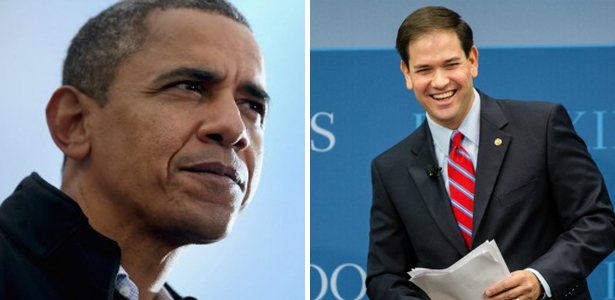 Getty Images
Appearing Tuesday on Rush Limbaugh's radio show, Senator Marco Rubio said that the comprehensive immigration-reform deal he wants to reach with President Obama could be jeopardized if those made legal through a "path to citizenship" would be eligible for Obamacare.
As he put it: 

If you are a lawfully present in the country but you are not a green-card holder, you do not qualify for any federal benefits. That's existing law. And so that means that the folks that are gonna be in this probationary stage that's in our principles, they don't qualify for any federal benefits except for one, Obamacare. Obamacare is the only federal benefit where you qualify for it, not because you have a green card but only because you're lawfully present. 


That needs to be resolved because if Obamacare is available to 11 million people, it blows a hole in our budget and makes this bill undoable. That's one of the major issues we're gonna have to confront.

Forget what existing law says, or whether or not Rubio has explained it correctly. The point is that the immigration negotiations unfolding in Washington are going to include the question of when, if ever, illegal immigrants covered in an amnesty would be eligible for the Affordable Care Act and subject to its mandate to purchase health insurance. Current legal immigrants will need to purchase health insurance in accordance with the mandate at the beginning of 2014.
Says Sarah Kliff of Wonkblog, summing up what's at stake:

Undocumented workers are barred from federal subsidies and also exempt from the individual mandate .... Due to these constraints, the Congressional Budget Office has estimated about 7 to 8 million undocumented immigrants will remain uninsured under the Affordable Care Act.


If immigration reform were to shrink the undocumented population, or eliminate it altogether, new paths to coverage would open up, and that uninsured population would likely shrink. The Congressional Research Service estimates that 80 percent (17.5 million people) of non-citizens would, due to their income level, qualify for some part of the insurance expansion.

The president didn't take a position on Obamacare eligibility for the formerly undocumented in the Nevada immigration speech he gave Tuesday, but did signal comfort with gradualism:

These men and women should have to earn their way to citizenship. But for comprehensive immigration reform to work, it must be clear from the outset that there is a pathway to citizenship. We've got to lay out a path, a process that includes passing a background check, paying taxes, paying a penalty, learning English, and then going to the back of the line behind all the folks who are trying to come here legally, that's only fair. All right? So that means it won't be a quick process, but it will be a fair process and it will lift these individuals out of the shadows and give them a chance to earn their way to green card and, eventually, to citizenship.