Leahy to Obama: Write Immigration Bill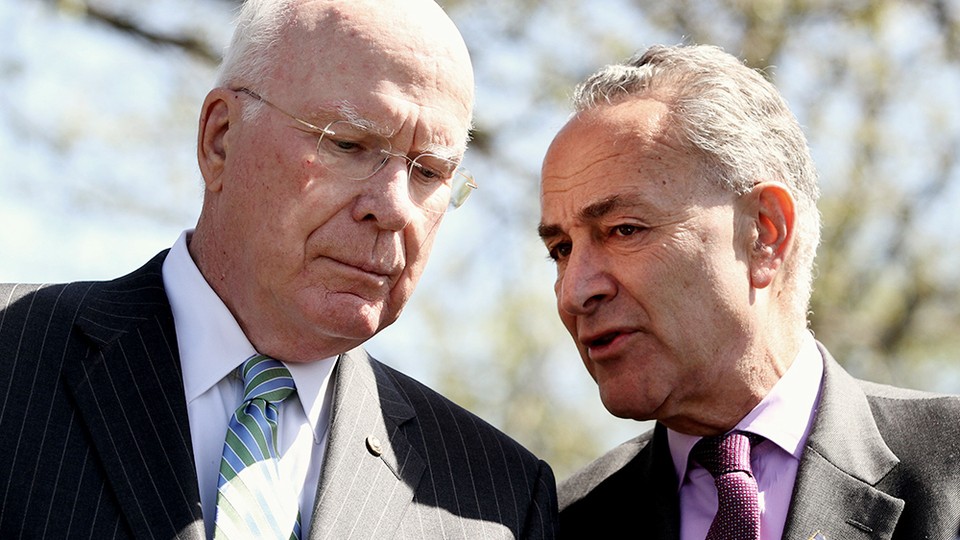 To legislate or not to legislate, that is the question.
The debate buzzing in immigration circles these days isn't so much about what President Obama will propose on one of his top domestic policy agenda items, but how he will do it. Should he send a draft bill to Congress or a simple outline of proposed changes? (He picked the latter in unveiling his gun proposals last week.)
No matter what Obama decides, the immigration bill will start in the Senate Judiciary Committee, which has spent months debating similar legislation in the past. Committee Chairman Patrick Leahy, D-Vt., wants Obama to ease that process by sending Congress a draft bill. "If the president does send up specific language that would make it easier because we'll work from that," Leahy said in an interview taped for C-SPAN's Newsmakers. "[We] may not accept all of it, may add to it. But at least we have something to work from, so that would be very helpful."
Not everyone agrees with Leahy's preference. Some Democrats, along with advocates for a path to citizenship for illegal immigrants, worry that if Obama sends a completed bill to Capitol Hill, it would start negotiators off on the wrong foot with Republicans. Sen. Marco Rubio, R-Fla., who has outlined some of his own ideas on immigration, has made a point of noting that Obama has not met with him about immigration.
There is a group of bipartisan negotiators working on immigration policy in the Senate. They are led by Sens. John McCain, R-Ariz., Chuck Schumer, D-N.Y., and Robert Menendez, D-N.J. The outline that this group comes up with, likely in early February, will be the most important contribution to the committee's negotiations on immigration because it will signal how far Republicans are willing to go. Obama's proposals, the advocates hope, will dovetail with the bipartisan ideas.
"There's no question that they're going to have to seek out bipartisan solutions. We are certainly going out there to talk to Republicans," said Center for American Progress Vice President of Immigration Policy Angela Kelley. CAP is close to the White House on immigration and also is advocating for a path to citizenship and a better way to process the future flow of immigrants.
Obama has already stated he wants a sweeping bill that would include a path to citizenship for undocumented immigrants, create easier access to foreign workers in high-tech areas, create visas for entrepreneurs who bring jobs into the United States, bolster border security, and strengthen the employment verification process. It will then be in the hands of the Judiciary Committee, and its leader Leahy, to move it through the legislative process.
On Newsmakers, Leahy said he expects to conduct a fairly open amendment process to allow everyone on the committee to air their views. But he said he also intends to make sure the committee doesn't get hung up on the details such that the bill dies without ever hitting the Senate floor. Hopefully no one will be offended with how he threads that needle.