John Kerry, Diplomat in Waiting, Waits No More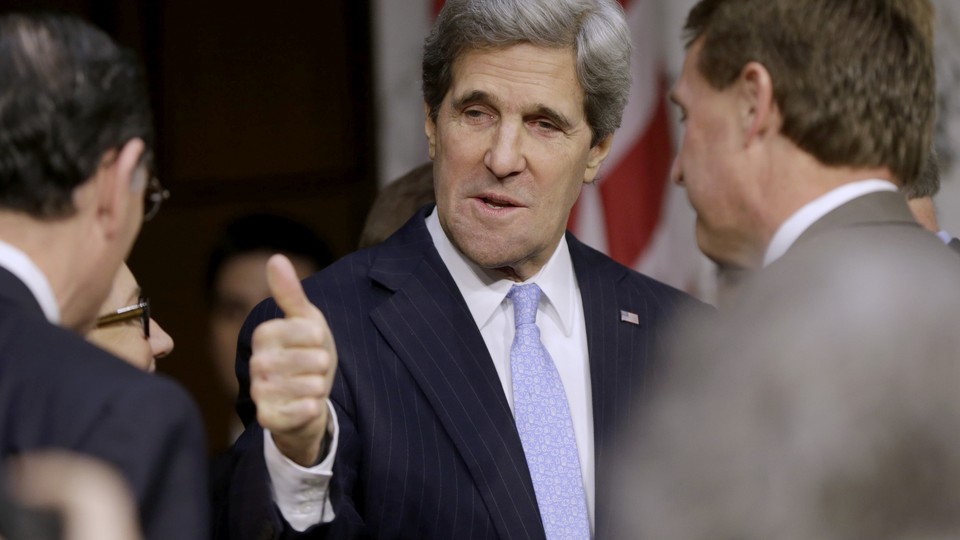 Over nearly three decades in the Senate and especially during the past four years of the Obama administration, John Kerry has often played the role of the calm diplomat and the closer in negotiations. Now, Kerry is hoping to use that experience as the next secretary of State.
The Massachusetts Democrat will appear before the Senate Foreign Relations Committee on Thursday for his confirmation hearing. He is expected to sail through the process. As chairman of the Foreign Relations panel for six years and as an informal adviser to President Obama on national security issues, Kerry will arrive at State with several advantages, including his close ties to the White House and a high profile as a former presidential candidate.
"Kerry sees himself as a diplomat, someone who can engage in smart, effective diplomacy to get results," Brookings Institution fellow Shadi Hamid said. "He will be comfortable in that negotiation role of sitting down with leaders and trying to hammer things out."
Kerry has traveled to Afghanistan, Pakistan, Egypt, and several other countries on behalf of the Obama administration to resolve diplomatic crises.
In October 2009, Afghan President Hamid Karzai was resisting a runoff election that threatened his hold on power. Fearing a political crisis, the U.S. ambassador to Afghanistan asked Kerry, who was visiting Massachusetts troops at the time, for help.
After 20 hours of negotiations over four days, Kerry got Karzai to reluctantly agree to the terms of the runoff.
In February 2011, Kerry traveled to Pakistan to meet with then-Prime Minister Yousuf Raza Gilani to negotiate the release of an ex-Special Forces soldier detained in the killing of two Pakistanis. The United States argued that the former soldier, Raymond Davis, had diplomatic immunity. Eventually, the Pakistanis agreed to release him to the U.S. after Kerry promised that Davis would face criminal charges in his home country.
Kerry, a Vietnam veteran, has often cautioned against military action, favoring diplomacy instead.
Not all of his efforts at diplomacy have yielded success. As a wave of democratic uprisings began sweeping across the Middle East and North Africa and toppling dictatorships, Kerry met in Damascus with Syrian President Bashar al-Assad as part of an effort at outreach.
In a March 2011 speech to the Carnegie Endowment for International Peace, Kerry expressed hopes for reforms in Syria.
"President Assad has been very generous with me in terms of the discussions we have had," Kerry said in his speech. "And when I last went to""the last several trips to Syria""I asked President Assad to do certain things to build the relationship with the United States and sort of show the good faith that would help us to move the process forward."
The United States has since abandoned the outreach. Kerry has denounced Assad and urged him to step down. The rebellion and bloody crackdown in Syria have killed 60,000 people, according to U.N. estimates, and the Obama administration is now worried that the Assad government might use chemical weapons.
"He thought he could push for a breakthrough in the thaw in the relationship between the U.S. and Syria," Hamid said. "Ultimately that failed, but Kerry took it upon himself to use his personal relationship with Assad to try to push the relationship to a different plane."
While Kerry will bring a more low-key style than Secretary of State Hillary Rodham Clinton, policy continuity is a good bet.
"The broad contours of the foreign policy will stay the same," Nina Hachigian, a senior fellow at the Center for American Progress, said. "Within that, there's probably going to be a different emphasis, and I'm curious to know what that is going to be."
Anthony Cordesman, a foreign-policy expert at the Center for Strategic and International Studies, agreed. One big difference won't be their approach to the job but the resources available for the State Department, he said.
"Secretary Kerry is going to face a period of much tighter budget pressure on virtually every aspect on national security and foreign operations," he said.
CORRECTION: An earlier version of this story misspelled the name of Shadi Hamid
An earlier version of this story misspelled the name of