In the Center of the Gun-Control Debate, a Father of a Convicted School-Shooting Conspirator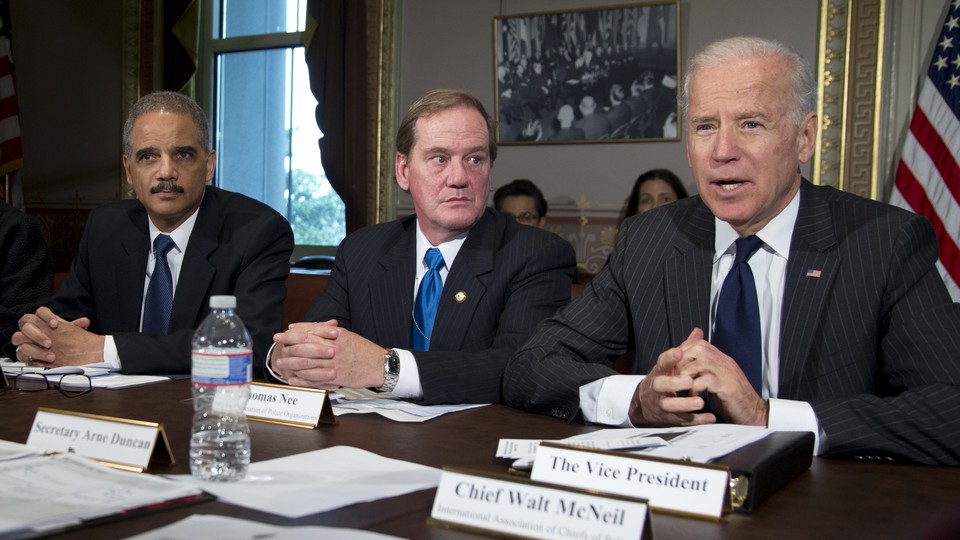 Before the gun lobby, before the mental-health professionals, before the video-game industry, Vice President Joe Biden wanted to first meet with law enforcement in the hopes of working toward a solution to curb gun violence in America. This was his first step in assembling the gun-control recommendations that were revealed on Wednesday.

As he explained to the panel of assembled police leaders on Dec. 20, "you have a much more holistic view about how to deal with violence on our streets and in our country." Sitting directly to right of the vice president was a man for whom these words must have felt all-too fitting.
It was Thomas Nee, a Boston police officer and the president of the National Association of Police Organizations. In 2008, his son Joe was convicted and sentenced to two and a half years in prison for plotting to commit a Columbine-style massacre at his Massachusetts high school.
Conservative websites such as Breitbart.com have used Nee's family history to shoot claims of hypocrisy toward and cast doubt upon the gun-control working group. But even if a cursory glance at Nee's history appears hypocritical, can't it be instructive?
Thomas Nee was in an obviously unique position, sitting on a panel instigated by the type of crime his son was committed of plotting. But it's a position that mirrors the nebulous heart of the gun-control issue: Even where it seems like it shouldn't exist (an elementary school or a police officer's home, for instance), violent thoughts and actions occur.
Boston Magazine wrote about the younger Nee in a 2004 feature story, and it follows the tragic arc we've come to expect.
Joe "had long been a bit of a loner, a tough kid who craved the attention and affection of his father. He was never popular." He fetishized the Swastika. He cropped his hair close, prompting other students to call him Hitler. He was screaming for help.
He and a friend had choreographed a plan to gun down classmates at their high school on April 6, 2005 — the sixth anniversary of the Columbine massacre. They had drawn maps of the school. Nerve gas and guns would be utilized. During the trial, Joe pleaded not guilty and his defense was simple: The plot had always been a fantasy. The jury felt otherwise, despite the fact that it was Joe who had tipped off the police about the plan.
Jim Pasco, the executive director of the national Fraternal Order of Police, was in the room during the gun-control discussion with the vice president and has worked with Nee many times in the past. According to Pasco, Nee doesn't bring up his family's history in these discussions. He's never spoken to the press about his son, and he didn't return my calls and e-mails for an interview. (If he's reading right now, he should feel encouraged to do so.)
"I know about it, but I've never had a conversation [about it] with Tommy Nee, and I don't know anybody that has," Pasco says.
But as Pasco points out, Nee wasn't the only person in the room with a family history that intersects with policy. Gil Kerlikowske, the president's drug czar, has a son who had troubles with drug abuse. "Does he ever talk about these things in these meetings? No," Pasco says. "But you know it gives him better insight into what a parent or family member feels." He imagines Nee comes with a similar perspective; it doesn't need to be said.
"We all bring our personal experience to the table when we get there," Pasco says. "No matter how much you may try to separate your professional self from your personal self, you can only do it up to a point."
Ultimately, Nee's son was sentenced to two years in prison but served only nine months. Upon his release, he seemed clear-headed about his role in the matter. Let's assume that his father learned something as well.
"There was something about to happen, and I stopped it," Joe said an interview after his release. "When push comes to shove, I made the right choice. People are around today because of it. Human lives were in the balance. There was no way I could turn my back."