How Organizing for Action Plans to Keep Obama's Foot Soldiers Enlisted
With the election over, Democrats hope to keep the campaign infrastructure churning -- but a volunteer conference this weekend shows they have their work cut out for them.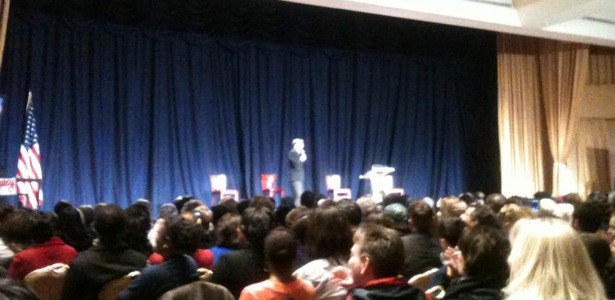 The latest configuration of the universe of Barack Obama's allies: a policy-focused, chapter-based non-profit called Organizing for Action.
"Here's the plan: Our team leaders and team members, we're putting you in charge," Jon Carson told a crowd of more than a thousand Obama campaign veterans gathered in a frigid Washington ballroom on Sunday. Headquarters can supply tools, training, and connections -- "but we are going to challenge you to lead it. We are going to challenge you to organize it. And we're going to challenge you to pay for it."
Nervous laughter turned to a smattering of disapproving hoots as Carson, a former director of the White House Office of Public Engagement who will direct the group, explained the "menu" on the table. "We'll give you each a little grassroots fundraising page, and if you raise X amount, you can have access to VoteBuilder [the contact database Democrats use]. If you raise a little more, you can have have an office."
During a Q&A session, Reno, a mononymous New York City comedian and activist, was skeptical. "You're kidding about us making our own money to pay for VoteBuilder, right?" But Carson was serious. He fell deeper into a Wisconsin twang as he explained the logic: How many of the millions of dollars raised in New York stayed there? Tapping local donors "is what's going to allow this to happen all over the country."
The goal of the one-day Obama Campaign Legacy Conference was to rethink the mechanics of American politics one more time. Campaigns traditionally scatter to the winds, whether the candidate wins or loses, after election day. That's wasteful, goes the thinking -- all the more so with a team that produced some 155 million door knocks and phone calls and 1.8 million new voter registrations, not to mention 332 Electoral College votes.
So Organizing for Action wants to replicate those tactics now that they're done putting Barack Obama in office. "We will run ads" in districts where the data show Republicans out of step with constituents on gun control, Carson said. "We will be on their Facebook pages." And OFA will use well-honed campaign tactics to achieve policy goals, including a goal of registering 40 million people who are newly eligible for insurance under Obamacare.
But the 2008 and 2012 campaigns revolved around one man -- an impressive distancejourney from the early days of the first race when, as national field director Jeremy Bird reminisced, "nobody could pronounce our name." Can a group that inherits Obama for America's initials really be expected to lean on the Obama White House? Must it do so to survive?

"It's time for OFA 3.0," said Jim Messina, the 2012 campaign manager. That numbering conveniently skips over Organizing for America, the DNC-housed group that grew out of the 2008 campaign, and which by general admission became mired in inside-the-Beltway worries. As Organizing for Action, which will start up in D.C. and move to Chicago in June, emerges, the key question will be what happens when a network of campaigners obsessed with metrics and used to clear deadlines turns its attention to the messy world of policy making.

"It's not going to be as easy as three months ago," said Mitch Stewart, the campaign's battleground state director. "It's just not."

But the presenters insisted that that a repurposed campaign can endure.

A post-election in-house survey of a million supporters found two thirds wanted to stay engaged. A similar number were eager to back Obama's agenda, though few were interested seeking elected office themselves. And campaign alumni said the last six years have instilled a faith in people's willingness to throw themselves into the work. 

Carson recalled one of the 2008 campaign's crazy ideas. "Let's try this thing called Camp Obama. Here's what we'll say to people: If you fly yourself, drive yourself" to Chicago for a week-long training, "we will give you the privilege of going to work for free in the early states," Carson recalled, as the crowd chuckled. "We put that offer up on the web, and 10,000 people signed up in the first week. I said, 'Whoa, I think we've got something here.'"

Or there was California field director Buffy Wicks' response when asked how how to build the software to put data in the hands of unpaid aides in post-Super Tuesday states: "You see, I've got these volunteers who come in every night after work," Carson paused, quoting Wicks, "from Google."

Some Obama backers, however, are wearying of volunteerism. Sherri Smith of Columbus, Ohio, explained that she's eager to keep toiling for OFA, as she has been since 2007. "But the bottom line is," she told the crowd, "I need some money."

Already in hand, argued Carson, is the knowledge of how to use mass mobilization to shape public policy.

"I would posit that we've learned how to beat these Republicans," said Carson. It involves mastering the issues, decoding the system, and organizing close to home. In 2011, Republicans proposed defunding the obscure Corporation for National and Community Service. On Twitter and in town halls, progressives pounced, said Carson, asking "'Congressman, why did you just vote to rid of half the volunteers here in our Red Cross in Peoria?'"

The usual response, per Carson: "What are you talking about?'" Such targeted agitation paid off. "As were negotiating with them, one the of the first things they threw on the table was, 'Oh my gosh, let's just fully fund AmeriCorps. They're driving us nuts back in our districts.' The Tea Party wouldn't let them cave, but behind the scenes we were winning those fights time and time again."

"The cherry on top is when they don't see it coming," joked Carson. Which points to another lesson Obama's allies say they've learned over the last half-dozen years: Even when their methods get talked about in public, they still won't.